Picking that right AI art generator is a massive task by itself. With the popularity of these systems, you can now find a variety of AI art generators through a simple search. That is where it gets tricky to choose the right tool that fits all of your expectations left, right, and center.
To help you through this process, here is an AI art generators list that guides you through 10 of the most popular options in this field. To assist you further, the following section also familiarizes you with how these art generators work in the first place.
What is an AI Art Generator?
An AI art generator is a program that has been designed to produce artwork based on a set of instructions. In its typical form, these instructions come in the form of a text prompt.
Based upon the instructions that they receive, AI art generators produce original images in a variety of formats. Whether you are looking for digital pencil drawings or 3D renderings, the right AI tool can be your personal artist at hand.
This becomes possible due to the way that the AI algorithm is trained. Mostly through the use of deep learning, these AI systems get trained on millions or billions of images, references, art styles, and other relevant details. This allows them to understand what a single word could mean in terms of image generation and how they could turn it into a fully visualized artwork.
This explains what is an AI art generator in simple terms. But in order to determine the efficacy of each of these tools, you need to take a deeper look at how they work, how efficiently they generate their images, and how easy to use they are in the first place. This makes sure that you are enjoying the process of using such an AI art generator.
By going through the following AI art generators list, you can determine which of these tools fulfill your most pressing needs and requirements from this form of generative AI.
What are The Best AI Art Generators?
---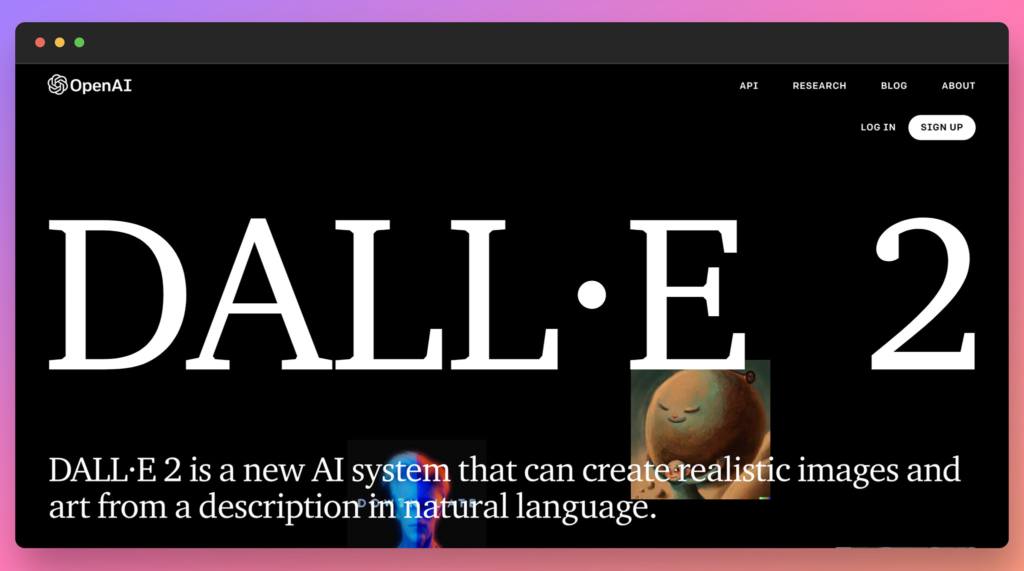 Developed by OpenAI, the research lab that gave life to AI generated text content through its GPT-3 model, Dall-E 2 is a highly capable AI art generator. Besides creating new works of digital art, it can also edit images and make additions to expand the canvas size of existing images.
Dall-E 2 is available through a web interface that has a text prompt tool to generate images; an eraser tool that helps you replace visual elements in an image; and a canvas extension tool to add more visual elements to an existing image.
With simple text commands, you can also emulate a plethora of art styles including but not limited to photorealism, impressionism, and art nouveau.
Pricing
Dall-E is commercially available for the price of $15 for 115 credits. Each credit equals a single request through the interface, whether it is the creation of an original image or the modification of an existing image. Each of these requests also returns up to 4 variations, which expands the total number of actual images that are generated through a request.
Upon signing up for your first month, you get 50 credits free of cost. These credits expire within a month. But you can get 15 free credits every month afterwards. The credits that you pay for expire within a year.
Pros
Highly adept at emulating different art styles.
Easy to use interface.
Additional editing and canvas expansion tools.
Image generation requests and variations are saved in your account.
Commercial license lets you use the images any way you want.
Cons
With no preset filters, it's not always easy to get the type of image that you want.
For editing requests, you may get variations that are quite similar to each other.
Who is This Best For
This tool is best for artists who want to enhance their art through AI. It can also work well for businesses and writers who want to create images for their content. Finally, it can also be great for AI enthusiasts who want to explore one of the best offerings in any AI art generators list.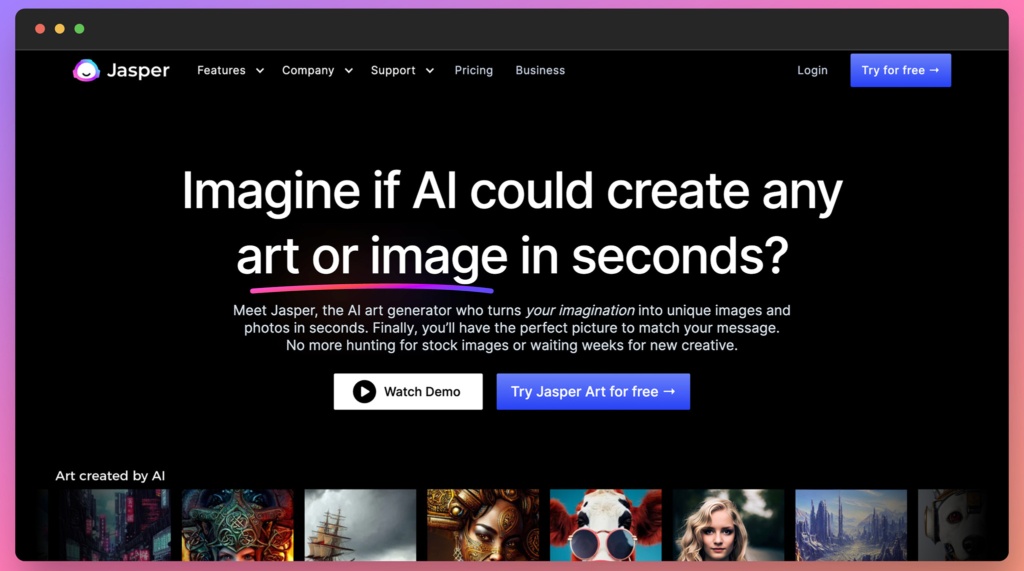 Jasper.ai is mainly an AI text generation tool, which uses a finetuned model of OpenAI's GPT-3. But through Jasper Art, it also offers an extension into its main set of services.
Similar to its text generation services, Jasper.ai uses an intuitive interface to give you a space for creating your AI images. This makes the process simple and fun to go through, while also giving you the opportunity to get the exact images that you need through the solution. This also helps you understand what is an AI art generator and how to operate one.
Jasper Art sets itself apart by predefining text prompt elements such as the style, medium, artist inspiration, and mood for your art with dropdown menus. This takes the guessing game out of the picture and allows you to create the precise style of image that you want to create through AI. For each request, you can get up to 4 variations.
Pricing
Jasper Art has launched recently, which has caused Jasper.ai to offer it at an introductory price of $20 per month for unlimited images. This makes it one of the most competitively priced AI art generators on the market.
Pros
Highly user-friendly interface makes it easy to replicate the style and visual references that you want.
Unlimited image generation lets you get the most out of your subscription.
Images come with the permission to use them commercially.
Cons
No free trial without a credit card number.
The product has been released very recently.
Who is This Best For
Jasper.AI has broad appeal and can work for a variety of audiences. These subsets of its audience base range from bloggers who want to add unique images to their content to businesses that want to create relevant art for their campaigns without spending a fortune. Of course, it can work well for AI aficionados who want to explore AI art generators as well.
3. starryai
starryai is yet another AI art generator that can create your required images upon receiving text instructions. But apart from its ability to generate images with text prompts, it stands apart due to being accessible through mobile apps.
Available through the App Store and Google Play Store, the starryai interface is only accessible through mobile devices that run on iOS or Android. This makes it different from many other options on an AI art generators list that are accessible from desktop computers.
starryai is easy to use and provides you with 4 images per request. You can also create random images to specifically use as NFTs. This makes it a good tool to generate quick images without investing too much thought into the process.
starryai offers a subscription-based model where it gives you credits on a monthly fee. This makes it similar to many other AI art generators that follow a similar approach for their services.
Pricing
starryai is available for $11.99 per month. This subscription provides you with 100 credits per month, where each credit equals one image generation request for 4 variations. You can also buy separate credits, starting from $3.99 for 40 credits.
Pros
Availability through mobile apps.
The interface is easy to use and makes it simple to generate your images.
You can create random NFTs within just a couple of steps instead of having to learn what is an AI art generator and how it works.
Cons
Unavailable on desktop web browsers.
Image generation is not as advanced as other tools.
Expensive as compared to many other services.
Who is This Best For
There's a certain level of simplicity that makes this tool appealing for AI hobbyists, NFT sellers, and those that are curious. AI hobbyists who want to use a simple AI art generator with little to no input. NFT sellers who plan on creating original images to turn into NFTs.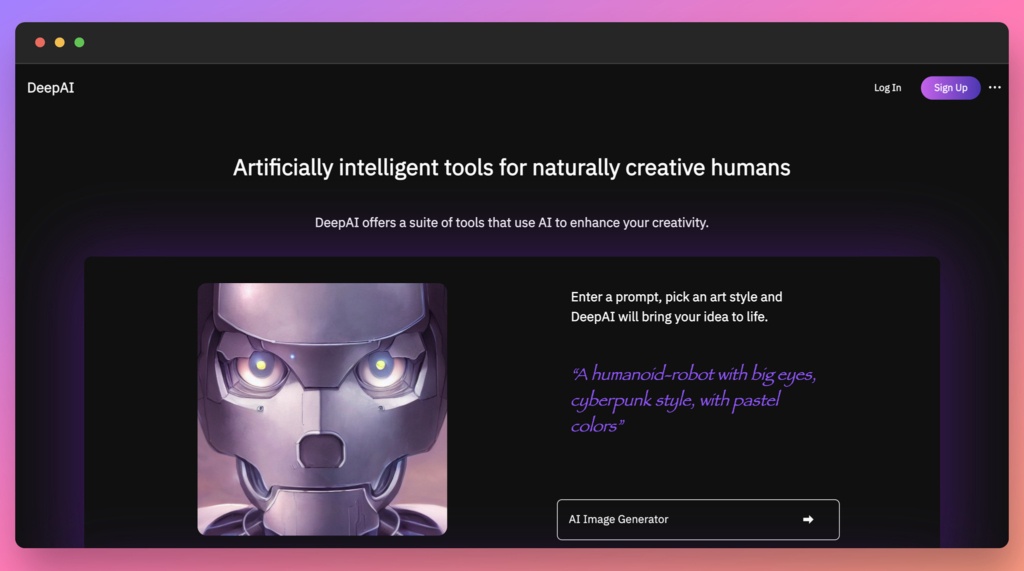 As one of the oldest AI image generators, DeepAI holds a distinct reputation among those who have been using AI to create art. The image generation tool offers a variety of predefined styles for you to create your art through a text prompt.
But despite making the image generation process easier, DeepAI falters on one of the biggest aspects of AI art generation, which is the variety of results against a single prompt. Unlike many other options on this AI art generators list, DeepAI only offers one image variation per request.
This means that even though DeepAI's image generation lets you pick from art styles such as renaissance paintings, cyberpunk art, and anime portrait, you are limited by the options that you get for your text prompt. This leads you to bargain the learning curve of knowing what is an AI art generator and trade it in for limitations.
Besides this shortcoming, DeepAI also falters in terms of the modernity of its interface. Instead of offering a seamless switch between art styles at the time of generating the prompt, the web page where the DeepAI interface is available has to be refreshed all over again. The barrage of ads on the interface also get in the way of a comfortable experience.
Pricing
Some art styles such as 3D character design are only available against a paid subscription that starts with $5 for 100 images. This also provides you with access to the DeepAI application programming interface (API).
Pros
Preset art styles for you to align with your text prompts.
The program's configuration allows you to generate results quickly.
Free trial that lets you choose between a variety of art styles.
Cons
Clunky interface that is laden with ads.
Only a single variation of a smaller dimension for each image generation request.
Who is This Best For
DeepAI can be perfect for AI enthusiasts who don't mind the interface being plagued by ads. It can also be great for developers who want to integrate the DeepAI API into their own applications.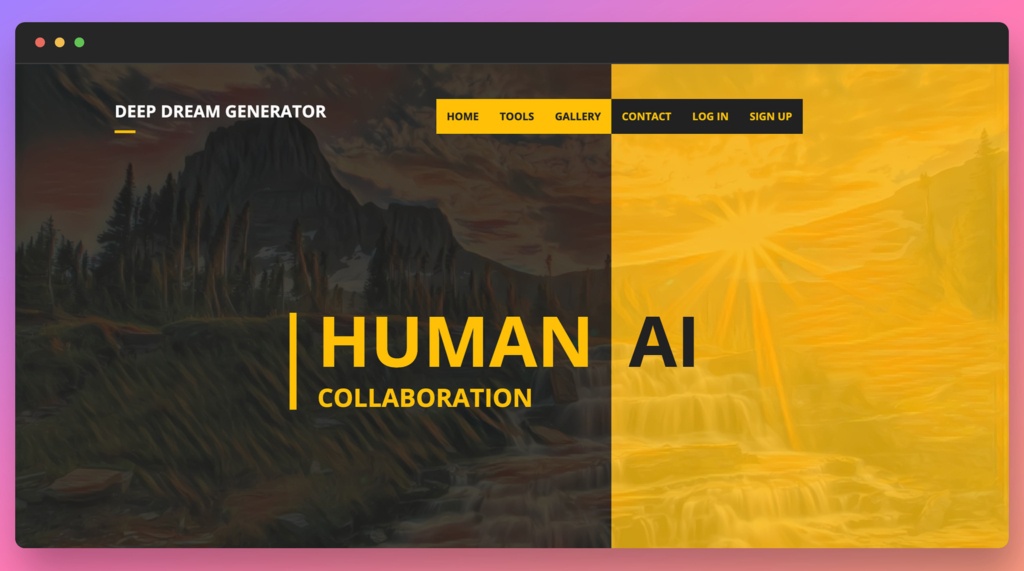 Named in the fashion of a fairytale location, Deep Dream Generator is an AI art generator with the ability to create AI versions of uploaded images. But in case that is a bit too basic for you, the tool also offers a text-to-image approach with the use of the Stable Diffusion model.
Similar to other offerings on this AI art generators list, Deep Dream Generator uses a web-based interface that allows you to upload images and deliver text prompts to the AI art generator. You can get different variations for the images that you create, which gives you some variety for the results.
While Deep Dream Generator uses a modern interface, it still lags behind in terms of ease of use, especially when you compare it with other tools on the market. With that being said, it still gets the job done once you learn what is an AI art generator and how to use one.
However, the pricing mechanism that Deep Dream Generator offers remains quite convoluted. It refers to its credits as "Energy," where generating higher resolution images takes more Energy than low-resolution images. The Energy you use also gets replenished over a set period of time.
Pricing
The pricing plans for Deep Dream Generator are more complex than many of its counterparts and start from $19 per month for 120 Energy units. Two more plans for $39 per month and $99 per month are also available, with 250 and 750 Energy units, respectively.
Pros
Have AI retouch your existing images to add its own vision to it.
Choose between different modes including text-prompts and image recreation.
Energy credits replenish over time and let you use the model all month.
Cons
Energy credits are expensive for image generation.
Image retouching does not bring as much of a value proposition as text-based AI image generation.
Interface is not as intuitive as many other competitors.
Who is This Best For
It is best for artists who want to refine or redo existing images. AI hobbyists who plan to explore the technology in different forms can also look at this tool.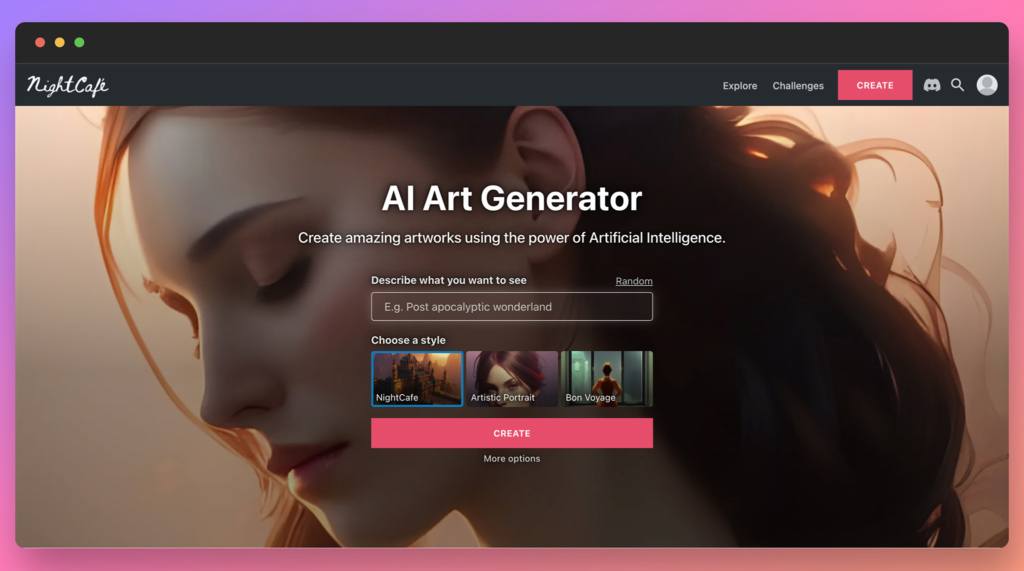 Nightcafe Studio uses the API from a variety of popular AI generation models. This expands its offerings through many AI art generators list options. The models include Stable Diffusion, Open AI Dall-E 2, Coherent CLIP-Guided Diffusion, and Artistic VQGAN+CLIP.
With it, you can enhance your existing images with the Style Transfer mode. You can also print your creations using the platform's AI-guided printing technology for museum quality results. This lets you get the most out of learning what is an AI art generator and how to use the art within your space.
This approach makes Nightcafe Studio one of the most sought after AI art generators on the market. For instance, if you think that the type of image you want to create is better handled by Dall-E 2 than Stable Diffusion, you can go with the former. In case you suppose that VQGAN+CLIP is better suited for your vision, you can choose that model instead.
This saves you from paying for multiple AI generation tools. Instead, you can use their approach through a single platform. If you want to unlock the next level of AI art generation with Nightcafe Studio, you can subscribe to one of its paid subscriptions.
Pricing
You can get 3 credits per day to use with Nightcafe Studio. But if you want to upgrade, you can choose from four different plans that start from $19.99 for 100 credits per month and go all the way up to $79.99 for 1500 credits per month. Regardless of which plan you choose, you get double the credits for the first month.
Typically, if you create one image for your prompt, you end up using half a credit. In case you opt for 4 images for your prompt, you may have to use multiple full credits. This can vary on a case to case basis.
Pros
Multiple AI models to choose from to create your art.
Different modes make it possible for you to generate highly unique and interesting images.
The interface is simple and easy to use.
You can breathe life into your artworks through premium quality prints.
Community participation lets you earn free credits.
You get a limited but certain number of free credits everyday.
Cons
No unlimited credits.
Credit usage system is convoluted.
Who is This Best For
There are a variety of groups that this tool can be relevant for at the present moment. Of course, AI enthusiasts who want to make use of free credits can look at this tool.
In addition, art aficionados who plan to explore AI art generation across multiple models can benefit, and artists who want to create AI-generated images can look at this tool as well.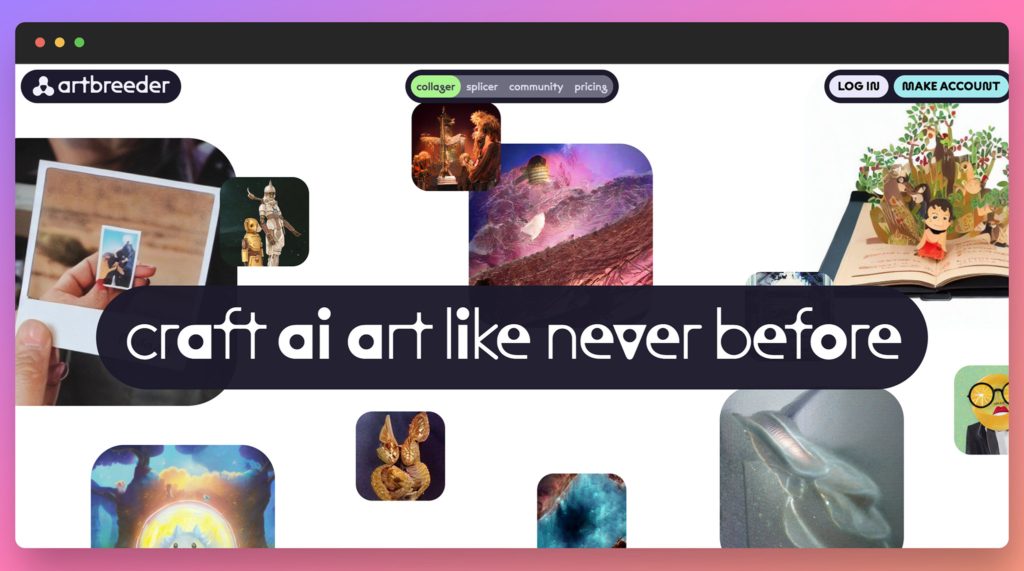 Artbreeder is one of the rare, completely free options on any AI art generators list that also packs different features for its users. At the same time, for a subscription, it gives you some additional perks such as no wait time and more high resolution image downloads.
Artbreeder works through text-based prompts, which gives you the ability to create images out of a few words. This fulfills your expectations after learning what is an AI art generator, but with a catch.
For instance, you can use the Collage tool that lets you draw abstract shapes, add images, and then create a fully-formed image following your text instructions. If you want to take another approach, you can use the Splicer tool that lets you create portraits by adjusting metrics such as age and gender. With that being said, these approaches can also work against your creativity, which makes it a bit tricky for you to use this tool freely.
However, these tools also set Artbreeder apart from many other counterparts and allow you to take a different approach to AI image generation.
Pricing
Artbreeder is free to use. But it comes with wait times and limitations on the number of high resolution images that you can download. However, you can upgrade to one of the paid subscription plans to cut through wait times and augment the number of high resolution images that you can download. This also provides you with a few additional advantages to boot.
With the current 20 percent discount at Artbreeder, these plans include a monthly subscription of $7.49, $15.99, and $30.99.
Pros
Truly free AI image generation.
Ability to play around with different features.
Option to upgrade to benefits-filled subscription plans.
Cons
Text-based image generation needs reference images to be more accurate.
The AI is not always producing the type of images that are true to the prompt.
The model sometimes restricts you from freely exploring what AI can do.
Who is This Best For
It is best for AI hobbyists who want a free image generation tool and artists who plan to enhance their images with AI.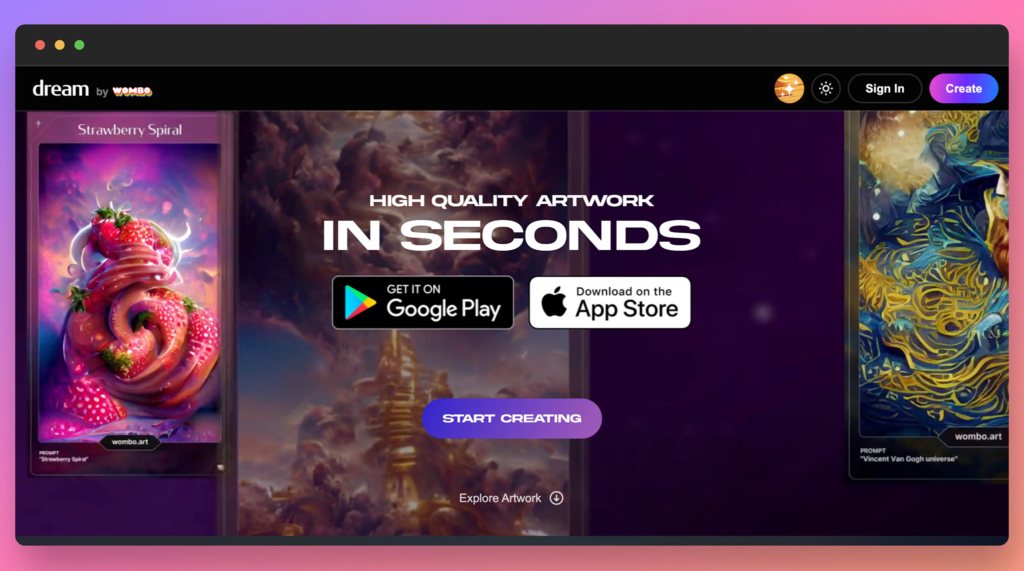 While Dream by WOMBO shares its name with Deep Dream Generator and other options, it is a completely different entity that operates through a web interface as well as mobile apps. This AI art generator uses text-based prompts and preset styles to assist you in generating images.
Still on its quest to be an established part of an AI art generators list, Dream by WOMBO is currently on limited release. While you can use the text-based art generator, the images that it renders are not high resolution. With it, the portrait mode that lets you insert any human model into a fictional setting only uses a limited number of preset options including Elon Musk, Drake, Shrek, and Samuel Bankman-Fried (SBF).
The results that Dream generates through the text-based freeform prompts are nothing to write home about. But when it comes to the portrait generator, the results are quite impressive. However, in its limited capacity, the latter tool is nothing more than a digital toy that lets you put famous people and characters into a setting of your choice. This goes against your expectations after learning what is an AI art generator and what it can do.
Pricing
At the time of writing, Dream by WOMBO has not rolled out its pricing. But you can sign up for early access to the platform in order to learn about pricing details as soon as they are unveiled.
Pros
Highly detailed portrait generation for preset characters and celebrities.
Different preset art styles available for creative image generation.
Availability of mobile apps.
Free for the time being.
Cons
Freeform art generation results are not as impressive as portraits.
Portrait mode only allows preset options for now.
Who is This Best For
It is best for AI aficionados who want to determine what the model can do for them. It can also work out well for writers or meme accounts that want to put a limited selection of celebrities and characters in different settings.
9. Stable Diffusion 2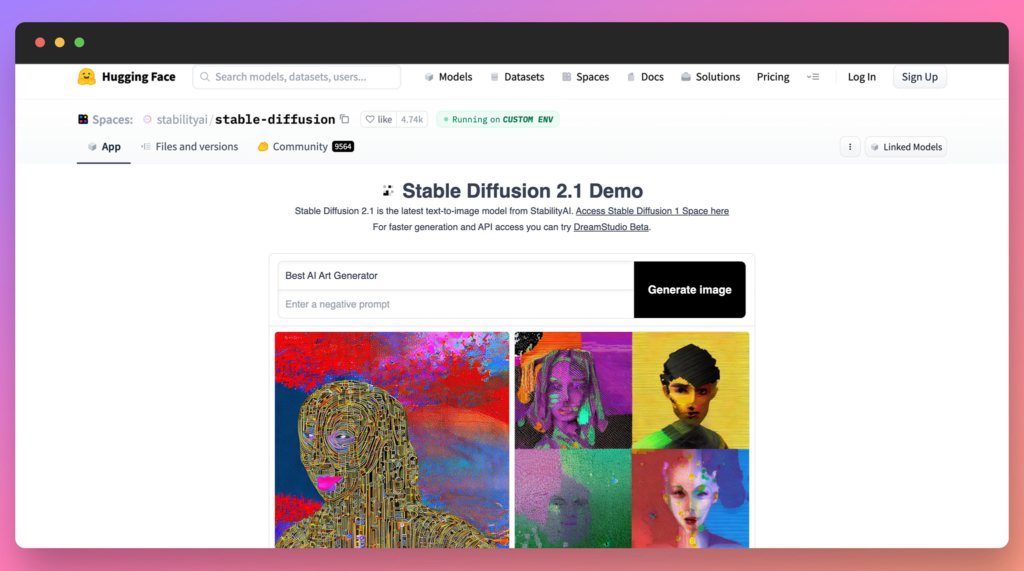 When it comes to AI art generators, no list can be completed without Stability AI or Stable Diffusion 2. As one of the most sought after image generation models, the approach lets you create highly detailed images with text-based instructions.
Through Huggingface.co, the Stable Diffusion 2 model is available via a free to use demo interface. This interface is simple, yet it gets the job done. Against every text prompt, it returns 4 variations for the provided instructions.
While a formidable option on any AI art generators list, the Stable Diffusion 2 demo model takes some time to generate images. However, the images carry the distinct results of the revered Stable Diffusion model. This makes it a popular approach that you use all by yourself, without having to shell out any subscription costs.
With that being said, faster generations and API access are available through the DreamStudio Beta for now. This gives you the option to either go with the bare bones yet still bountiful Stable Diffusion 2 Demo or get to a more defined interface in the form of DreamStudio Beta.
Pricing
Stable Diffusion 2 Demo is available free of cost to help you learn what is an AI art generator. But if you access it through DreamStudio Beta, you can purchase 1,000 credits for $10. Typically, each credit equals a single image generation.
Pros
Highly advanced results for text-based prompts.
Demo is free to use, while the developed Dream Studio Beta offers free credits.
Cons
Interface parameters need users to go through a learning curve.
Ongoing credits are more expensive than many other competitors.
Who is This Best For
AI aficionados who want to see what AI can do against text-based image generation prompts. It can also work well for artists who want to harness the power of generative AI. At the same time, it can work best for content creators who want to create unique images for their articles.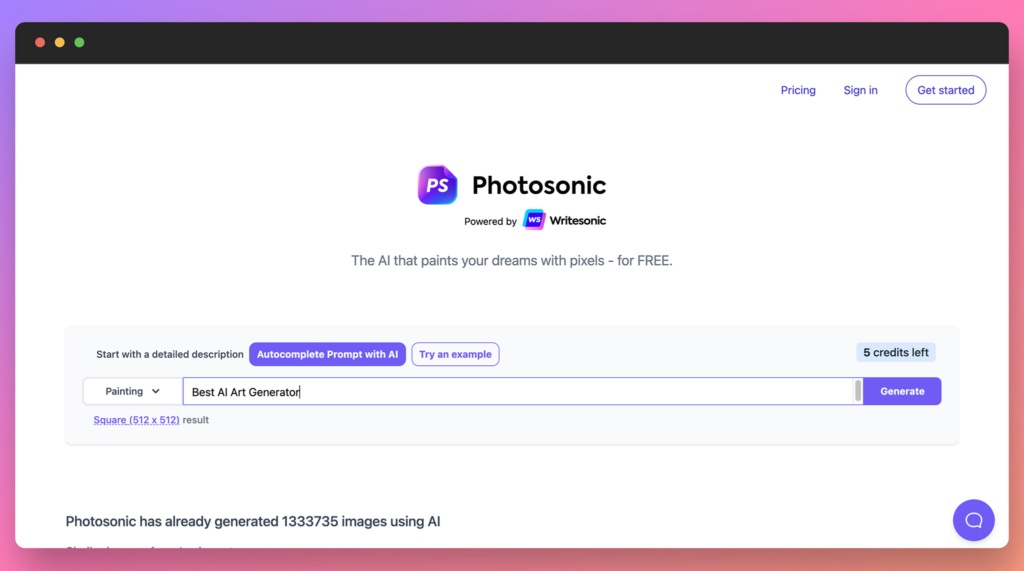 Photosonic by Writesonic generates images based upon text prompts. It has a simple interface that lets you choose between three preset image dimensions including square, horizontal, and vertical. From there, you can see the frame be painted with the instructions you give to Photosonic.
The Photosonic tool delivers satisfactory results at times, while also being too much of a miss at other instances. But the overall experience and ease of use that it delivers seems to fit your basic expectations from generative AI.
Similar to many other options on this AI art generators list, Photosonic works on credits. While new users can get up to 10 credits right away, additional credits come through a subscription model. This subscription comes with additional perks such as background removal, high quality downloads, watermark-free images, and support from the Photosonic by Writesonic team.
Pricing
The subscription version of Photosonic by Writesonic starts from $10 for 100 credits per month and goes up to $25 for unlimited credits per month. You can also get beta access to new features.
Pros
Simple and easy to use interface makes it a breeze to generate your desired images.
Auto-face restoration focuses on resolving the botch-face results that are often apparent with AI-generated images.
You can enhance your generated images further without affecting their overall composition.
Subscription plans are competitive and offer unlimited credits.
Cons
Unavailability of preset options require you to go through a learning curve to name the right modes and art styles in your prompt.
Images can take some time to generate.
Who is This Best For
AI enthusiasts who want to explore freeform art generation through text prompts. Further, artists who aspire to test the capabilities of AI through text prompts and businesses and writers who want to create unlimited images for their ongoing content needs can benefit from this tool.
What to Look for When Choosing an AI Art Generator?
Whether you are looking at tools from research labs like Midjourney or at other open-source AI tools that can present ai-generated art, you need to know what to look for in your tools.
These tools may be able to help express artistic styles and act as an enhancer to art that ranges from digitized oil painting works to other forms of art.
It is best to know if the tools that you will use have a social media presence, a long waitlist, or will require knowledge of a neural network or the use of a language like Python.
When it comes to creating works of art, you want to make sure to have art tools that meet your needs. Below you can find an overview of AI artwork tools that cover the features, the benefits, and the drawbacks of the top AI art generator tools out there.
Remember that having this knowledge enables you to become more informed about tools like dall-e-mini, art creation in the present era, and how image creation and graphic design can improve over the near future.
While you do not need to dive into machine learning models to understand how these photo-realistic images appear, learning about these tools and how they present high-quality images, may make you want to go further into the underlying mechanisms of AI.
At the same time, you can feel confident talking about trending text-to-art tools as you discuss progress in your discord groups or other social media platforms.
Which AI Art Generator is the Best For You?
The AI world is now becoming more relevant and interesting as it presents more opportunities to enhance creativity.
These are a few of the compelling AI Art generator tools present right now and it is certain that more are on the way.
The use of AI to enhance artistic ability and to conduct a variety of other creative expressions is only beginning and more innovation is on the way.
Due to various market forces, it does not have to be expensive to work with these tools and experiment.
While there are many competitive options available in this AI art generators list, you should take your time in exploring each one before making the decision to subscribe to a single service. This lets you continue your journey with AI art generation while keeping your comfort and requirements front and center.
During this approach, you can turn to all free-to-use or free-to-try models to get a firsthand experience of their capabilities. From there, you can make an informed decision to stick with an AI art generator that truly fits your needs and expectations.