If you're looking for the best ecommerce platform, there are plenty of great options to choose from.
With the right ecommerce tool, today's would-be business leaders can set up a fully-functional and powerful online store, complete with its own checkout, payment processing systems, and even extra features for marketing, like SEO and email advertising.
What's more, many of these ecommerce tools don't just support direct selling, they also empower entrepreneurs to reach customers from around the world, with multi-currency options, and integrations with third-party logistics tools.
The question is, which ecommerce platforms are best?
Today, we're going to be looking at some of the best options for ecommerce platform functionality in the Canadian market. Let's dive in.
What Are The Best Ecommerce Platforms?
---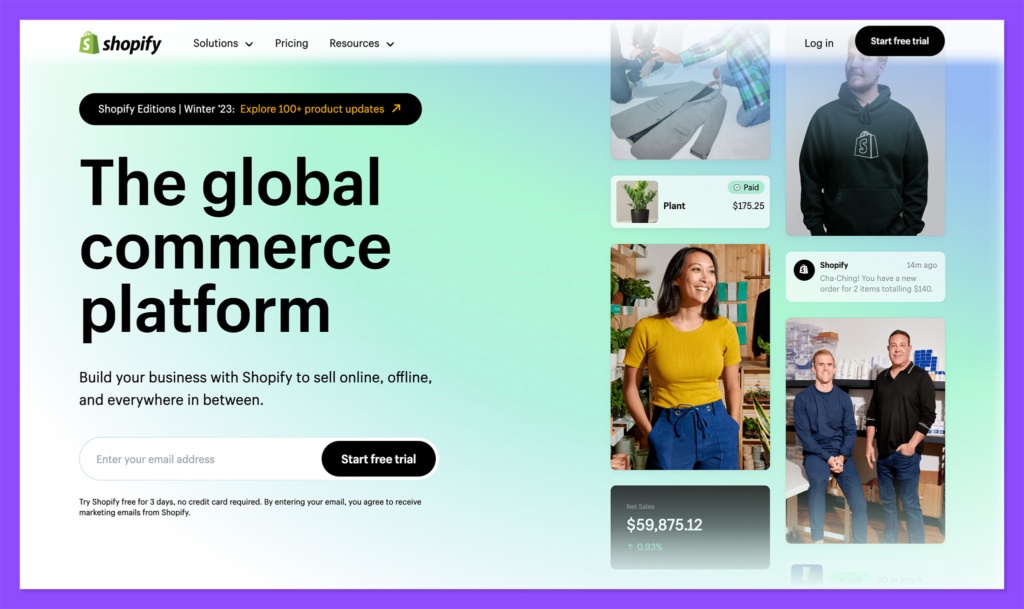 Probably the best-known ecommerce platform in the world, Shopify is a highly flexible and versatile tool for today's online sellers. It allows business owners to create a completely customizable website using pre-built themes, templates, and drag-and-drop functionality. Plus, the platform allows companies to sell virtually everything they can think of, from services, to physical products.
Shopify benefits from a highly flexible ecosystem, which can be updated and enhanced with a range of add-ons, plugins, and integrations from the Shopify app store. You can even access the Shopify API, or create a headless Shopify environment on some plans. The platform has a fast and reliable checkout which integrates with a range of payment processors, as well as point-of-sale solutions.
Plus, Shopify comes with marketing tools built-in, so you can engage with customers through social media, email campaigns, and SEO-enhanced blog posts. With a centralized back-end environment, businesses can even automate various processes to save themselves time, and track valuable metrics about products and purchases.
Pricing
The pricing for Shopify comes with a range of different packages to choose from. There's a free trial available to get you started, plus, you can get 3 months of the starter plan for $1 CAD per month during various promotional periods. The Starter plan (usually $7 per month) allows you to sell products directly through social and messaging apps.
Other plans include:
Basic: $38 CAD per month yearly, or $58 billed monthly: Basic reports, up to 1,000 inventory locations, 2 staff accounts, and up to 45% shipping discounts
Shopify: $99 CAD per month yearly, or $132 monthly: All the features of Basic, plus professional reports, 50% shipping discounts and 5 staff accounts.
Advanced: $389 CAD per month yearly, or $517 billed monthly: All the features of Shopify, plus reduced credit card rates, 53% shipping discounts, a custom report builder, and 15 accounts.
Plus: Shopify Plus starts at $2000 per month for advanced API access, headless ecommerce building, and countless other unique features.
All plans also come with transaction fees to consider if you're not using Shopify Payments.
Pros
Excellent flexibility with lots of apps and add-ons
Lots of themes and templates to choose from
Unlimited products on all pricing plans
Various payment processing options
Marketing tools already built-in
Cons
Transaction fees can be an issue
Some plugins will have an extra fee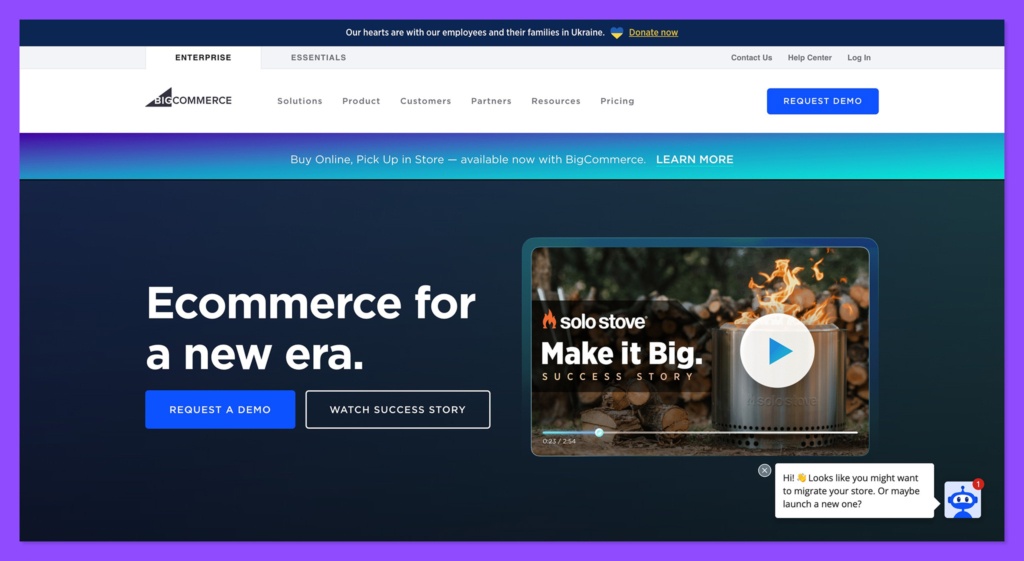 BigCommerce is one of the more flexible ecommerce platforms on the market today, offering a scalable and powerful environment for online sellers. The solution can integrate with a host of other tools, such as Facebook, Target, eBay, Google, and Instagram. Plus, it gives you plenty of ways to modernize and customize your store, with templates and custom themes.
BigCommerce makes it easy for anyone to start selling both services and physical products online. The majority of the functionality you need for marketing, selling, and automation are already built into the ecosystem, so you shouldn't have to worry too much about adding extra plugins. However, there is an app market available for BigCommerce if you want to access dropshipping connections, security features, or other marketing tools.
BigCommerce has plans specifically tailored to developers, which allow them to build their own headless architecture from scratch. You can also use a range of different payment processors to give your customers the best possible shopping experience. BigCommerce even has tools for storing credit card details and automatically messaging customers about abandoned carts.
Pricing
BigCommerce has a free trial version available for customers who want to test out the functionality before diving into anything long-term. Like most ecommerce platforms, the company also offers a discount (of 10%) if you choose to pay for an annual package over a monthly plan.
Pricing options are listed in USD, and include:
Standard: $29.95 per month for unlimited products and staff accounts, up to 4 online storefronts, point of sale access, Amazon, eBay, Walmart, Facebook and Google integrations, and a range of other tools.
Plus: $79.95 per month for all the features of Standard, plus up to 5 online storefronts, customer groups and segmentation, an abandoned cart saver, persistent cart options, stored credit cards, and advanced customer support.
Pro: $299.95 per month for all the features of Plus, as well as 8 store fronts, Google customer reviews, product filtering, and advanced service.
Enterprise: Custom pricing for all the features of Pro, plus unlimited store fronts, custom API calls, express routing, priority support, and API support.
There are no transaction fees on any of these plans either!
Pros
No transaction fees on any plans
Unlimited products and staff accounts on all plans
Tons of integrations with leading tools
Lots of sales and marketing features included
Excellent support and customer service
Cons
Limited theme options
Slight learning curve for beginners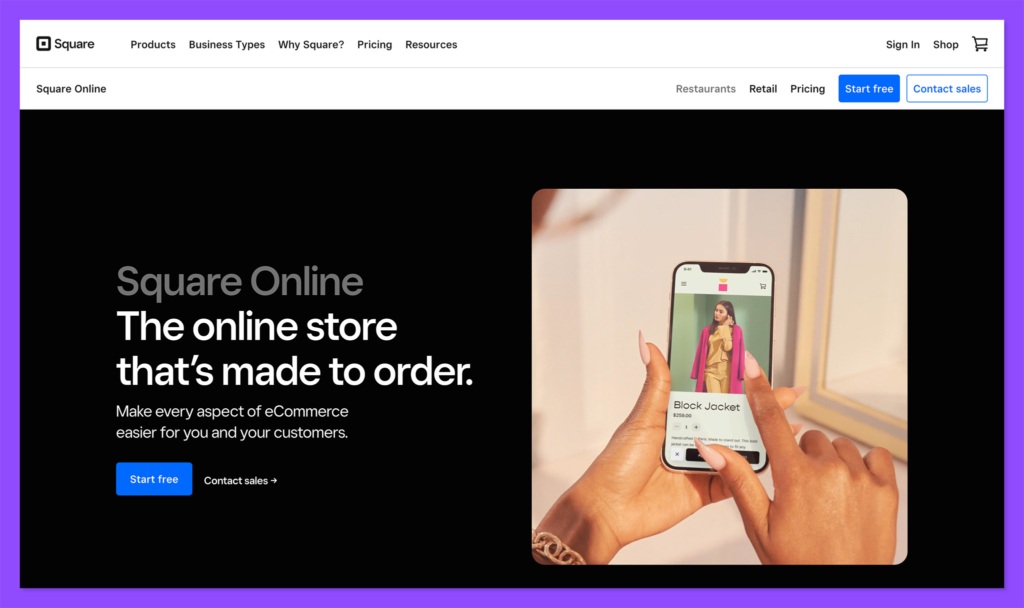 Most people associate Square with its payment processing solutions. However, the company also allows brands to create their own custom online stores, with a fantastic digital platform. Square Online is available to access for free, with instant access to syncing for any POS system you're using in real-time, so you can manage your offline and online presence in the same place.
Square makes it easy to run the kind of store you want, with various pickup and delivery options, automations, and unique customer service features. The solution can accept a range of payment options, including Apple Pay, Google Pay, gift cards, and more. It also has tools for tracking inventory and orders, so you don't lose track of anything.
Square has dedicated security features built-in, as well as specialist services for retail companies and restaurants. You can connect the system to your point of sale technology, and leverage a range of themes with customization capabilities to make your store stand out. However, you may have more trouble connecting to marketplaces like Etsy with Square online.
Pricing
It's free to get started with Square online if you're already using the payment processing solution from the same brand. However, you will have transaction fees to consider. Notably, on this plan, you will only be able to take payments through Square, as Stripe and PayPal aren't included.
If you want to upgrade to a more advanced service, you can access a range of packages, including a "Professional" plan with a custom domain, a "Performance" plan where you can accept PayPal and use abandoned cart tools, and a Premium plan which features a low processing rate. You'll need to request the prices from the team in CAD.
Pros
Excellent for syncing online and offline stores
Easy-to-use interface for beginners
Discounted shipping on premium packages
Advanced point of sale solutions
Inventory tracking and management tools
Cons
Limited themes and templates
Not the best content management system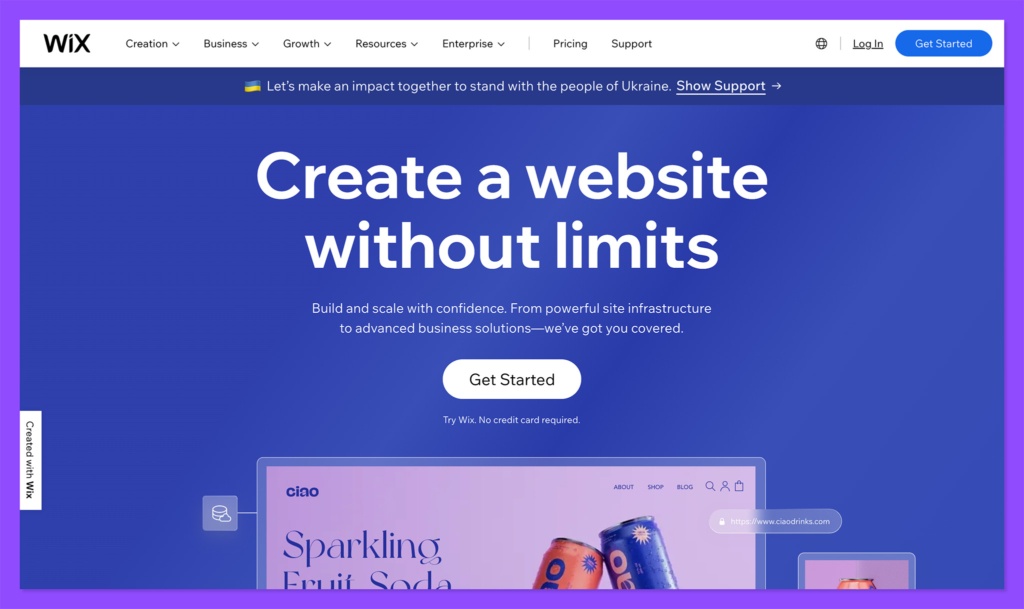 Wix is a globally well-renowned website building platform, with support for ecommerce sites, and blogs alike. The Wix Ecommerce platform allows companies to sell everything from online services and digital downloads to physical products. You can link social channels and marketplaces to the ecosystem, and manage shipments and payment in one place.
The Wix all-in-one ecommerce platform is easy to use, regardless of whether you're building a simple or omnichannel store. You can use the system to collect testimonials from customers for social proof, and connect with a variety of social media tools for marketing. Wix also has a wide range of themes and templates to choose from to help you dive into selling online.
One of the things that sets Wix apart from other ecommerce solutions is its focus on AI, which allows you to access a support system to help you build your store with minimal effort. The company's infrastructure is secure and reliable, with unlimited bandwidth offered across all plans. Plus, Wix has it's own fantastic dropshipping solutions through Modalyst.
Pricing
To leverage the ecommerce functionality available on Wix, you'll need one of the Business and eCommerce plans. There's a discount available if you purchase either one or two years of your plan at the same time. Options include:
Business Basic: $34 CAD per month: Secure online payments, subscriptions, payment plans, unlimited bandwidth, 20 GB of storage space, 5 hours of video, a free domain for 1 year, no Wix ads, and support for abandoned cart recovery.
Business Unlimited: $40.80 CAD per month: All the features of Business Basic, plus 35GB of storage space, 10 video hours, subscription support, multiple currencies, advanced shipping, social channels, and marketplace integrations.
Business VIP: $54.40 CAD per month: All the features of Business Unlimited with 50GB of storage, unlimited video hours, custom reports, priority customer care, automated sales tax for 500 transactions per month, unlimited dropshipping and more.
Pros
Easy to use for beginners
Seamless integrations with marketplaces and social channels
Modalyst for dropshipping
Support for automated sales tax
Advanced shipping and inventory management
Cons
Can be difficult to export data
The best features are limited to higher cost plans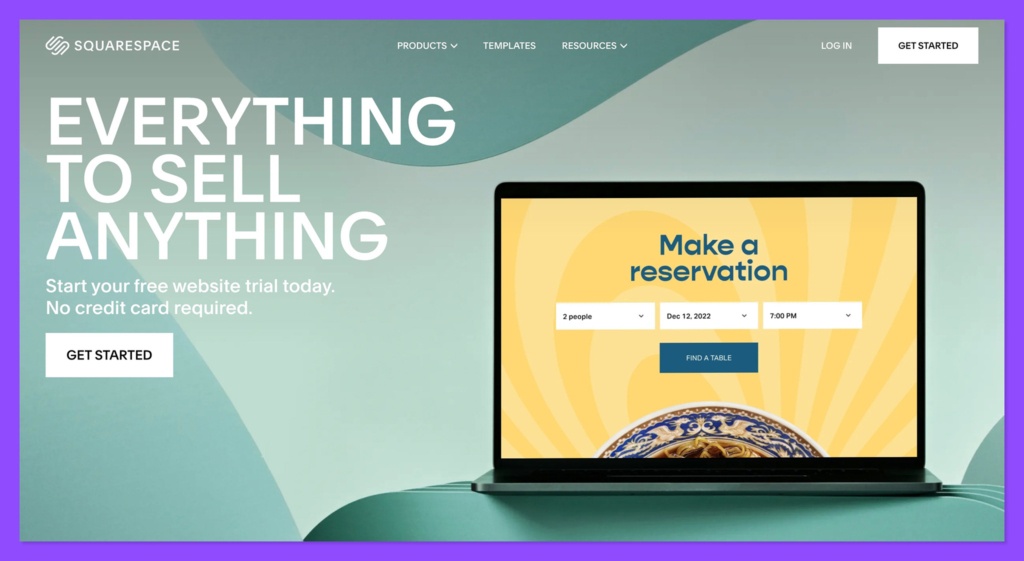 If you're looking to create a stunning, professional looking store with minimal effort, Squarespace is a great choice. Squarespace supports the development of countless different types of websites, with beautiful themes and templates, as well as a host of customization options. There are tons of great tools already built into the platform, including powerful image editing options.
While Squarespace doesn't have the most intuitive website builder on the market, it does make it relatively easy to adjust your store according to your specific needs. You can even set up solutions for bookings and scheduling appointments if you're delivering a service-based business. Squarespace even allows developers to tap into CSS code to make specific layout changes on their site.
There are various payment methods to choose from within Squarespace, as well as numerous tools to help with marketing your business. You can integrate with social media and email marketing tools, and even access abandoned cart recovery capabilities. Plus, blogging and SEO tools come as standard, so you can improve your digital presence on the search engines. You'll also be able to add an SSL certificate to your online business, for better security.
Pricing
There's a 14-day trial available from Squarespace to get you started. After that, pricing starts at $14 CAD for the personal plan, but this won't include access to any ecommerce services. If you want to sell products online, you'll need one of the following packages:
Business: $23 CAD per month: Mobile optimized websites, templates to fit every need, a free custom domain, advanced website analytics, and ecommerce (with 3% transaction fees)
Basic Commerce: $27 CAD per month: All the features of Business, plus advanced website analytics, no transaction fees, a checkout on your domain, and merchandising features.
Advanced Commerce; $49 CAD per month: All the features of Basic Commerce, plus advanced shipping, advanced discounting, and subscription selling
Pros
Beautiful and attractive templates
Full CSS customization for layout changes
Free domain name on most plans
Social media and multi-channel selling options
Excellent marketing integrations
Cons
High transaction fees on the cheapest package
No app market for integrations
Adobe Commerce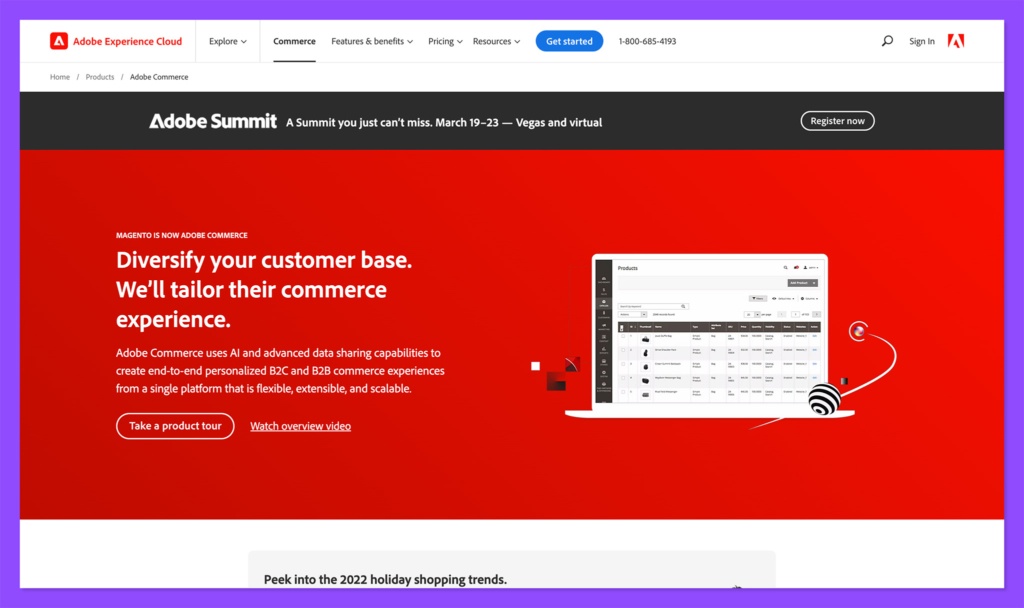 Previously known as Magento, Adobe Commerce is a highly versatile and flexible ecommerce platform for Canadian sellers. The powerful platform integrates with a range of other Adobe tools, so you can implement beautiful images, videos, and other assets throughout your website. Adobe even allows you to sell virtually everything, from physical products to services and downloads.
You can explore a range of multichannel sales options on Adobe Commerce, with access to unlimited product sales across various categories. The software includes access to AI and data sharing tools, so you can collect more information about your target audience and their preferences. There's also a drag-and-drop builder included on the platform for customization.
Adobe Commerce has inventory management solutions built-in, for tracking your transactions and financial success. Plus, there are various intelligent reports and analytics tools available, so you can learn more about your target audience. The functionality for building your ecommerce business can take a little getting used to, but it's worth it if you're looking for a versatile platform.
Pricing
Unfortunately, Adobe isn't particularly transparent about it's pricing options. There are no fees listed on the website for the plans available. However, you will have two options to choose from. The first is Adobe Commerce Pro, which offers complete access to a host of tools within the ecommerce system, including a dedicated staging platform and automated backups.
If you need extra help, you can choose the Managed Services package, which comes with all of the capabilities of Adobe Commerce Pro, with some specialist support, a more comprehensive cloud infrastructure, and uptime SLAs. You'll need to request a quote for both packages.
Pros
Highly flexible and customizable ecosystem
Support for selling all kinds of products and services
Dedicated staging platform and backups included
Powerful uptime guarantees and great support
Built-in AI analytics and reporting
Cons
No transparent pricing
Complex setup for beginners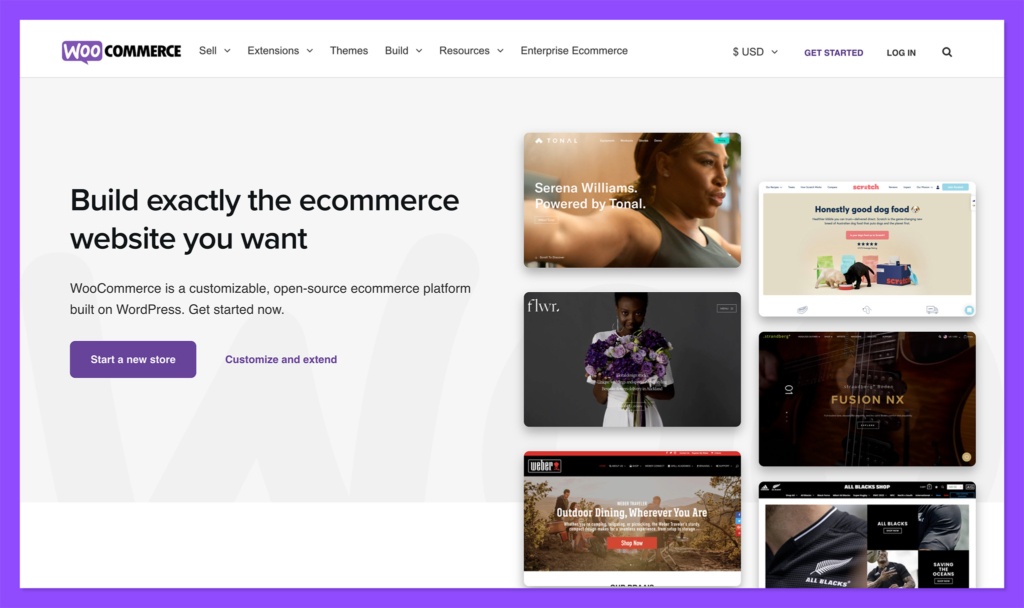 If you're looking for an easy way to create a powerful online presence for your Canadian store, WooCommerce could be the ideal solution. This WordPress plugin is the go-to solution for WordPress fans looking to sell physical products, services, and downloads in the digital world. The tool gives you everything you need to get started with online retail, including your own shopping cart.
Part of what makes WooCommerce such an attractive option to today's business owners is its flexibility. Not only does the solution plug straight into your existing WordPress website, so you can manage everything easily on the same backend, but you can integrate with a range of different tools and plugins. WooCommerce also has a fantastic developer community behind it to support sellers.
Even if you don't have a lot of technical knowledge, WooCommerce makes it easy to get started with omnichannel selling, dropshipping, and more. There are appointment and booking capabilities available, shipping and shipment tracking solutions, social media, and marketing integrations and more. Plus, you can use virtually any payment processing and credit card payment system.
Pricing
As an open-source solution for ecommerce, WooCommerce is free to download and use. However, you may find that you do have to pay for extra things, like hosting your WordPress store, security, and premium plugins. It's also worth taking into account the price you're likely to pay for payment processing from a variety of transaction providers.
Pros
Easy to use environment within WordPress
Comprehensive integrations with a range of tools
Global presence for Canadian businesses
Booking and appointment tools included
Numerous payment processing options
Cons
Can require some extra technical knowledge
Third-party plugins can cost more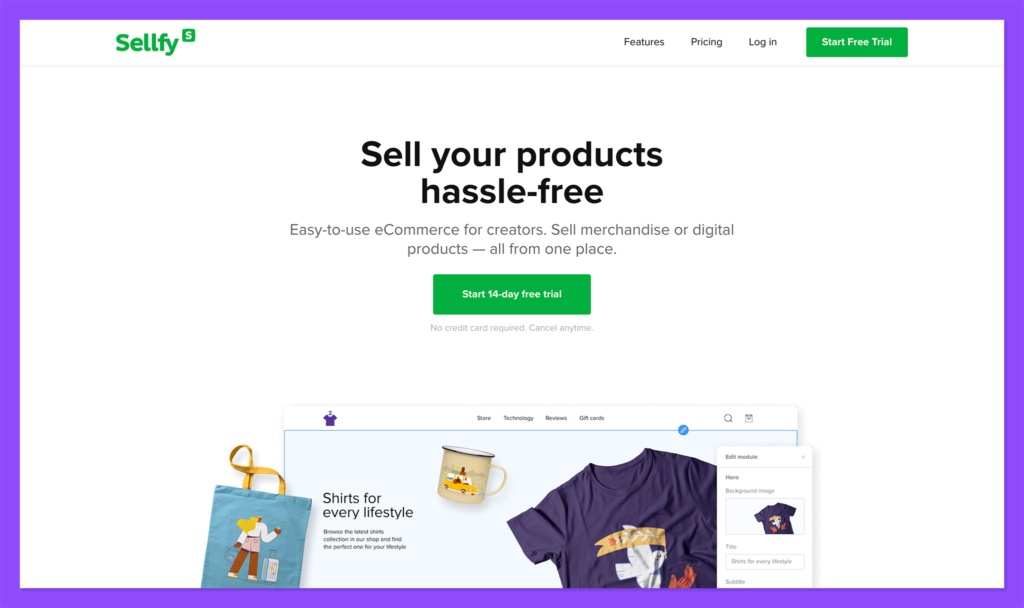 Finally, Sellfy is a beginner-friendly platform for ecommerce, designed to help anyone get their business up and running as quickly as possible. The convenient platform allows business owners to sell a combination of physical products and digital products from one place. You can get your store up and running in as little as five minutes, with various themes and templates to choose from.
Sellfy automatically integrates well with a range of tools, like YouTube, Facebook, Pinterest, and Instagram. You can also use built-in marketing features to help grow your company, connecting with customers through social channels, emails, and more. As an added bonus, Sellfy comes with the ability to access Print-on-Demand technology already built-in.
You don't have to download a separate service to start working with suppliers, you can simply browse through a range of products from within your backend admin portal, and start selling instantly. Sellfy also supports unlimited products on every plan. You can check out the handy FAQs on the website to learn more about how to create your own ecommerce store.
Pricing
Sellfy offers a range of pricing plans, with no transaction fees associated with any of them. You can get a discount on your packages if you choose a yearly or two-year plan over a monthly alternative. The options include:
Starter: $29 per month for up to $10k in sales per year, unlimited products, digital products, subscription products, domain connection and email marketing.
Business: $79 per month for all the features of Starter, plus $50k in sales per year, removed Sellfy branding, store design migration, product upselling, and cart abandonment.
Premium: $159 per month for all the features of Business, plus support for up to $200k in sales per year, product migration, and enhanced support
Pros
Tax and VAT calculations included
Print on demand services already built-in
Multiple payment processing options
In-depth analytics and reporting
Mobile optimized themes and templates
Cons
Sellfy branding on the cheapest plan
Some limited customization features
Choosing the Best Ecommerce Platform
Fortunately, it's never been easier for a small business to launch its own ecommerce website. There are countless commerce platforms out there offering exceptional ease of use, flexibility, and scalability for modern brands. Finding the right user-friendly ecommerce website builder for your web design needs is as simple as determining what kind of store you want to run.
The best platform for you might make it easy to create your own mobile app, or ensure you can leverage search engine optimization to make your startup stand out online. It's also worth taking into account what kind of budget you have to spend on your platform. Even many of the free options available today will still have fees to pay for payment gateways and transaction processing.
Whatever your choice, remember you always have the freedom to switch to a new service as your online shopping solution evolves. Many platforms will even help you with the migration process for free, so you don't need to invest in developer help.