The best graphic design software is a crucial consideration for any professional graphic artist or creative hobbyist. In the past, there were only a handful of options available to help you experiment with shapes, styles, and effects. Now, the market is brimming with fantastic tools built to empower innovators like never before.
The best graphic design software for your needs will depend specifically on what you want to create. Different tools offer unique feature sets for various purposes. Some solutions will allow you to edit photos and images, while others allow you to sketch ideas from scratch.
Today, we're looking at a selection of graphic design options from some of the best vendors on the market, to help you make the right decision.
What is the Best Graphic Design Apps and Tools in 2023?
1. Canva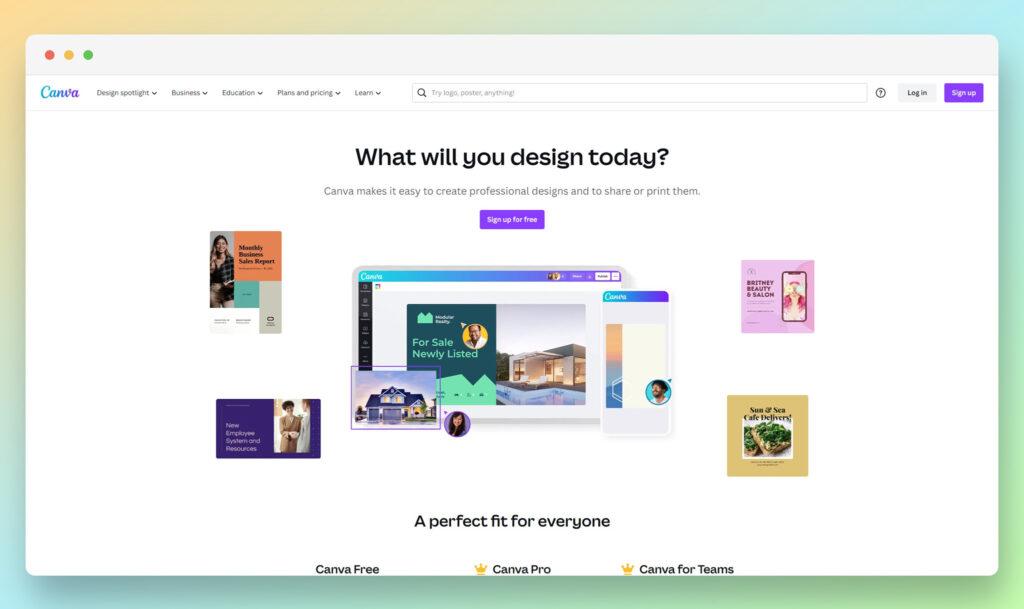 Starting with a tool ideal for beginners, Canva is one of the most feature-rich and user-friendly graphic design solutions on the market. The platform has collected endless users across the world with its variety of video, photo, and image editing tools. You can even access specialist templates to help you make the most of your social media posts.
Canva is intended for people with excellent creativity, but limited design experience. There's a drag-and-drop interface where you can combine photos and shapes. There's also access to various stock images if you need help enhancing your design. Canva also comes with various filters and tools for altering the appearance of your work.
You can convert videos into GIFs, add text and music to videos, crop photos and enhance your image quality and so much more. Canva is one of the ultimate tools for beginners.
Pricing
There's a free version of Canva available for basic graphic design elements, fonts, templates, and animation effects. For a wider range of tools, as well as cloud storage, various audio tracks and graphical elements and more, you'll need a paid plan. Options include:
Canva Pro: £99.99 per year for one person with hundreds of premium stock images and graphics, unlimited features and premium content, advanced templates, logos, and brand kits, and countless other features.
Canva for Teams: £129.90 per year for the first five people with all the features of Pro, plus various collaboration tools, team work flows, branded templates, dedicated folders for departments and access controls.
Pros
Easy to use and intuitive for beginners
Lots of templates, free graphics, fonts, and assets
Free version for people with limited needs
Access to various drag-and-drop tools
Easy smartphone app included
Cons
Limited advanced editing options
No layering features
2. Adobe Photoshop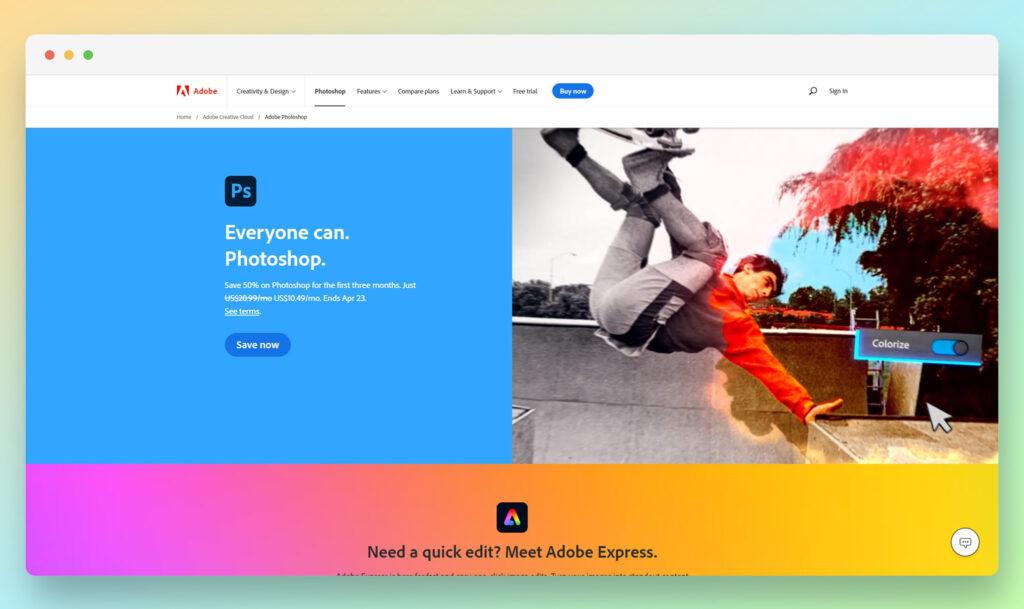 Photoshop by Adobe is probably the best-known graphic design tool in the world today. The solution has become the standard for content editing for digital artists, photographers, and website designers alike. Suitable for a range of use cases, Photoshop can help you touch-up your designs, and new features to projects, and more.
Although there are quite a few features to get used to as a beginner, Adobe Photoshop ensures you have everything you need to make your projects stand out. You can retouch and restore photos, crop components of images, download new brushes and tools on the go, and more. Photoshop also has some of the best retouching, masking, and layering features available.
Adobe Photoshop allows users to go above and beyond with their creative skills. What's more, there's active synchronization with the Adobe Creative Cloud, which can give you access to more features like artboards, cloud documents, and glyph panels.
Pricing
There are a few ways to purchase Photoshop. You can start with a 7-day free trial and purchase just Photoshop on its own for $20.99. If you want Photoshop combined with Lightroom – another popular editing tool, you can get both for $19.99 per month.
One of the most valuable ways to access Photoshop is with a Creative Cloud subscription, which provides access to a wide range of Adobe apps for $52.99 per month.
Pros
Excellent for layering, retouching, and enhancing images
Extensive brushes, pre-sets, and filter options
Support for 3D and high-definition designs
Lots of background and color manipulations
Great for image management and organization
Cons
Significant learning curve for beginners
Mostly focused on photo editing
3. GIMP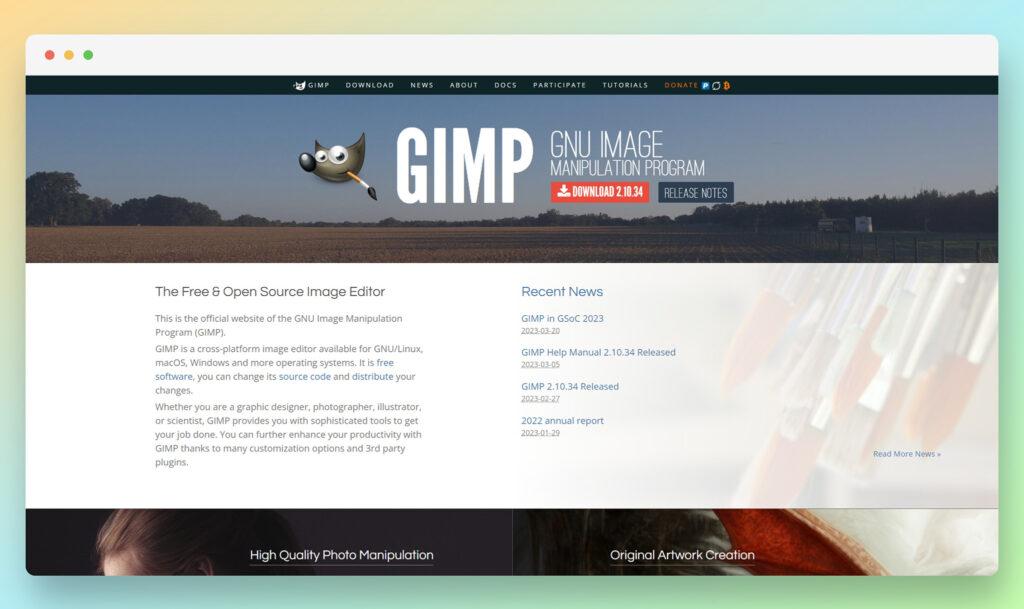 If you're looking for a free and open-source solution for graphic design, it's hard to go wrong with GIMP. The GNU Image Manipulation Program is an easy-to-use solution with lots of incredible features, similar to Photoshop. The service has been around for more than 25 years, and the features are constantly updating, to suit different business needs.
You can create artwork from scratch, fine-tune your photos, and access tools for picture composition enhancement. There's a built-in file management system, and you can even customize the GIMP interface based on your needs. There's also support for hardware pieces like drawing tablets.
GIMP is widely regarded to be one of the best free software solutions for graphic design on the market. Like Photoshop, it's also extensible, with the option to access plugins and downloads to add to your software for free.
Pricing
Because GIMP is an open-source software, it's entirely free to download and use. However, you may end up paying extra for some of the plugins and add-ons you want to use.
Pros
Phenomenal flexibility for drawing and editing content
Free and open-source software with available add-ons
Great layering feature, similar to Photoshop
Clean and easy to use interface with customizations
Excellent community support
Lightweight with minimal computing resources required
Cons
Can be more complicated to use for Mac users
There is a learning curve for beginners
4. Adobe InDesign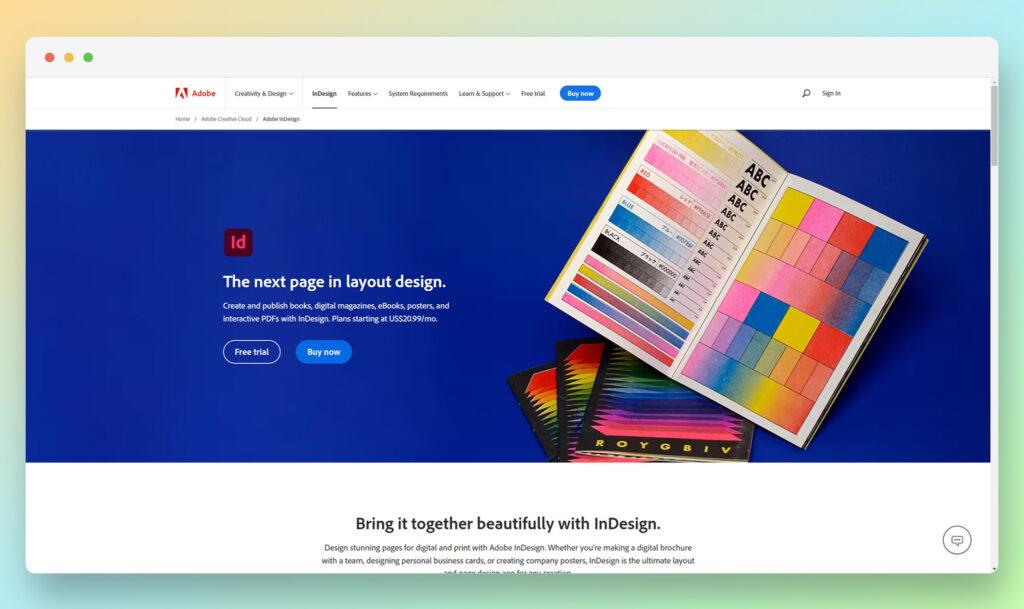 Adobe Photoshop might be one of the better-known tools for design on the market today, but it's far from the only ideal offering Adobe can provide. "InDesign", is one of the best tools for publishing, with various tools for creating attractive brochures, informational sheets, and magazines.
Adobe InDesign is considered much simpler to use than photoshop, with lots of great tools for beginners to ease them into the space. There's an "Adjust Layout" feature to empower designers to change the text of the template and adjust the design automatically. Plus, you get access to AI-powered technology for automatic resizing.
Adobe InDesign also comes with Adobe "InCopy" which allows users to work with other members of their team by sharing colors, graphics, and text in one environment.
Pricing
Similar to Photoshop, Adobe InDesign comes with a few different options for purchasing. You can purchase the solution on its own for $20.99 per month, with no other features from Adobe. Alternatively, you can access the full Adobe Creative Cloud with access to all of the apps for $54.99 per month.
Pros
Relatively easy to use for beginners
Excellent for working with colleagues on designs
Lots of tools for organizing your content
HTML exporting supported
Artificial intelligence tools to support your designs
Cons
Not intended for true beginners
PDF comment integration is limited
5. CorelDraw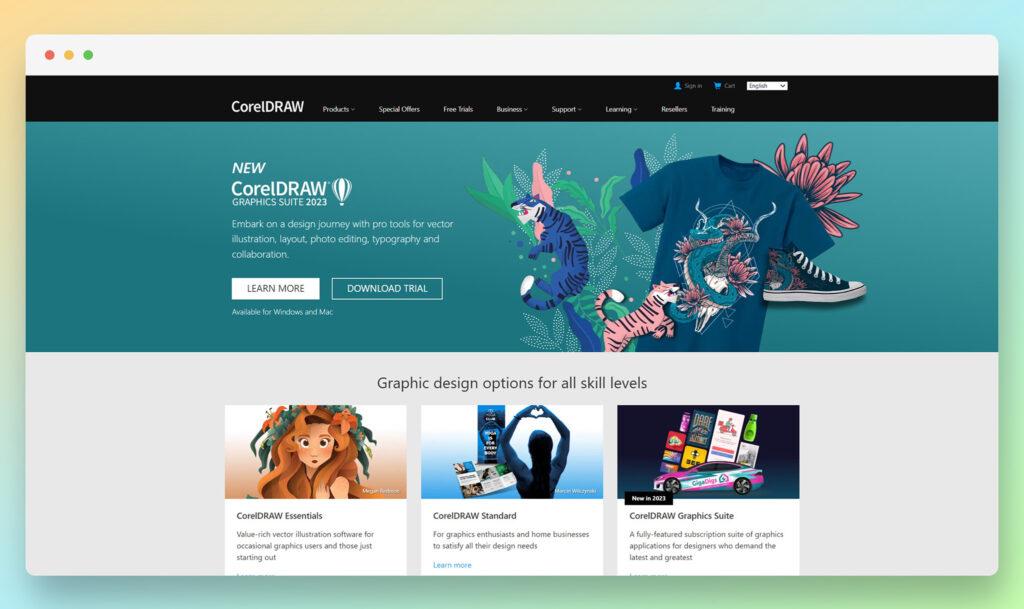 CorelDraw is a comprehensive graphics suite created for Windows users. The solution is designed to boost both creativity and productivity at once, with a range of fantastic professional features, and an easy-to-use interface. You can produce unique signage and illustrations, logos, and more, as well as collaborating with colleagues through the CorelDraw app.
CorelDraw comes with vector illustration and page layout tools screen capturing functionality, and a font manager where you can build your own library. There's image editing for photos with AI-enhanced support to guide your decisions. Plus, you can access a HDR RAW photo editor too.
CorelDraw also has a highly customizable user interface, with icon sizing, toolbox options, and decisions to make about how your documents should open. Users can also visit Corel's developer community website to design their own macros.
Pricing
Corel Draw comes in the form of either a one-time purchase, or an annual plan. The Annual plan allows you to access all of the features of the tool, and the latest versions of updates for £21.25 per month. Alternatively, the one-time purchase gives you all of the functionality for just £525. You can also purchase an entire year at once for £255.
Pros
Excellent in-app workflows for collaboration
Works well with hardware and pens
Lots of customization options for the UI
Various ways to edit photos and images
Vector creation available from scratch
Cons
Can be a little complicated for beginners
No video editing tools
6. Adobe Illustrator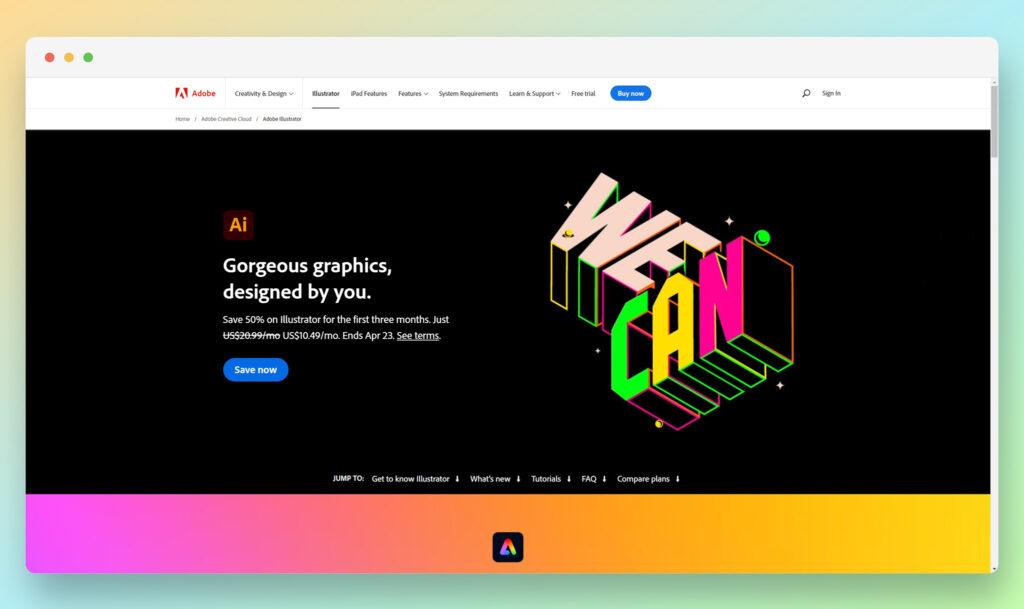 Going back to the Adobe ecosystem for a moment, we have the phenomenal Adobe Illustrator. This solution is best-suited for illustrative artwork, corporate logos, website creation, and anything else you can think of for most companies. It's one of the top tools in the market for vector creation, when you want to create new images from scratch.
Adobe Illustrator comes with a highly customizable interface, with lots of pre-set layouts to choose from, and the ability to drag and drop modules to wherever you need them. There's also an in-panel editing feature to allow designers to work on multiple artboards at the same time.
Compatible with multiple devices and leading tools, Adobe Illustrator is great for virtually any kind of artist. The graphic design software also comes with Sensei AI, so you can recolor artworks instantly, create custom effects and more.
Pricing
Like all of the tools from Adobe, Illustrator gives you the option to choose between simply purchasing the application on its own, or as part of a bundle. The standalone application costs $20.99 per month for all of the features, and can come with a 30-day free trial of Adobe Stock.
If you want to access all of the solutions Adobe has to offer at once, you can purchase the Creative Cloud for a price of $54.99 per month instead.
Pros
Excellent pre-sets and design options to choose from
Fantastic and customizable user interface
In-panel editing for efficiency
Integration with AI tools
Works with a wide range of devices
Cons
Can have a learning curve for beginners
Not ideal for all forms of design
7. Inkscape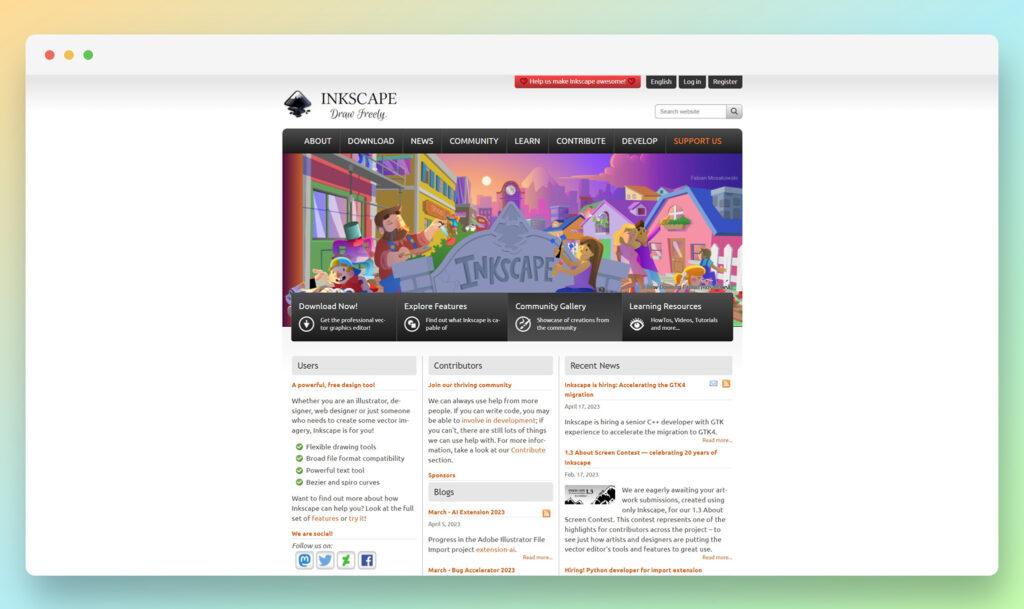 Inkscape is another excellent tool for graphic design if you're looking for open-source flexibility. This easy-to-use and comprehensive tool comes with access to a great community and a bunch of learning resources to get you started. Compared to most vector software options, the ease-of-use included with Inkscape is quite impressive.
What's more, because the software has a diverse range of community members involved with its creation, there are constantly new updates appearing within the feature set. You can experiment with everything from mesh gradients and checkerboard backgrounds, to spray and measurement tools.
There are powerful text tools, and complete freedom for designing your vectors from scratch. You can also work with Bezier and spiro curves, and explore a wide range of file formats. This is one of the more flexible tools on the market.
Pricing
As an open-source software solution for graphic designs, Inkscape has no cost associated with it, unless you want to seek out additional plugins and tools from the community. You can download the service and get started without spending anything.
Pros
Excellent user experience for beginners
Lots of regular updates from the community
No cost for getting started
Lots of learning videos and how-tos
Open-source code access
Cons
The Mac version can be a little complicated
Processing can be a little slow
8. Sketch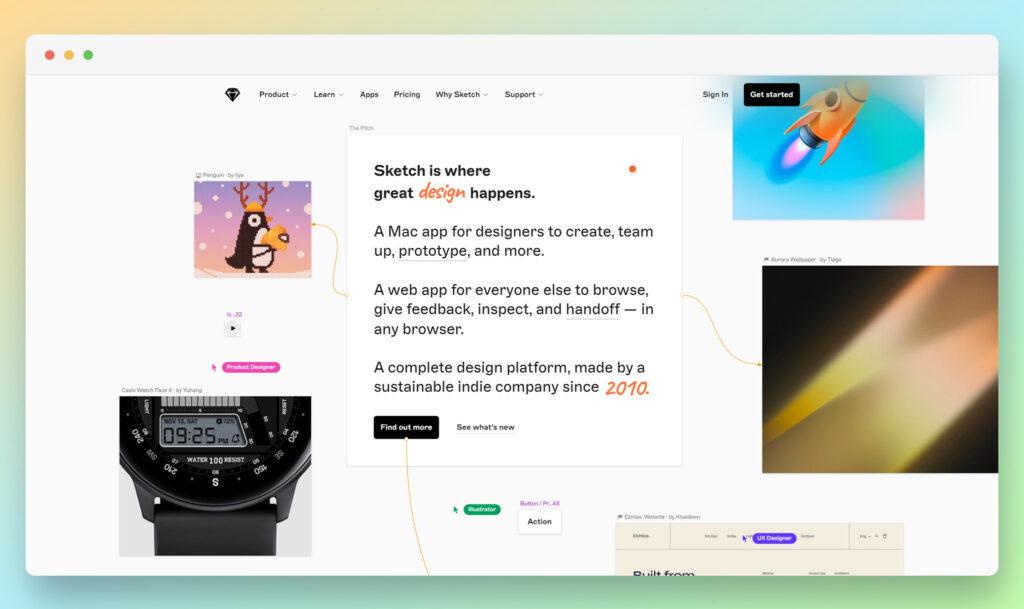 Sketch is one of the better-known vector-based graphic design tools, suitable for all forms of web, app, and interface design. This software is intended mainly for "UX/UI" design purposes, so it's great if you want to build your own app or website. You can create all kinds of prototypes, with access to various collaboration features for your entire team.
Sketch is an all-in-one toolkit for designers, with powerful tools like snapping and smart guides to help make sure your images look as professional as possible. There's even "snap to pixel" functionality to ensure you have the perfect alignment. You'll also be able to use a wide range of artboard templates for different devices and web layouts.
Sketch is also quite extensible, with access to various custom plugins you can add to expand your feature set. What's more, you'll have infinite control over your typography with variable font support, alternate characters, ligatures, and more.
Pricing
The first 30 days of your Sketch experience are available to access for free. After this, the standard package starts at $9 per editor per month, with access to all of the available features. If you want to upgrade to a Business package, you'll need to contact the team for a quote.
The Business plan comes with single sign-on (SSO), invoice-based billing, unlimited cloud storage, priority support and live chat technical support, and customizable security.
Pros
Excellent for collaboration with design teams
Lots of options for responsive web design
Automatic saving of content into the cloud
Lots of fantastic tools for fonts and designs
Native Mac Editor
Cons
Limited illustration capabilities
Not the best for Windows users
9. Affinity Designer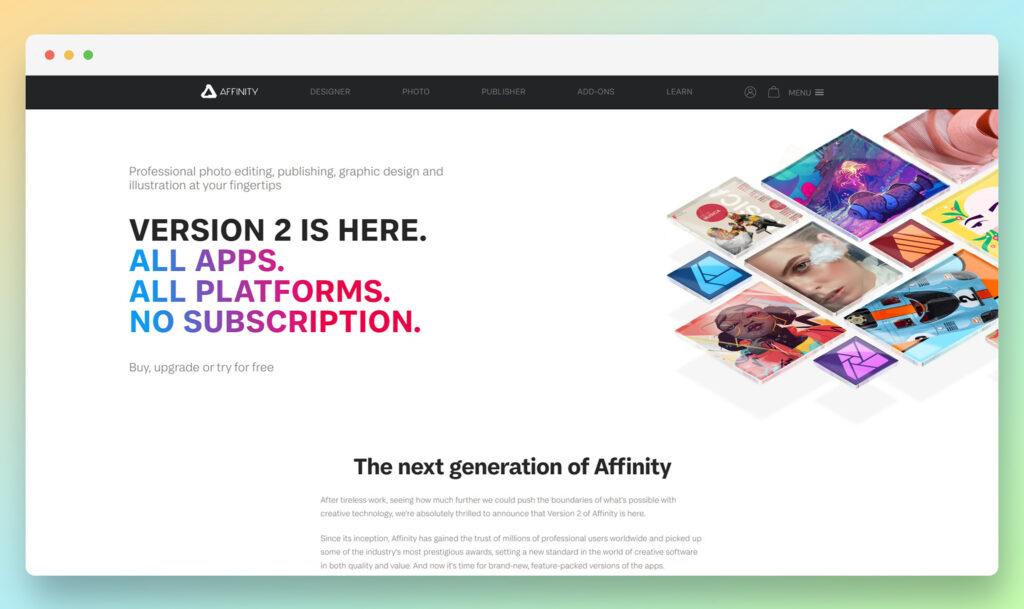 One of the top alternatives to Adobe Illustrator for beginners in search of an affordable design software, Affinity Designer is packed with functionality. This drawing and editing software comes with an interactive grid system to help designers create all kinds of precise icons and graphics.
There's a snapping option for your vector design, so you can lock positions and elements in place. Plus, Affinity designer can work on vector content and pixel art without the need for multiple applications. The cross-platform solution works perfectly for iPad, Mac, and Windows, so you can use just about any device you choose.
Affinity Designer is among the top choices on the market for professional illustrators, game developers, web designers, and more. If you want a combination of vector design and graphic design in one simple environment, this could be the perfect solution for you.
Pricing
This raster design and vector editing software is available in a few different paid packages. You can purchase the system in a one-off acquisition for Windows or Mac at £47.99. Alternatively, the iPad version is available for £17.99. The iPad app works similarly to a mobile app, with professional graphic design features pared down for a lightweight operating system.
Pros
Excellent industry-standard guides and support for designers
Boolean operation for combining shapes
Wide selection of colors for professional graphic design
Support for both vector art and raster images
No steep learning curve like other tools
Cons
No natural perspective grid
Missing some advanced features available from Illustrator
10. Visme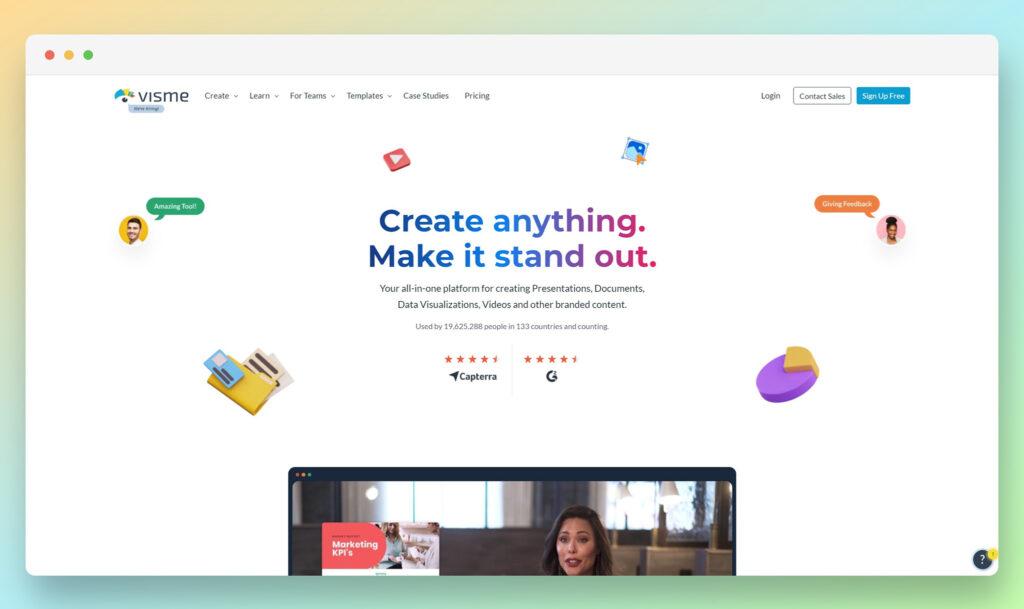 If you're looking for the ultimate tool for designing infographics and slideshows, then Visme could be the perfect workspace for you. The solution allows users to create documents, data visualizations, videos, and other branded content with ease. There are already more than 15 million people using the effortless system offered by Visme, including some major brands.
One of the best things about Visme is it allows you to collaborate with colleagues in a shared space. You can give feedback and work together on ideas in real-time, and leave comments on JPG and PNG images. There's also an asset management environment where you can keep track of all the latest projects produced by your team.
Visme is one of the top presentation apps on the market, with a huge library of stock images, templates, and animations to get you started. The straightforward ecosystem is easy to use, with very little learning curve to worry about, so you can create content at speed.
Pricing
If you're looking for the best free graphic design software, Visme does have a no-cost version, but it only comes with 100 mb of storage, limited templates and design assets, and basic support. The paid packages start at $12.25 per month for the Personal plan when billed yearly. The personal plan has 250mb of storage, JPG, PDF, and PNG downloads, and full access to templates.
There's also a Business plan with 3GB of storage, HTML5, video, GIF, and PPTX downloads, and brand kit features. Alternatively, you can contact the sales team for a "Team" version.
Pros
Excellent templates and guidance for beginners
Easy to use environment
Lots of download options
High-quality content management system
Collaboration features included
Cons
No support for guest collaborators
Low price plans are a little restrictive
11. Looka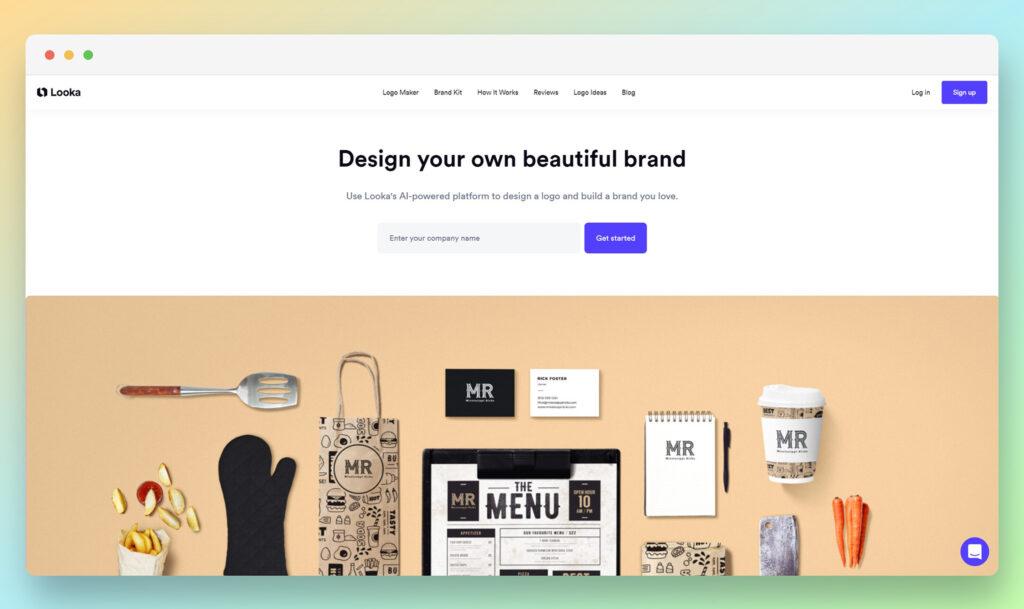 Looka is essentially a tool for building brand assets. The core of the solution is its "brand kit" designer, which allows you to create a custom logo and various marketing materials in the same place. There are over 300 pre-existing templates to get you started, and you can edit your content as much as you like. Plus, the templates make it easy to create business cards, social posts, and brand guideline documents in a matter of minutes.
Looka is an extremely straightforward tools, perfect for companies in search of a simple logo design system. The solution has AI tools built-in to help you choose specific color options for your logo, and assist you in choosing the correct designs.
While there are no drawing tools to create components of your logo from scratch, there are some editing options to assist with making your designs more unique. Looka is also one of the cheapest ways to get your own logo as a budding brand, with small one-off pricing packages, or a subscription option for your brand kits.
Pricing
If you're purchasing your logo only, you can purchase a single PNG file for £15. Alternatively, you'll be able to access multiple file types, including EPS, PNG, SVG, and PDF, as well as various color options with a one-time purchase of £50.
The Brand Kit subscriptions start at £84 per year when billed annually, with full access to your logo and any changes you want to make, as well as a range of templates for email signatures, brand guidelines, invoices, letterheads and more. There's an advanced Brand Kit web subscription for £156 per year which includes website design.
Pros
Easy to use environment for building brand assets
Lots of templates to get you started
Various download options for files
Convenient AI tools for choosing your brand assets
Affordable pricing packages
Cons
Some limitations on customization
Not the most advanced of software tools
Choosing the Best Graphic Design Software
There's no shortage of great graphic design software options out there. Whether you're looking for the pro version of various Adobe products to create vector images and animations, or you want one of the more simple graphic design apps, there's something for everyone.
When choosing your ideal option, make sure you think carefully about the kind of vectors, raster graphics, and animations you might want to create. It's also worth checking your solution works with different systems, like Chrome OS, Linux, Microsoft Windows, Apple iOS and even Android when necessary. Some tools even allow you to edit images offline.
Where possible, it's also worth reading through some tutorials to see how easy to use your software is. You can sometimes access free versions of certain tools to explore the features before you dive in with a paid package, which is always worth doing.
Good luck finding the ideal design software.