Are you searching for the best tool for creating brand materials for your business?
Looka is one of the most popular solutions on the web – but it's far from the only one.
You're in the right place if you want to shop around for cheaper and/or more customizable solutions. Here I'm exploring Looka alternatives that might catch your interest.
Let's dive in!
What is Looka?
Looka is an AI-powered graphic design tool. It can generate near-on endless logo options that you can edit to meet your needs. Then, with your logo under your belt, you can assemble a 'brand kit' using your company's logo, colors, and fonts. Looka uses this to create 300+ branded templates for your marketing materials, like business cards, ads, brochures, etc.
What to Consider When Choosing a Looka Alternative?
To ensure the solution you pick meets your needs, there are several factors to contemplate when searching for a Looka alternative:
Can the tool produce unique logos that give your brand its own identity?
Is the interface intuitive?
How expensive is purchasing the logo and additional branded materials?
How many design elements are available?
What's the self-help documentation like?
Best Looka Alternatives
With all the above in mind, let's jump into our list of the best Looka alternatives in 2023: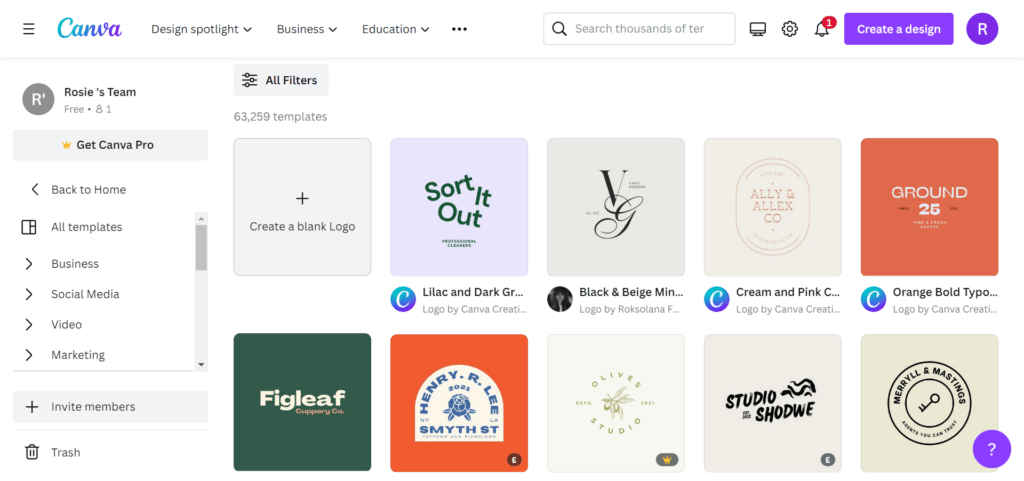 Canva is my favorite free graphic design and logo creation tool. I use it all the time. It comes with hundreds of thousands of templates for various use cases, including logos, posters, flyers, brochures, social media posts, and more. I love that Canva's editor is so easy to use and versatile. Thanks to its 100% drag-and-drop interface, anyone of any skill level could start using this software.
However, unlike Looka, Canva's logo maker isn't AI-fuelled. Instead, you can upload images and pick from a library of customizable templates, icons, fonts, etc., to create something unique. In fact, there are a staggering 63,000+ templates explicitly designed for logos, suiting a wide range of industries.
Also, on Canva's Pro plan, you have access to 100 Brand Kits to help you establish your brand's visual identity with colors, fonts, logos, etc.,
Unlike Looka, Canva also has a free online Photo Editor tool. You can upload, edit and share images from one place. This includes cropping, resizing, adding photo effects, enhancing images, etc.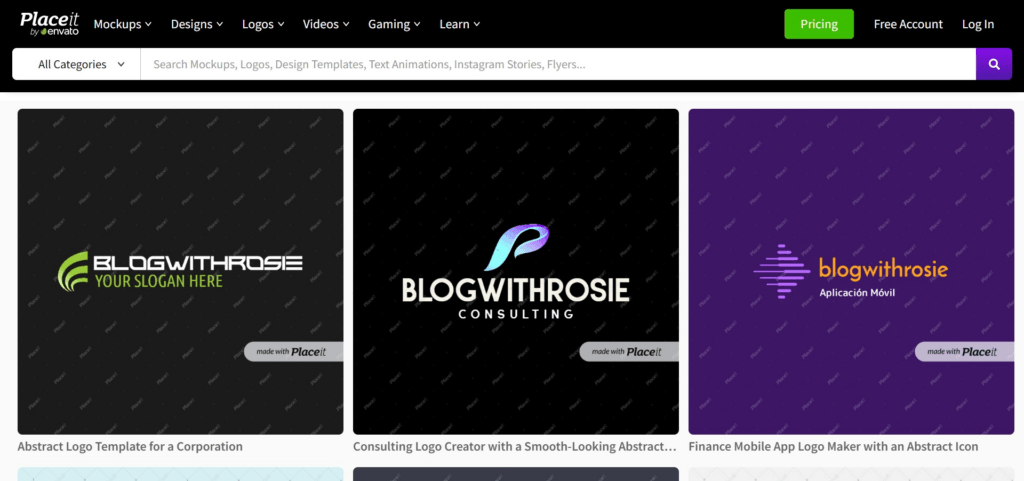 Placeit is another template-based logo creator. Templates are organized by industry categories, including clothing and beauty, finance and legal, healthcare, and podcasts. Logos generally consist of an image and text, which you can adjust to fit your brand, including colors and clipart styles.
You can also browse animated logos and logos dedicated to gaming and anime, which is ideal for Twitch streamers.
While Placeit also enables you to create branded assets like posters, flyers, size charts, and more.
You can download a logo for $39.95 per logo or get a subscription starting from $7.47 per month for unlimited downloads.
Here are some example logos created using Placeit: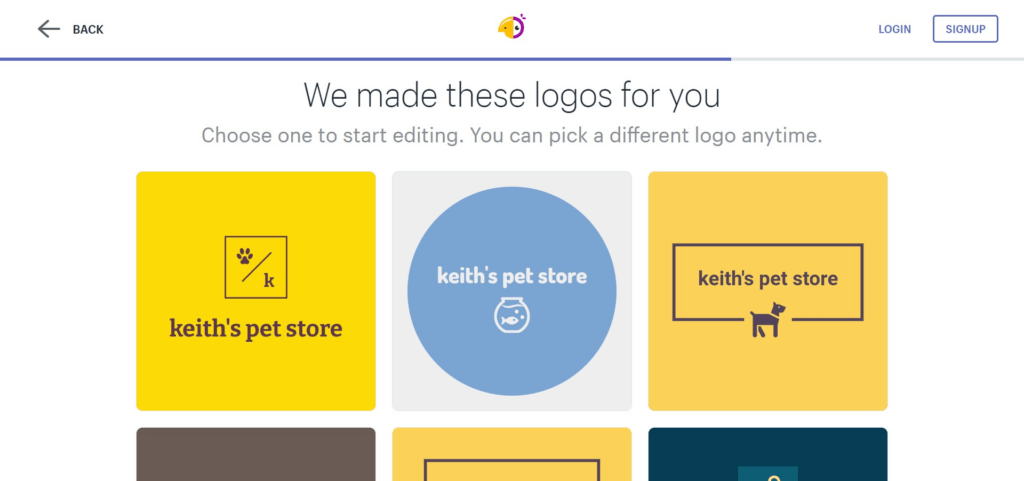 Hatchful is a logo maker partnered with Shopify, so you'll need a Shopify account to access this tool. Over 140,000 brands have relied on Hatchful for their branding.
You don't need any design experience to design a logo from scratch. Instead, Hatchful enables you to design a logo from hundreds of templates within seconds. You can then extrapolate that design to create a complete brand kit.
Hatchful also lets you download high-resolution social media assets to help you build brand recognition. Of course, everything you create is 100% yours to download and own. But the best part is that the Shopify Logo maker is entirely free for Shopify users.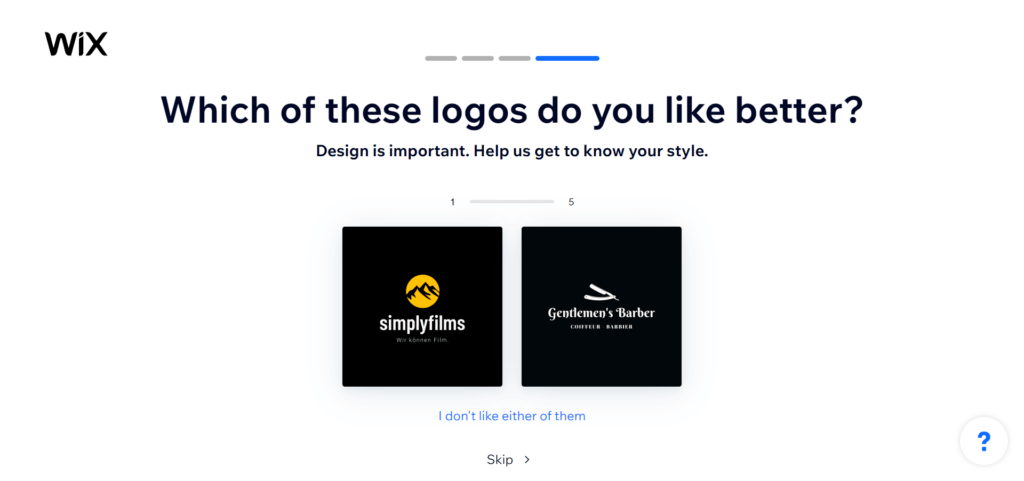 Similar to Shopify's Logo Maker, you need a Wix account to access Wix's logo creation tool.
Like everything else about Wix, its logo maker is super simple. Just enter your brand name and a tagline of your choice, define your industry, and share your design style. Then, Wix will populate an array of logo options you can customize with your favorite fonts, colors, icons, and more.
Once that's done, you can download high-quality image files of your logo and use them anywhere you want.
Finally, once you're happy with your logo, you can download or print your logo for free. Wix's logo maker generates high-quality vector files and offers formatting for various social profiles. You can also create business cards from customizable templates.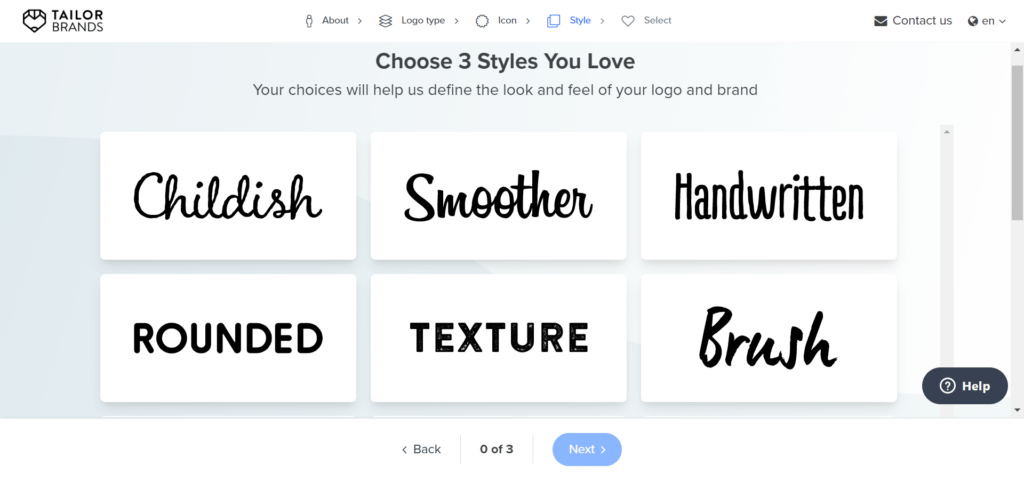 Tailor Brands makes logo creation a breeze with just a few simple steps:
Enter your business name, type of business, and what it does.
Choose a logo style that best suits your business (either icon, name, or initial-based).
Select the font styles that best reflect your brand's personality
The Tailor Brands AI logo generator will then come up with a few designs in less than a minute)
Choose the logo you want
Customize its colors, font, and icons (should you wish).
Download a high-resolution vector file version of your logo.
Aside from a logo maker, you can also use Tailor Brands to form your LLC, trademark your logo and brand name, buy a domain and business email inbox, and create a website with its automatic website builder.
Best Looka Alternatives: My Final Thoughts
As you can see, plenty of options are on the market if you're looking for a quick and easy logo maker!
Many use AI like Looka. So, if you prefer to answer a few questions and have a logo generated for you, you're in luck. If this is the route you want to go down, we recommend Tailor Brands because its logo quality is high, and its editing process is easy.
However, suppose you're already a Wix or Shopify user (or you're planning on becoming one). In that case, it makes sense to toy around with the logo makers they offer to see if they meet your needs before looking elsewhere.
Alternatively, if you're looking for a manual, template-based graphic design tool, I'd plump for Canva. It's free and has an astounding number of templates for many different use cases, making Canva incredibly versatile for creating a large variety of branded assets.