One Page Website Builders are Ideal for Sleek Minimalist Sites
Meta: The best one page website builder can be a valuable tool for people in the creative economy. These solutions make it easy to build portfolios and simple websites.
The best one page website builders are excellent for building simple, sleek websites, brimming with useful features. Ideal for creatives looking to showcase their work in visual portfolios, or growing service providers, these convenient tools make it easy to get started online.
In this article:
What is an One Page Website Builder?
One page websites are great for when you need to reach your audience in a succinct and engaging way. They're often highly mobile focused and responsive, making them great for a modern audience. Of course, one page website builders aren't right for everyone. Larger companies selling a range of services and ecommerce businesses with multiple products will often prefer multi-page sites.
If you've assessed your business model and decided all you need is a simple website to connect with your audience, then you're in the right place. Today, we're going to be looking at some of the best one page website builders on the market, brimming with powerful features for beginners.
What are The Best One Page Website Builders for 2023?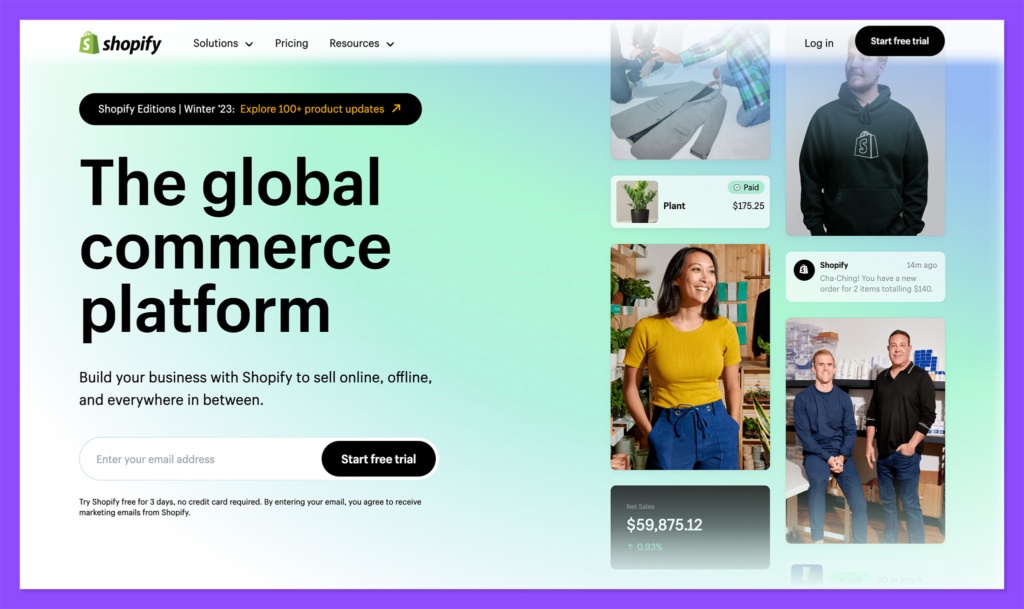 When most people think of Shopify, they imagine big, beautiful multi-page stores. After all, Shopify is the go-to solution for building powerful websites in the ecommerce landscape. However, you don't have to be a larger ecommerce store owner to benefit from the features of the Shopify website builder.
The fully customizable site builder in the Shopify landscape makes it easy to create virtually any kind of site you can think of. There are hundreds of themes to choose from, some of which are specially designed to suit one-page websites. You can choose your own custom domain, and use the built-in business name generator to find a moniker for your store.
Plus, Shopify makes it simple to scale your website as your business grows. You can start with a simple one-page site, then gradually add new features, functionality, and even additional pages, depending on your needs. With a huge app store available to find useful add-ons for SEO, marketing, sales, and POS integration, there's really no limit to what you can do.
Pricing
For one page store builders, perhaps the most compelling Shopify plan will be the Basic package, available for $19 per month. This product allows you to build an online store, sell unlimited items, create up to 2 staff accounts, and choose 4 inventory locations. There's also an SSL certificate and abandoned cart recovery built-in.
As your company grows, you may choose to upgrade to the Shopify plan for $49 per month, with more advanced reports, staff accounts, and lower transaction fees, or the Advanced Shopify plan for $259 per month. Shopify also has a Lite plan for adding ecommerce functionality to an existing page, and an Enterprise plan with support for headless commerce.
Pros:
Huge range of themes and apps to choose from
Excellent and easy-to-use back-end environment
Custom domains and name generator tools
Built-in SSL certificate and abandoned cart on cheap plans
Great customer service
Cons:
Best suited to ecommerce stores
Pricing can get quite expensive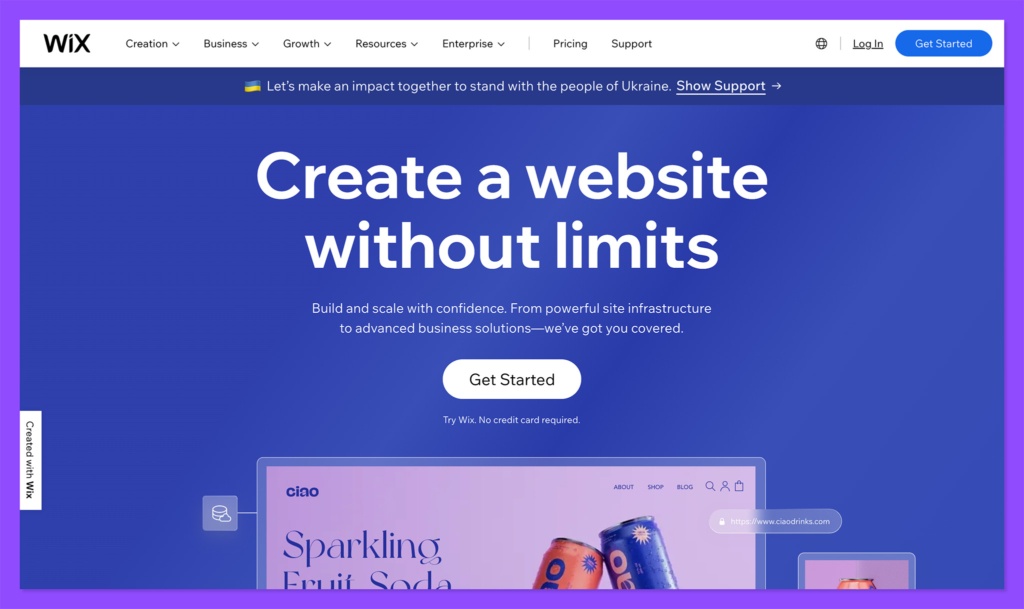 Wix is one of the better-known site builder solutions on the market today. With more than 200 million users worldwide, Wix makes it quick and simple to produce virtually any kind of website you can think of. There's support for single and multi-page websites, as well as ecommerce stores.
Wix's easy-to-use website building platform provides business owners, freelancers, and entrepreneurs with an affordable and convenient way to get started online. There are even articles and blog posts which highlight some of the most attractive one-page websites to help inspire you. To make things even easier, you can choose from two different styles of website builder with Wix.
The "standard" editor gives you a higher level of control over your website building process, with plenty of customization options to choose from. Alternatively, you can use the ADI or Artificial Design Intelligence editor, which can build the majority of your website for you based on your answers to a few simple questions. You can then edit your site with third-party integrations, apps, add-ons, and branding elements.
Pricing
Wix has a wide variety of plans to choose from, starting with the "Connect Domain" plan, with 1GB of bandwidth and 500 MB of storage space for $5 per month. Th access the site builder, you'll need at least the Combo plan, for $16 per month.
The Unlimited Plan for entrepreneurs and freelancers is $22 per month with unlimited bandwidth, 10GB of storage space, 1 hour of video content and a site booster app you can access free for 1 year. There's also a VIP plan for $49 per month. As your business grows, you can also consider a range of business, ecommerce, and enterprise plan options for additional features.
Pros:
Easy-to-use AI website builder
Huge range of options for site design
Excellent bandwidth and storage space
Plans to suit virtually every use case
Flexible and customizable websites
Cons:
Some limitations on customization for some plans
Some advanced features can be quite expensive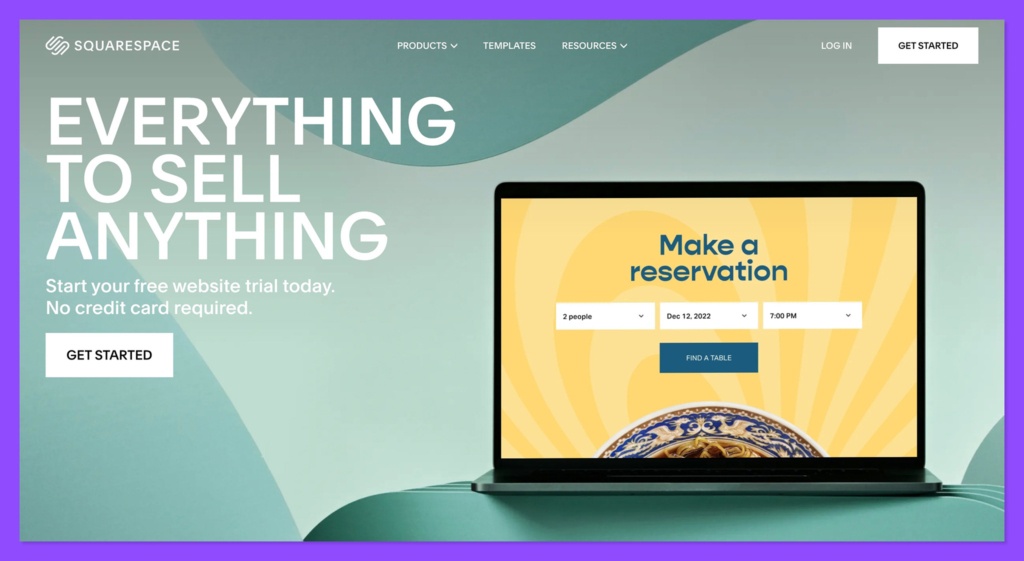 When it comes to building beautiful one-page portfolios, few tools are more popular than Squarespace. This phenomenal and easy-to-use website builder ensures creatives have everything they need to stand out online, with stunning templates and themes. The solution makes it quick and convenient to build virtually any kind of website you can think of. There's even the option to add your own ecommerce and marketing features as your organization grows.
Squarespace is one of the few website builders which has specific solutions available for portfolios, so you can showcase your work in the most attractive and engaging way possible. You can also use Squarespace to sell products and services, schedule appointments, and there's a marketplace where you can add various new apps and add-ons into your site.
Squarespace also comes with a range of powerful capabilities included on virtually every plan, from SSL security certificates to website analytics and metrics. There's even unlimited bandwidth and storage on the cheapest personal plan, so you can scale however you like.
Pricing
Squarespace pricing starts with the "Personal" plan for $16 per month, which is ideal for professionals looking to create simple, stylish websites on a single page. There's unlimited bandwidth and storage, a free custom domain, SSL security and mobile optimization already built-in.
If you want to upgrade with ecommerce functionality, promotional pop-ups, announcement bars, and premium integrations, you can access the Business plan for $23 per month. Alternatively, there are two ecommerce plans available for online sellers.
Pros:
Huge range of stunning professional templates
Amazing design tools for beginners
Convenient back-end environment
Lots of ways to customize and enhance your store
Fantastic SSL security included
Cons:
No free plan
Some limitations on scalability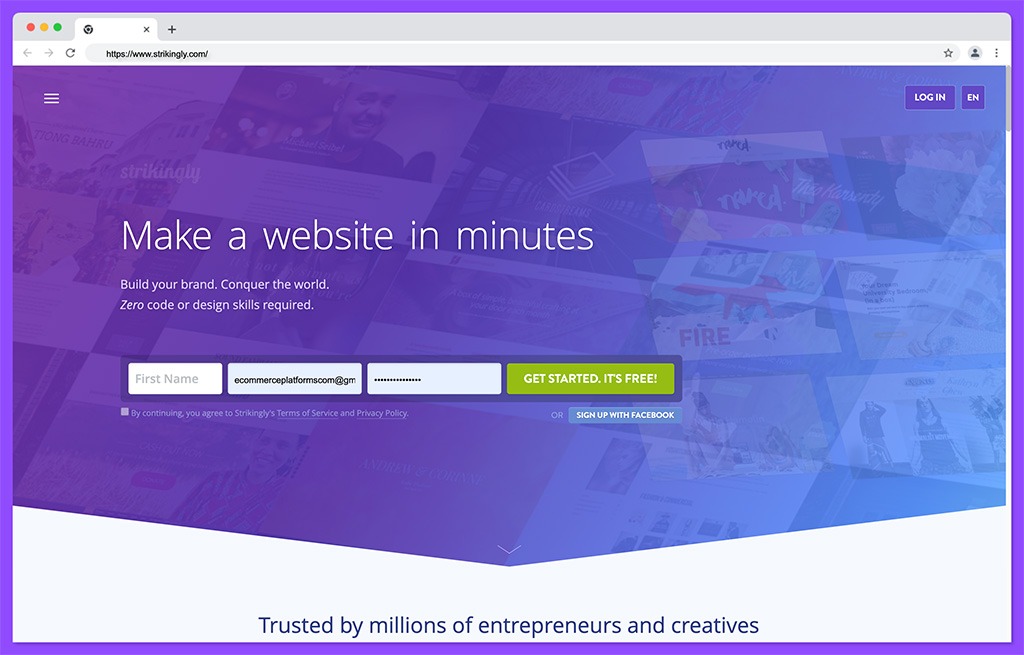 Strikingly is another well-known website builder providing business owners, entrepreneurs, and creatives with the tools they need to make a unique website in minutes. The powerful website builder requires absolutely no coding knowledge, and already comes with a host of ecommerce tools built-in, so you can decide to sell products and services if you choose.
There are also engaging tools included in Strikingly to help you connect with your audience, with signup forms, live chat, newsletters, and memberships available. You can register a new domain name, or use one you already own, connect your social feed directly to your page, and even build your own blog if you decide to expand your website.
Strikingly offers opportunities to build virtually any kind of website you can think of, already mobile-optimized and ready to connect with your target audience. There's 50GB of bandwidth included on the cheapest plans, so you should have no issues with growth either.
Pricing
Strikingly has a variety of pricing packages to choose from for beginners, starting with the "Limited" plan at $12 per month. This supports 2 limited sites, unlimited free sites, custom domain connection, SSL certification, 50GB of bandwidth and 1GB of storage per site. However, if you sell products you will need to pay a 5% transaction fee.
The Pro plan starts at $20 per month for 3 Pro sites, as well as unlimited bandwidth, custom forms, advanced features, and the option to remove Strikingly Branding. There's also a VIP plan for 100GB of storage per site, a 0% transaction fee, multiple membership tiers and a dedicated account manager. Users can also save money by signing up for multi-year plans.
Pros:
Very easy to use for beginners
Decent amount of bandwidth on even the smallest plans
Excellent domain connection options
Lots of ways to engage customers through memberships
Powerful marketing and sales tools
Cons:
Expensive transaction fees on some plans
Limited customization options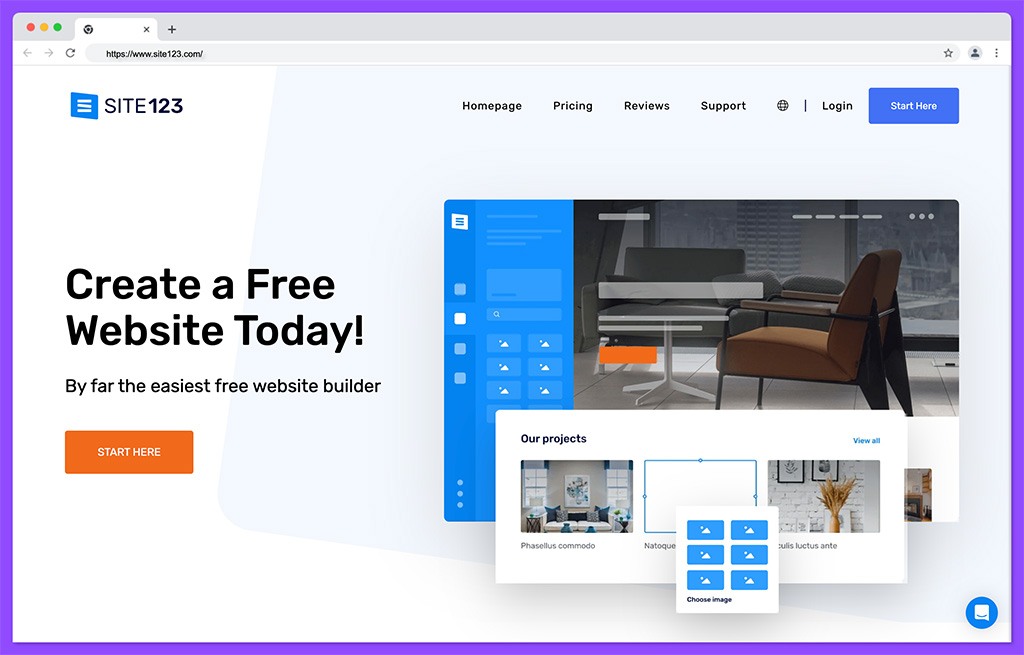 Ideally suited for the Creator Economy, SITE123 is a straightforward website building tool, with a strong focus on ease of use. The solution comes with a range of powerful features to choose from, including built-in Google SEO tools, a mobile-friendly website editor, and ecommerce options for selling online. There's even free web hosting available too.
SITE123 ensures anyone can build a site in 3 easy steps, whether you're creating a one-page website or multi-page online presence. There's plenty of guidance to walk you through the steps of designing your own website from scratch, and you can access customer service and support whenever you need it. Plus, there are various language options to choose from too.
SITE123 keeps things simple and straightforward for performers and artists who want to draw attention to their services and accomplishments online. You'll have a great back-end content management system too, so you can upload blogs and content if you decide to expand your website in the future.
Pricing
There are only 2 pricing packages to choose from with SITE123. The first is the free plan, which comes with 250MB of storage and bandwidth. However, you will need to use a SITE123 subdomain, and your website may include SITE123 branding.
The Premium package is $12.80 per month, with a free domain for up to 1 year, 10 GB of storage, 5GB of bandwidth, and the option to remove all SITE123 branding. You can also connect your own domain and build an online store.
Pros:
Very easy to use for beginners
Multi-lingual site creation for bigger companies
Lots of integrations available
Connect your own domain or buy one directly
Free hosting included
Cons:
Templates can be a little basic
Design customizations can be limited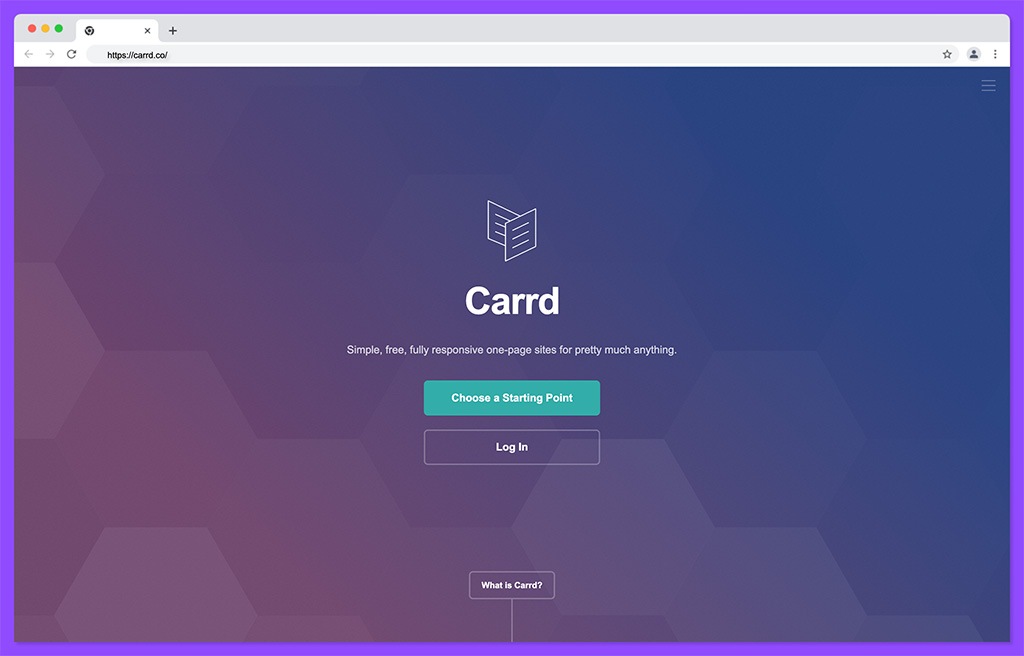 One of the few online website builders with a direct focus on building one-page websites, Carrd is a simple and powerful tool for business owners. The easy-to-use ecosystem ensures users can build their own website in no time, whether it's a personal profile, a landing page for capturing emails, or something a little more elaborate.
There are dozens of great templates to choose from for beginners, all created to be completely mobile responsive. Plus, you can choose a blank canvas if you really want to get creative. Depending on your plan, you'll also be able to explore a wide range of bonus features, such as custom domains, sign-up forms with integrations to your marketing tools, widgets, and embeds.
Carrd even allows you to connect Google Analytics to your website, so you can collect more information about your target audience. Although the service may seem a little simplistic for some users, it's excellent for saving time and money on your strategy for building an online presence.
Pricing
There's a free version of Carrd available, but you will be limited in your template options and features, and you won't be able to remove Carrd branding. If you opt for a paid plan, you can start with the Pro Lite option for $9 per year with premium URLs, no branding, high-quality images, videos, and custom templates.
The Mid-tier Pro plan is $19 per year for more website options, Google analytics, widgets, embeds, local fonts, meta tags and more. Alternatively, you can choose the Pro Plus plan for $49 per year and create up to 25 sites with all the features of the mid-tier plan, plus additional custom forms, and advanced settings for developers.
Pros:
Very affordable pricing for beginners
Easy to use environment
Fantastic range of templates
Lots of available add-ons and widgets
Integrations with leading tools
Cons:
Missing some more advanced features
Limited customization on some plans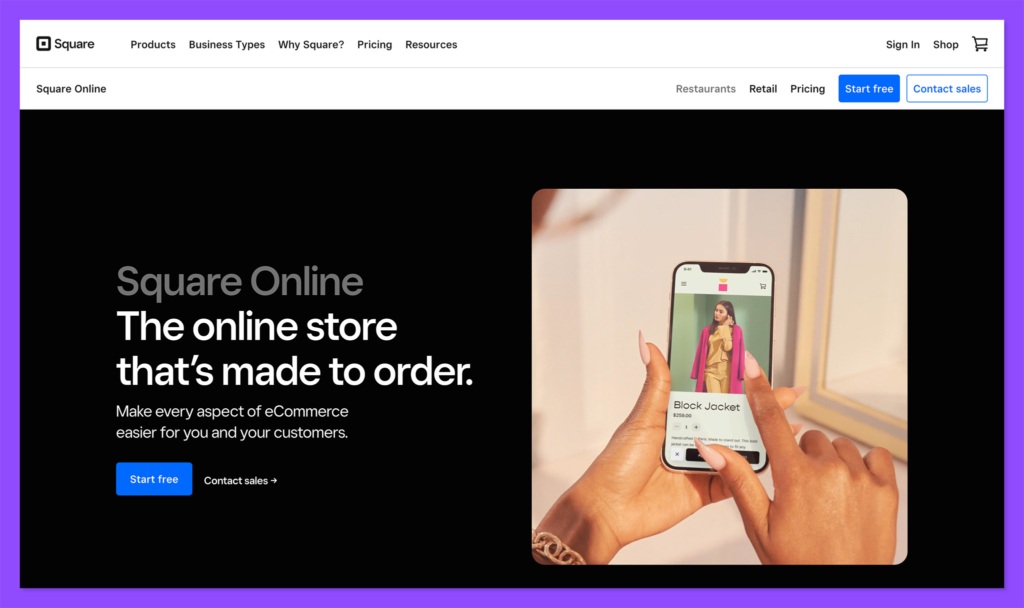 The payment processing leader Square might not be the first brand you think of when it comes to web design. However, Square offers some fantastic website building functionality too. With an environment that's as easy-to-use as WordPress, you can build just about any kind of site you like, including one-page portfolios and store pages.
Square's online store builder comes with a range of templates to choose from, with infinite scrolling, order management, and synced inventory data. You can even create an app-style shopping experience for your small business, with mobile-ready layouts.
Square's flexible templates come with the option to integrate to Facebook and Instagram too, so you can link customers directly to your social channels from your single-page website. You'll also be able to create contact forms for customer support, and blog pages if you decide to expand your website at a later date. Even better, you can create your professional website without paying anything.
Pricing
It's free to build a website with Square's online platform, unless you want advanced website design features. The free plan comes with a host of options for omnichannel selling across different channels, as well as support for high-quality pictures, animations and videos. However, you will need to manage transactions entirely through Square, and pay a transaction fee.
Paid packages for Square's website are also available, starting at £9 per month. The paid plans allow you to remove Square ads from your website, connect a custom domain, and even create password-protected pages. Advanced plans also reduce your transaction fees, and allow you to experiment with unique features like abandoned cart emails and advanced reporting.
Pros:
Easy to take credit card and debit card payments
Free website builder (though there are transaction fees)
Integrations with email marketing and social media tools
Lots of page design templates to choose from
User-friendly back end
Cons:
Some of the features are a little basic
The transaction fees can be quite expensive
8. Zyro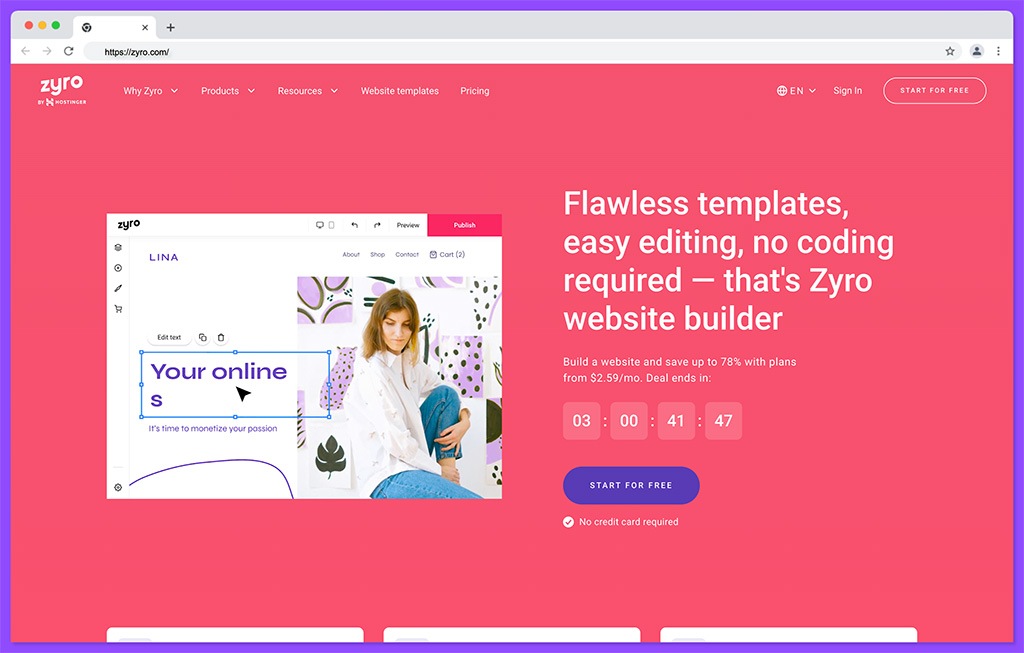 Zyro is another excellent option if you want to create a single page website with no web development skills. Powered by Hostinger, the solution comes with a range of templates to choose from, which allow you to divide your page into different sections for displaying products, information, and contact forms. As with most website builders with one-page templates, Zyro will also allow you to expand your single-page site with new pages in the future.
All of the templates are optimized for mobile devices, and they can be enabled with ecommerce and cart functionality, so you can take payments through PayPal, credit card, and other tools. The Zyro websites also integrate with leading platforms like Instagram, Facebook, and Amazon, so you can boost your chances of sales across different channels.
Zyro also has some pretty impressive features for helping you stand out online, from SEO optimized blogs, to AI content creation tools. Plus, there are helpful tutorials, FAQ pages and guides available throughout the website to help you tweak the user experience of your website.
Pricing
Zyro is one of the most affordable website builders on the market. There are two plans to choose from. The "Website" plan costs $11.99 per month with access to unlimited bandwidth and storage, a free domain for 1 year, free web hosting and free email for 3 months. You also get 24/7 support, SSL security, SEO support, blogging tools, AI branding features, and more.
The "Business" plan is intended for ecommerce store owners, and starts at $14.99 per month. This package features all the features of the "Website" plan, but you also get visitor remarketing tools, order and inventory management, booking features, and a checkout page.
Pros:
Easy to use environment for beginners
Intelligent AI features for branding and marketing
Website hosting and domain name included
Page templates for all kinds of websites
Tools for attracting search engines included
Cons:
Very simple features on the basic plan
The template selection is a little small
Choosing the Best One Page Website Builder
A one page website can be an excellent way to get started in the digital world, and it's extremely easy to create, regardless of whether you have coding knowledge or not. You could start with one of the tools above, or use other well-known platforms like WordPress, Weebly, and Webflow.
Most of the options outlined above include options to either build a single web page, or build out an entire website, with plugins, add-ons and integrations. This means you can transform and grow your business website as your startup evolves.
If you're not sure which product to use, it's worth checking out some of the free plans and trial options from each of the builders above, so you can put the functionality to the test yourself.