If you're looking for the best Shopify CRM, you're in the right place! In this round-up, I'm evaluating some of the best Shopify CRMs on the market so that, hopefully, you'll have a better idea of which software is right for you.
So, with that said, let's dig into the meat and potatoes of this best Shopify CRM round-up.
In this article:
What is a CRM?
In a nutshell, CRM is just an acronym for 'Customer Relationship Management.'
But, more specifically, in the context of identifying the ''best Shopify CRM', we're referring to CRM software.
For the uninitiated, CRM software is explicitly made to help you and your team better manage and track customer interactions and communications at every stage of the consumer's lifecycle.
Examples might include:
Form fills
Voice calls
Emails
Text messages
Live chat messages
Documents
Quotes
…the list goes on.
Within your CRM platform, all of your prospect and customer data is readily available in one place, negating the need for multiple spreadsheets and apps, which, needless to say, saves tons of time and effort. You should be able to grant your entire team access to these details, which goes a long way to streamlining internal communications and better positioning your team to offer customers the best possible service.
With that in mind, a high-quality CRM solution will typically come with the following features:
Contact management tools
Sales management tools
Marketing automation
Lead management tools
Sales forecasting
Reporting features
…to name but a few!
Benefits of Using a CRM for Your Shopify Store
Now that we've quickly explained what a CRM is let's briefly list some of the benefits of integrating a CRM with your Shopify store.
Unfortunately, the list is so many that I can't cover them all here. So, below, I've discussed just a couple of the most notable advantages:
Better Organize Your Customer Data
Suppose you use several sales channels and marketing platforms to attract leads and secure customers. In that case, you might struggle to track all your customer, marketing, and sales data. Unfortunately, when you use loads of different solutions, you don't always benefit from a central repository of customer data, meaning you have to flit from tab to tab to keep up. Unsurprisingly, this approach is prone to human error and takes up your team's time that could be better spent elsewhere.
Fortunately, this is where a CRM can help. Arguably, the most significant benefit of CRM software is that you can conveniently access all your customer, lead, and order-related data from one place because it should automatically sync and display all the information you have scattered across your different marketing, sales, and comms channels.
Such a 360-view of your data makes it easier to:
Identify customer segments
Calculate the ROI generated from each marketing campaign and sales channel
Evaluate your most popular products and gauge demand
Pinpoint changing consumer preferences
Spot emerging market trends
…to name but a few examples!
Of course, all the above is invaluable for optimizing your marketing campaigns, sales techniques, customer support strategies, and inventory management.
Offer Better Customer Service
The fact is: Collectively, brands miss out on around $75 billion per annum due to lousy customer support.
Fortunately, as I've already mentioned above, a decent Shopify CRM will centralize customer conversations across all your support channels, making it easier to track open conversations and respond accordingly.
You can also use a CRM to ping automated order status alerts, shipping updates, and follow-up emails on how customers can best use their purchases. Again, these are just a few examples of how you could utilize a CRM to offer better customer service, but hopefully, you get the gist.
What are the Best Shopify CRM Systems in 2023?
Now with a clearer idea of what a Shopify CRM is and how it could benefit your eCommerce business, let's explore a few of the best CRM systems out there:
*Please note that most of these CRMs will have native integrations that you can find in Shopify's app store. Failing that, you might need to create your own custom integration to connect the CRM with your Shopify account. However, you might need to hire a developer to do this for you if you don't have the coding smarts.
1. HubSpot CRM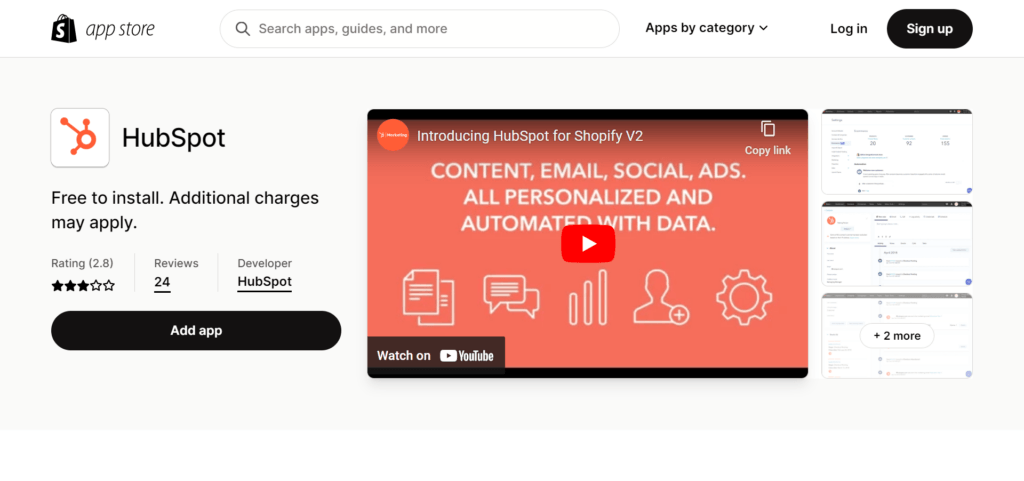 HubSpot is a holistic platform that provides a wealth of free CRM tools for up to 1,000,000 contacts. There aren't any limits on the number of free users you can register or customer data you can store.
However, if you wish to expand upon Hubspot's free offering, you can purchase more advanced CRM features. Hubspot divides these into what it calls 'hubs.'
Some of HubSpot's most notable CRM functionalities include:
The ability to track sales activity across your entire pipeline in real time.
You can generate reports on productivity, individual sales rep performance, and sales.
Access to calendar integration and a meeting scheduler
You can receive notifications when a prospect opens an email or visits your website.
Prospect tracking (to identify which companies are landing on your website)
Communicate with prospects via live chat
…and more.
Pricing
HubSpot's pricing structure is somewhat complex, so I encourage you to review their pricing page. However, as mentioned, all the above features are included with HubSpot's free CRM.
Who Is It Best For?
HubSpot's free CRM is best for small businesses looking to find their feet with their first CRM. Its freemium offer is incredibly generous and might provide enough for you. But be cautious; if you outgrow HubSpot's free offering, its pricing plans sit on the pricier side of the scale.
I also want to highlight that HubSpot's self-help resources are second-to-none. Over on their 'Academy,' you'll find plenty of free online marketing, sales, and customer service courses.
2. Brevo CRM (formerly Brevo)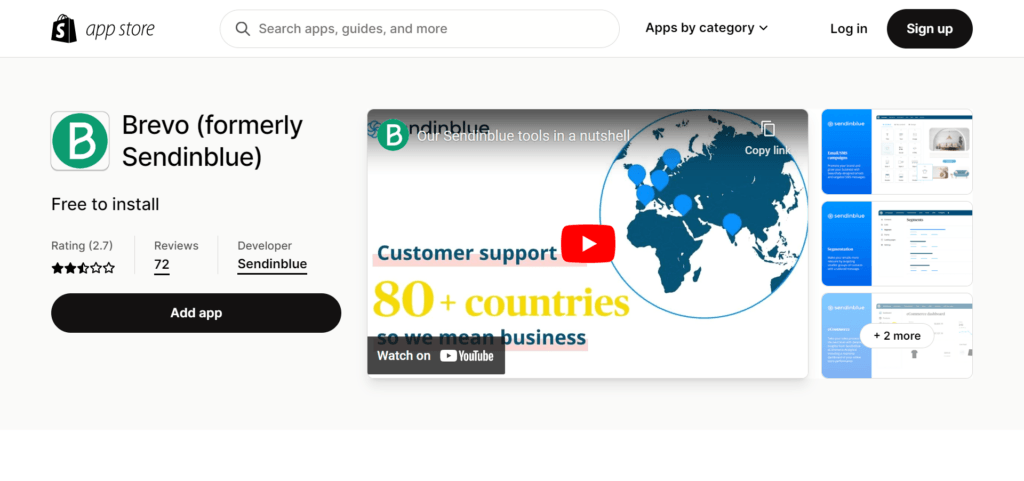 Please note: Sendinblue CRM is now called Brevo, so that is what I'll refer to it below.
Brevo splits its CRM offering into four packages:
Marketing platform
Conversations
Sales platform
Transaction email
To provide a sense of what Brevo offers, I'll quickly list some of its free features:
Marketing platform: You can create email campaigns and newsletters using a drag-and-drop editor, send transactional emails, and launch SMS and WhatsApp campaigns
Conversations: You can have unlimited chat conversations with prospects via a chat widget on your website, access their complete conversation history, and respond to customers while you're on the go via Brevo's iOS and Android mobile apps.
Sales platform: Track unlimited contacts and deals, assign contacts to specific team members automatically, access a shared inbox, schedule client meetings, and more.
Transactional emails: Access email tracking analysis, dynamic templates, unlimited log retention, RESTful APIs, SMTP, webhooks, and more.
Pricing
As you would expect, the more costly the package, the more features you unlock.
Brevo pricing plans are as follows:
Marketing platform:

Free: $0 per month (best for those wanting to discover what Brevo offers)
Starter: Starting from $25 per month (best for growing businesses)
Business: Starting from $65 per month (best for marketing managers and eCommerce experts)
Brevo Plus: Contact Brevo directly for custom pricing (best for larger organizations)

Conversations:

Free: $0 per month (best for those wanting to discover what Brevo offers)
Pro: Free 30-day trial; after that, it's $15 per month (best for scaling real-time customer communications).

Sales platform: Free!
Transactional email: It's free to send 300 emails a day (After that, you pay as you go, the pricing of which varies. However, there's a helpful calculator on their website that tots up how much you should expect to spend).
Who Is It Best For?
Brevo is best for beginners with small contact lists looking for an affordable and intuitive email, live chat, and SMS platform. Its freemium plan is exceptionally generous; you can store unlimited contacts and send 300 emails a day without paying a cent!
However, its marketing automation features are somewhat basic, so if you want to launch complicated automated workflows for larger organizations, you might have to look elsewhere.
3. Pipedrive CRM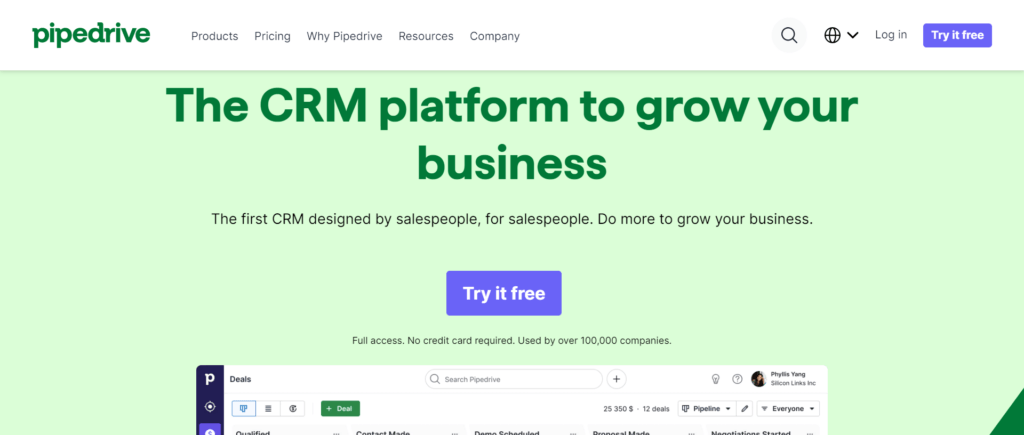 Pipedrive breaks its process down into three intuitive steps:
Set up your sales pipeline: Use Pipedrive's drag-and-drop funnel builder to customize the different stages of your sales funnel. You can drag deals into the pipeline or automatically import deals from a spreadsheet or your former CRM.
Track progress: Receive automated reminders to help keep deals on track. Your sales forecasts will automatically update as your deal progresses through the funnel.
Automate sales growth: You can review analytics and utilize AI to pinpoint opportunities to close more sales and automate routine tasks to free up your time.
You'll also benefit from the following features:
Team collaboration tools
Lead segmentation – you can organize leads into lists so that it's easier to send more tailored communications
You can review a complete history of the calls, meetings, emails, and notes pertaining to any contact/deal.
Create and publish custom forms on your website to generate leads.
Pricing
Pipedrive offers five pricing plans. All come with a 14-day free trial with no credit card details required.
Monthly or annual billing is available. The latter can secure savings of up to 32%.
Pricing plans are as follows and are based on yearly billing:
Who Is It Best For?
Pipedrive CRM is best for small businesses with relatively small sales teams looking to automate their sales processes using a relatively affordable solution.
4. Freshsales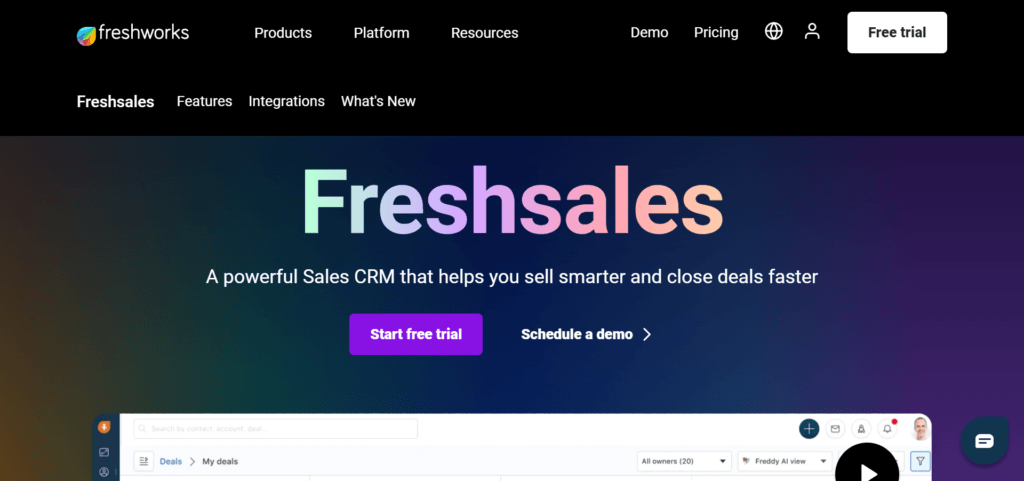 Freshsales boasts several features, including:
360-degree contact management: You can visualize data as a table, list, kanban board, or summary format. You can also access customer engagement timelines. These provide a chronological view of their interactions with your brand.
Omnichannel sales management: You can connect your email inbox for two-way sync with Freshsales and launch customized and automated email campaigns with their ready-to-use email templates. You can set various triggers to send said campaigns. On top of that, you can nurture your audience with custom chatbots, WhatsApp, Apple Business Chat, Facebook Messenger, etc. As well as that, you can manage voice interactions, auto-log and record calls, and manage call routing, greetings, and voicemails. It's also worth noting that Freshsales integrates with SMS providers and Zoom.
Automation: You can automate sales processes using conditions or event-based triggers, including follow-ups, contact segmentation, auto-routing conversations to the right person, etc.
Deal management: Create custom pipelines to visualize deal progress and track your deals' conversions and forecasted revenue, generate and track invoices, quotes, and documents with custom templates and auto-sync them with deals.
Access analytics: Generate visual reports, score contacts on how likely they are to become customers, predict deal closure with AI, etc.
…the list continues.
Pricing
Freshsales has three pricing tiers:
Growth: Free for the first three users – after that, it's $15 per user per month (based on annual billing) or $18 per user per month, billed monthly. This is best for growing sales teams looking to start implementing automation.
Pro: $39 per user per month (billed annually) or $47 per user per month, billed monthly. This plan is best for managing multiple sales teams and growing revenue.
Enterprise: $69 per user per month (billed annually), or $83 per user per month, billed monthly. This is best for larger teams looking to set up more advanced automation workflows and benefit from tighter security.
Who Is It Best For?
Freshsales is best for larger, fast-growing sales teams that need more advanced sales features (like lead scoring and more sophisticated automation).
5. Metrilo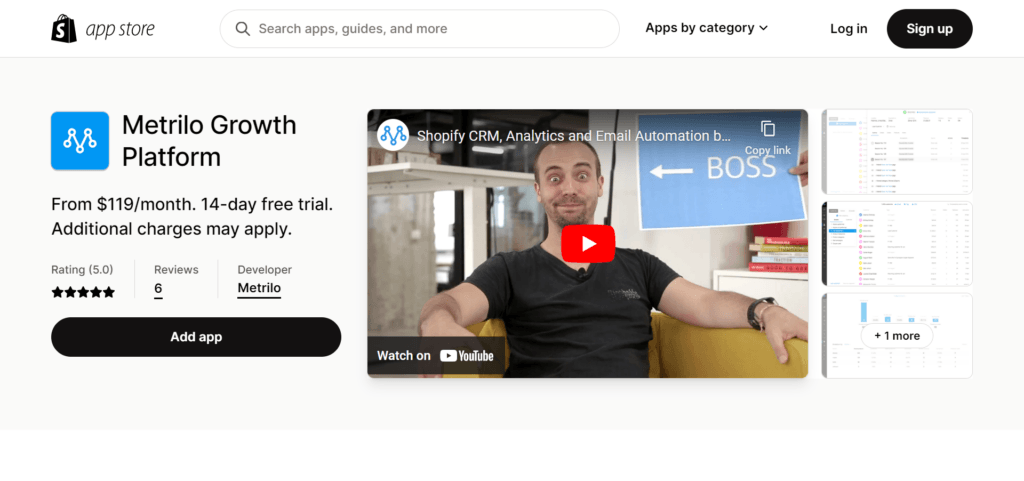 Metrilo breaks its process down into four stages:
Monitor and analyze: Access a real-time dashboard to review your online store's KPIs, notably revenue breakdowns, new customers, top-selling products, and more. You'll also benefit from Metrilo's algorithm, which examines this data and suggests ways to act accordingly.
Explore and understand: Access individual customer profiles and view your customers' entire journey on your site, including:
Actions that are taken during each session
Product interactions
Order history
Lifetime spend
Contact details
Then, you can use any action a lead takes on your website to create audience segments and launch more tailored marketing campaigns.
Engage and retain: Configure automated email campaigns that send according to 20+ customer actions and trigger events so that you can laser target your audience with relevant email content. You can also send automated emails to:

Ask for qualitative and quantitative feedback.
Send abandoned cart emails.
Cross-sell and up-sell based on customer behavior and timing rules.
Entice leads with promos and coupons according to customer behavior.
Send a series of welcome emails when a lead first subscribes to your mailing list.
You also benefit from email performance tracking. I.e., you can monitor email opens, clicks, conversions, unsubscribes, etc., and use this information to optimize campaigns accordingly.
Grow sustainably: Metrilo's analysis provides data about the customer's lifecycle so that you can optimize your marketing efforts and be better prepared for seasonal dips.
Pricing
You can sample all features for free for 14 days. After that, you'll have to pick one of three pricing plans:
Essential: $119 a month (monthly billing) or $99 a month (annual billing): You'll get access to Metrilo's growth assistant (insights into improved performance based on your data) and eCommerce analytics.
Pro: $199 a month (monthly billing) or $165 a month (annual billing): You'll get everything above, plus its eCommerce CRM and retention analysis.
Premium: $299 a month (monthly billing) or $249 a month (annual billing): You get everything in the previous plans plus email marketing
Who Is It Best For?
As you can see, you'll need to spend a minimum of $165 a month to access Metrilo's eCommerce CRM, making it the most expensive option on this list.
It's best for businesses with bigger budgets that want in-depth analytics tools and need to manage high volumes of contacts across a large sales team.
6. Agile CRM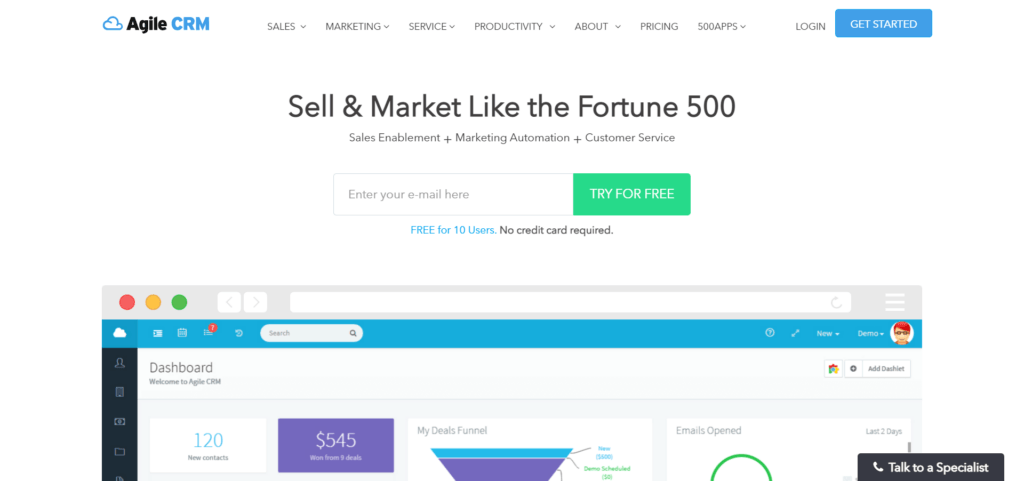 Agile CRM describes itself as an 'all-in-one CRM software' that can 'supercharge your sales, marketing, and service.'​
Some of Agile CRM's most notable features include:
Single-page contact management
The ability to track your deal stages and milestones
One-click calling, the option to create and use call scripts, and voicemail automation
It's easy to share your calendar online and automate scheduling, invites, and follow-ups.
Create drag-and-drop task lists.
Motivate your sales team by gamifying sales.
Access to a drag-and-drop marketing automation workflow builder
Access to mobile-responsive landing page templates
Send custom email marketing campaigns, newsletters, and SMS messages.
Track your email performance.
You can create a self-service portal to enable your customers to find the information they need themselves.
You can assign conditions to prioritize customer support tickets, access support queries from an easy-to-view dashboard, and use canned replies to deliver faster responses to FAQs.
Integrate with social media networks like Twitter, Facebook, LinkedIn, and more.
Pricing
Agile CRM offers four pricing packages:
Free for ten users
Starter: $14.99 per month (monthly billing), $9.99 per month (yearly billing), or $8.99 (two-yearly billing)
Regular: $49.99 per month (monthly billing), $39.99 per month (yearly billing), or $29.99 (two-yearly billing)
Enterprise: $79.99 per month (monthly billing), $64.99 per month (yearly billing), or $47.99 (two-yearly billing)
You can see what's included in each of the pricing packages in the screenshot below:
Who Is It Best For?
Agile CRM is best for freelancers and small to mid-sized businesses. Its free version is very generous and works well for anyone that wants to get started with a CRM and gradually scale their CRM software alongside their growing business.
That said, some users have complained about a lack of customization options and a few bugs. As such, it might not be powerful enough to support the needs of larger businesses with bigger sales teams.
Best Shopify CRM: My Final Thoughts
So, there you have it; that concludes my best Shopify CRM round-up.
It's hard to pick a winner because each CRM slightly gears itself towards a different target audience. However, if you're looking for a decent all-rounder, I would have to go for Hubspot. It's a tried and tested solution that offers a generous free plan and will scale alongside your business (providing you have the budget to pay for its paid plans).
That's enough from me, over to you! Do you have any experience with the above CRMs? Or are you considering another CRM like Zendesk, Zoho CRM, Nimble CRM, or Salesforce CRM? Either way, please tell me your thoughts in the comments box below.