The best web design software is a must-have for any business leader, entrepreneur, or content creator hoping to develop their own online presence.
Created to reduce the need for coding and programming expertise when building a website, app, or similar digital solution, web design software is straightforward, easy to use, and brimming with functionality.
Most web design software tools come with access to a library of graphics, customization options for colors and fonts, as well as tools for converting and monetizing visitors, like forms, checkout pages, and more. Many of these tools are also designed to work alongside other online applications for sales, marketing, and social media.
Today, we're going to be looking at just some of the most popular web design tools on the market, and what makes them so appealing to modern brands.
What are The Best Web Design Tools in 2023?
---
Shopify – Best Web Design Software for Ecommerce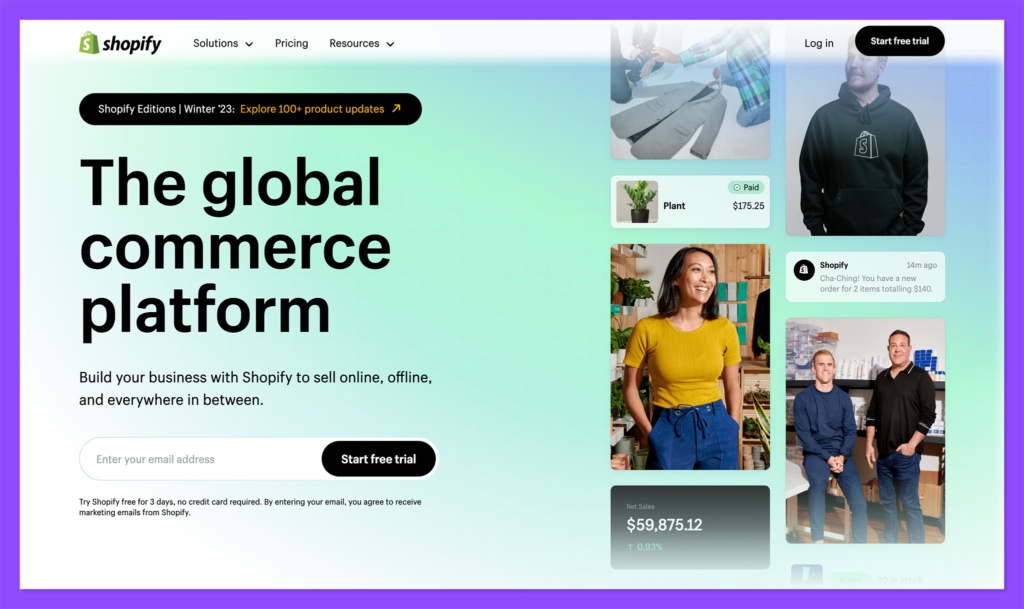 We can't have an article dedicated to the best web design software without mentioning Shopify. This all-in-one website building service is custom-made for the ecommerce world. The flexible and versatile environment comes with a host of tools for building virtually any kind of website. While Shopify is best-known for it's online selling features, you can also create websites for blogging, online portfolio sharing and more.
Shopify's website builder is hosted by the company, so you don't have to worry about finding web hosting separately. There are tons of valuable templates to explore to get you started with your design, all of which can be customized to suit your specific brand needs. Plus, Shopify has a massive app marketplace where you can add different capabilities to your site with a couple of clicks.
For online sellers, Shopify offers a range of different sales options, including integrations with marketing tools, multiple payment providers, and inventory tracking. You'll also be able to create your own booking forms and calendar integrations where necessary.
Shopify is SEO-optimized, so you can boost your chances of standing out online when you create your store. Plus, there are tons of tools for accessing extra support and assistance if you have any specific issues along the way.
Pricing
Shopify has a very simple "Starter" package for beginners priced at $5 per month, which allows you to add ecommerce functionality to an existing website or store. There are also a range of more advanced packages with full site building functionality, such as:
Basic: $32 per month for 2 staff accounts, online store functionality, multiple sales channels, up to 4 inventory locations, basic reports, unlimited products, reports, and international market management.
Shopify: $92 per month for all the features of Basic, plus 5 staff accounts, up to 5 inventory locations, ecommerce automations, reduced transaction fees, and a range of extra components for building your website.
Advanced Shopify: $399 per month for all the features of Shopify, plus up to 8 inventory locations and 15 staff accounts, advanced reports, third-party shipping rate calculations, duties and import taxing and custom market pricing.
There's also "Shopify Plus" which is a custom-priced enterprise plan, designed to offer all the features companies need for running a larger store.
Pros:
Fantastic ecommerce and sales features
Responsive and customizable themes
Lots of apps and integrations
Selling for unlimited services and products
Easy-to-use backend environment
Powerful marketing and SEO
Cons:
Limited starter plans
Transaction fees on purchases
Wix – Best Web Design Software for Beginners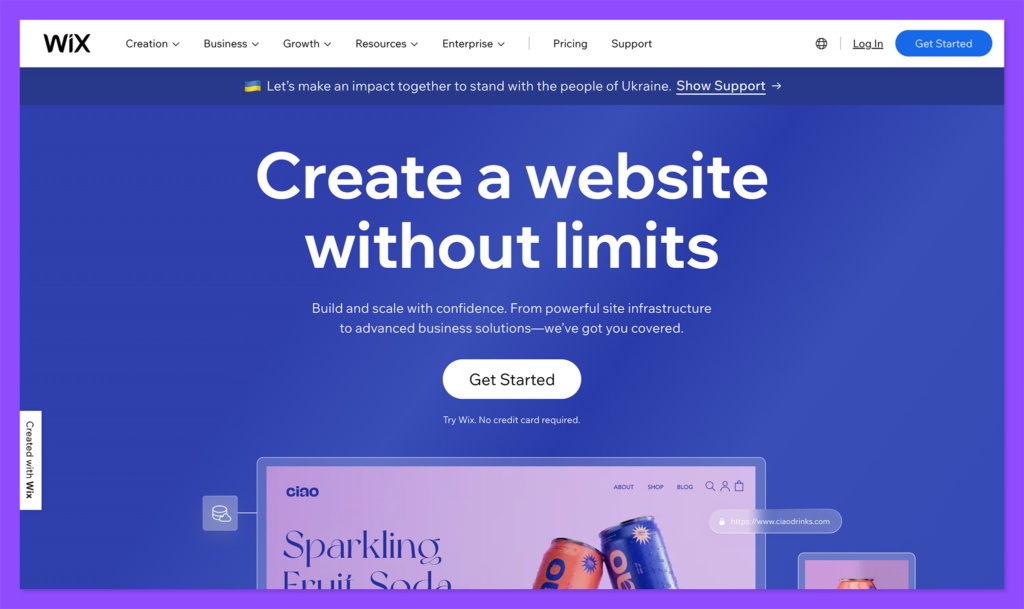 Probably one of the best-known web design software solutions for smaller businesses, Wix is a fully-functional platform brimming with tools for site building. The SaaS solution makes it easy to create powerful online environments, with pre-built templates, and drag-and-drop tools.
There are more than 500 professionally-made templates to get you started, and the editor included in the software is fantastic for beginners. You can add effects like video backgrounds, scrolling animations, and more. Plus, you can add your own color palettes, logos, fonts, and other elements.
Everything on Wix is designed to guide you through the building process with as little strain as possible. There are more than 30 built-in media galleries for videos, text, and images. Plus, Wix has a built-in solution called "Wix Turbo" which increases the performance and speed of your site.
To improve your chances of connecting with customers, you can design a blog to showcase SEO content. There's a logo-maker for companies who are just getting started and need to perfect their branding, plus, you can access ecommerce functionality for selling products online.
Wix even has some specialist advanced features like Wix ADI which uses artificial intelligence to build a site for you, and Wix Corvid for hassle-free coding with serverless computing and built-in IDE.
Pricing
Wix has a selection of four plans to choose from, including:
Connect domain: $4.50 per month for 1GB of bandwidth, 500 MB of storage space, a custom domain, and 24/78 customer care.
Combo: $8.50 per month: All the features of Connect, plus you get to remove Wix ads, access a free domain for a year, and you get 2GB of bandwidth. There's 3GB of storage space, 30 minutes of video upload hosting, and a £75 ad voucher too.
Unlimited: $14.50 per month: All the features of Combo plus unlimited bandwidth, 10GB of storage space, 1 hour of video hosting, site booster technology, and visitor analytics.
VIP: $26 per month: All the features of Unlimited, plus 35GB of storage space, 5 hours of video, a professional logo, and social media logo files. You also get priority customer care.
Pros:
Easy to use interface with AI assistance
Fantastic marketing and sales tools built-in
Excellent templates with lots of customization
Various ways to build and run your website
SEO components for standing out online
Cons:
Limited Java coding options
Not a lot of animations or extra apps
Figma – Best Web Design Software for Professionals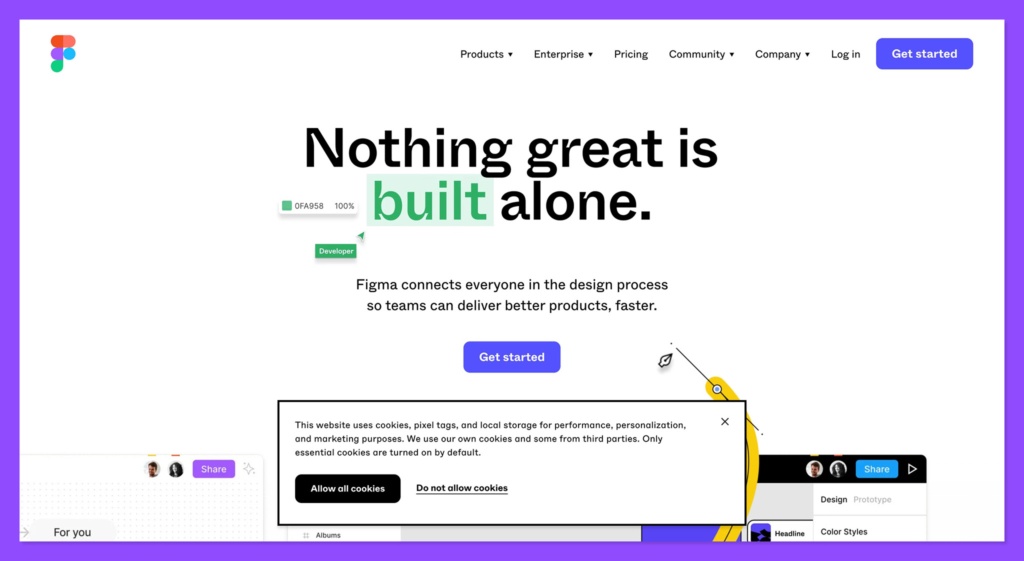 Ideal for agencies and teams designing a host of different websites and web tools, Figma is a vector graphics editor. This solution is a little different to some of the options we've discussed so far, as it's not a dedicated site builder. However, it does have UX and UI design features, so you can create professional-looking sites from scratch.
The intuitive vector-based interface comes with modern pen functionalities which give designers more complete control over their creations. The solution is highly collaborative, with lots of tools to bring team members together to work on the same project at the same time. Stakeholders can leave comments and copy snippets of code too.
Figma also has access to animated prototypes, wireframes, and an observation mode, so designers can showcase each step of their design process when necessary. You can quickly view and explore different pieces of code, and tag your team members when they need to get involved with certain tasks.
The vector networks on Figma allow you to draw in all directions without having to merge original paths. Plus, there are advanced font features, and multiple plugins for stock imagery, color, flow diagrams, icons, and charts.
Pricing
Figma has a free package available for up to 3 Figma and 3 Figjam (collaborative) files. The package includes plugin, widgets, and templates, unlimited personal files and collaborators, and mobile app access. Other plans include:
Figma professional: $12 per month per editor for all the features of "Free", plus unlimited Figma files and version histories. You can also set sharing permissions, create private projects and team libraries, and have audio conversations.
Figma Organization: $45 per month per editor for everything in Professional plus organization-wide libraries, branching and merging, design analytics, central file management, unified billing and admin, SSO, and private plugins or widgets
Pros:
Highly flexible vector networks for designers
Advanced font and plugin features
Powerful accessible libraries for assets
Brilliant collaboration tools for teams
Powerful integrations
Cons:
Complex for beginners
Does require some specialist knowledge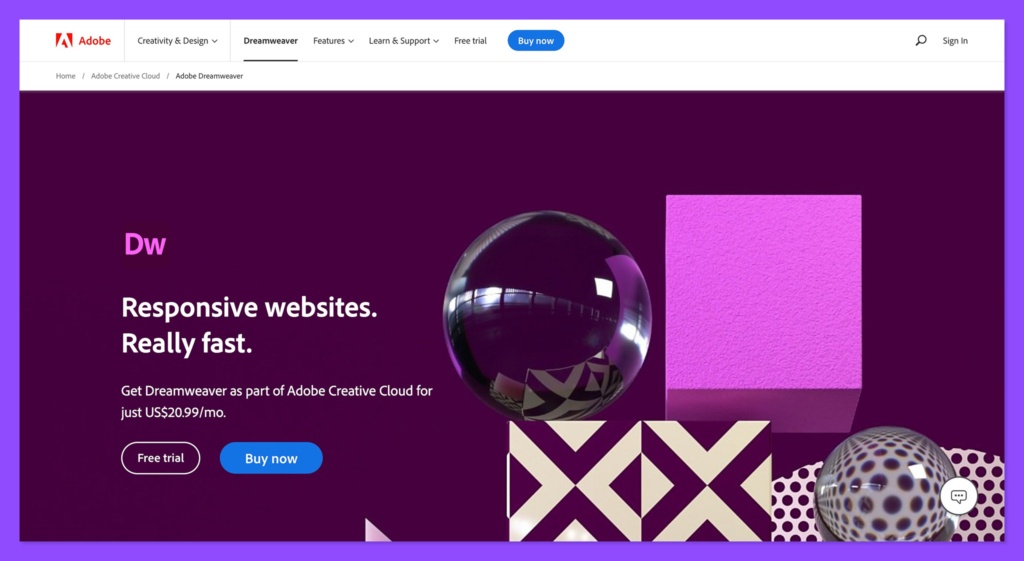 Most of today's designers and graphic artists are familiar with Adobe tools like Adobe Photoshop and Illustrator. However, Adobe also has a design platform in place just for web design. This fully-featured HTML web and programming solution comes with a streamlined coding engine to help users build and manage dynamic websites with ease.
While there are a few more coding elements involved with this builder, there are also "access code hints" which help beginners to adjust their CSS, HTML, and other components. There are also visual aids to assist you, ready-made templates, and features for adding responsivity.
Adobe Dreamweaver comes with access to assets from Adobe Stock, and you can upload your own assets however you like. There's a live-view editing system, so you can preview what your site is going to look like as you work. Dreamweaver also offers multi-monitor support for Windows, Chromium Embedded Framework elements, and more.
There's also support for Git to help you edit source code directly. Intelligent coding assistance and guidance means even beginners can take full advantage of Dreamweaver's services.
Pricing
Adobe gives you a couple of different options for purchasing Dreamweaver. The first option is to purchase the tool directly for a price of $20.99 per month, with access to all of the functionality the system has to offer. On the other hand, you can also choose to purchase a range of Adobe apps at once with a subscription to the Creative Cloud.
The Adobe Creative Cloud is $52.99 per month, and comes with access to Dreamweaver, as well as other popular tools like Adobe XD, InCopy, Adobe Stock, and Adobe Photoshop. Teachers and students also get a discount on all of the Creative Cloud apps.
Pros:
Excellent code editing capabilities
Tools for more advanced users building responsive sites
Built-in templates and coding guidance
Integration with the rest of the Adobe suite
Fantastic imagery components for visual apps
Cons:
Can have a slight learning curve for beginners
Requires some coding knowledge
Webflow – Best No Code Web Design Tool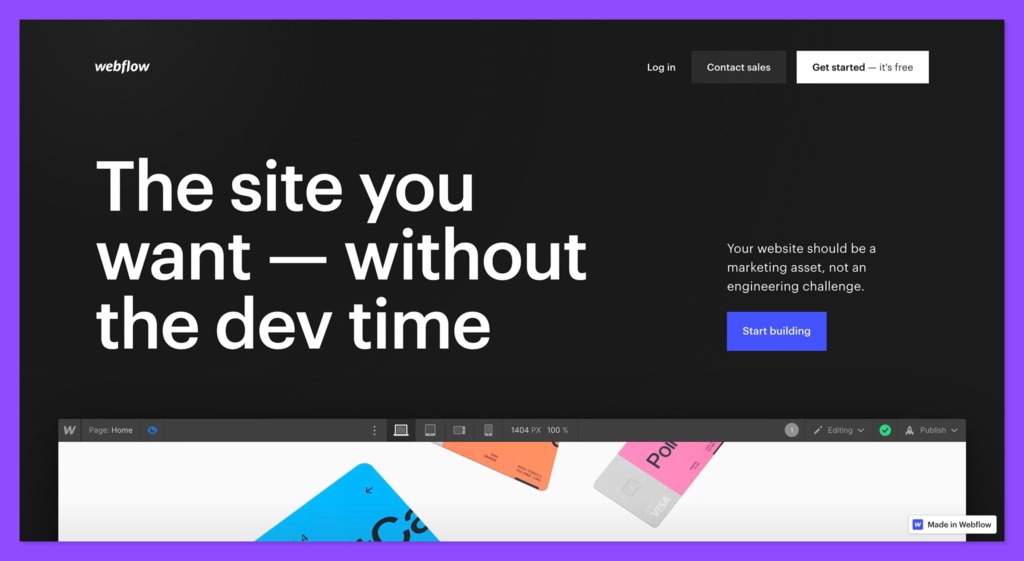 A newer, but still extremely popular web design software solution on the market today, Webflow is a cloud-based tool which eliminates the need for coding knowledge when you're working on your website design. The cross-platform technology prioritizes "smart code-lessness" which means you get a drag-and-drop interface for organizing page elements like images and text.
The visual canvas provided by Webflow allows users to control CSS3, JavaScript, and HTML5 elements, as well as translating semantic code into a customized website design. There are unstyled HTML elements for full control too. You can also use pre-built pieces to create more complicated web elements like background videos and sliders.
Unlike some of the WYSIWYG editors and tools on the market today, the code produced by Webflow is extremely clean and well-written, which is great for SEO. You can also choose a "I have no coding experience" option when you start building, which gets the system to create the necessary HTML or CSS you need to get started, before you make more granular changes.
Webflow comes with multi-step and scroll-based animation features, so you can make your websites more dynamic. Plus, you can update SEO elements like page titles, meta descriptions, and URLs, so you're more likely to rank with the search engines.
Pricing
There's a free package available from Webflow where you can start learning how to use the features. It comes with 50 CMS items, 1GB of bandwidth, and a webflow.io domain. Other packages include:
Basic: $12 per month for a custom domain and 50GB of bandwidth.
CMS: $16 per month for all the features of Basic, plus 200GB of bandwidth, 3 guest editors, and 2000 CMS items.
Business: $36 per month for all the features of CMS, plus 10,000 CMS items, 400GB of bandwidth, and 10 guest editors.
Enterprise: Custom pricing for all the features of Business, plus over 10,000 CMS items, as well as custom guest editors and bandwidth, and uptime SLAs.
Pros:
Excellent coding functionality for beginners
Clean coding with SEO capabilities
Fantastic templates and building tools
Animations and video capabilities
Collaboration for multiple editors
Cons:
The CMS limit is low on some of the plans
There can be a slight learning curve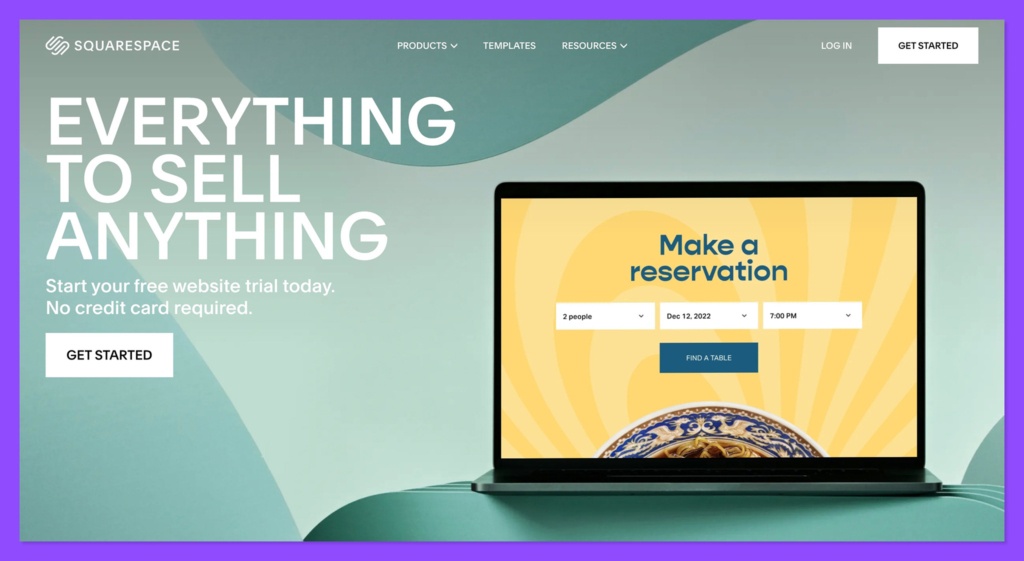 An all-in-one solution for modern web designers, Squarespace is best-known for it's beautiful selection of professionally-created templates. The solution offers state-of-the-art web designs for portfolios, one-page websites, ecommerce sites, and blogs. You can browse through a range of different categories to find the solution best-suited to your industry.
If you're struggling to find the design you need, Squarespace also has an automated service which allows you to answer a couple of questions and the system will automatically pick some templates on your behalf. The solution also offers a range of intuitive capabilities, such as the ability to create password-protected pages and custom galleries.
With Squarespace, users have access to a range of blogging tools for sharing ideas, posting company news, and setting product releases. There's a blog dashboard for scheduling, categorizing, and sharing posts however you choose. Plus, there are built-in SEO and analytical systems too.
Squarespace also has an integration with Typekit to give you access to a range of fonts without the need for additional charges. Plus, you can implement audio collections and soundtracks into your website too. It's a great tool for content creators and publishers.
Pricing
Squarespace offers a few different pricing packages, including:
Personal: $12 per month when paid annually for a free custom domain, video storage, SEO functionality, and unlimited bandwidth.
Business: $18 per month when paid annually for all the features of the Personal plan, plus integrations, premium blocks, professional email from Google, and ecommerce tools.
Basic Commerce: $26 per month when paid annually for all the features of Business plus a checkout, no transaction fees, and customer accounts.
Advanced Commerce: $40 per month when paid annually for all the features of Basic Commerce, plus subscription selling, gift cards, and abandoned cart recovery.
Pros:
Beautiful and professionally-made templates
Advanced and basic ecommerce plans
Unlimited ways to add sections and features to sites
Multi-user roles for team members
Excellent customer support and service
Cons:
Updating your site can be a little complex
The ecommerce features are limited on some plans
Sketch – Best for UX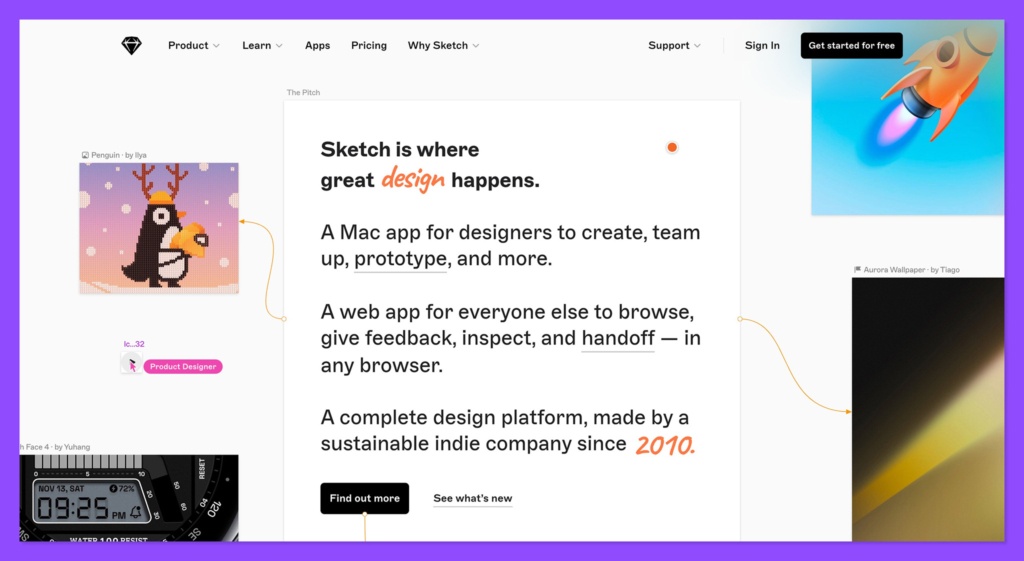 Built for UX design purposes, Sketch is an all-in-one toolkit for creating frameworks and website designs. You can also use the system to build your own mobile app from scratch. With Sketch, users gain access to a host of powerful editing tools and Boolean operations for pixel-perfect and non-destructive designs. There's also the option to zoom in to "pixel level" to align everything, with snapping and smart guidelines.
Sketch has a native MacOS editor system which supports native font rendering, P3 color profiles and Apple Silicon performance. There's also a set of real-time collaboration features, so you can connect with your team on your designs whenever you like. Plus, you get "Workspaces" where you can share ideas with colleagues, get consistent feedback, manage your team and more.
Sketch offers easy-to-use prototyping tools, with the option to test your design on any device. Reusable styles and responsive symbols make building out your site's functionality quick and straightforward. Plus, there's a convenient set of developer handoff features to allow other users to download production-ready apps without the need for additional apps.
In fact, when it comes to handing over assets, there are a range of export options, so you can download and deliver different elements individually. For the building process, there are also pre-sets to help expedite your design process, with quick and convenient shortcuts.
Pricing
To offer an insight into the functionality you can get, Sketch offers a 30 day free trial to beginners, with no credit card needed. After that, there are only 2 packages to choose from, including:
Standard: $9 per month per editor: A complete workspace for all of your content, the native Mac editor, and the online web app, plus guest access and collaboration, saving and syncing for every document, extensive prototyping, plugins, smart distributing and layouts, assistants, and web app access.
Business: Custom pricing: This includes all the features of Standard, plus SSO, unlimited cloud storage, invoice-based billing, technical support with live chat, priority support, a dedicated customer success manager, and security extras.
Pros:
Excellent for creating prototypes and vectors
Mirror app for testing your designs without code
Integrations with leading tools for designers
Native MacOS and web experience
Lot's of options for collaboration
Cons:
Not suitable for non-Mac users
No options for hosting your websites
BigCommerce – Best Web Design Software for Larg Business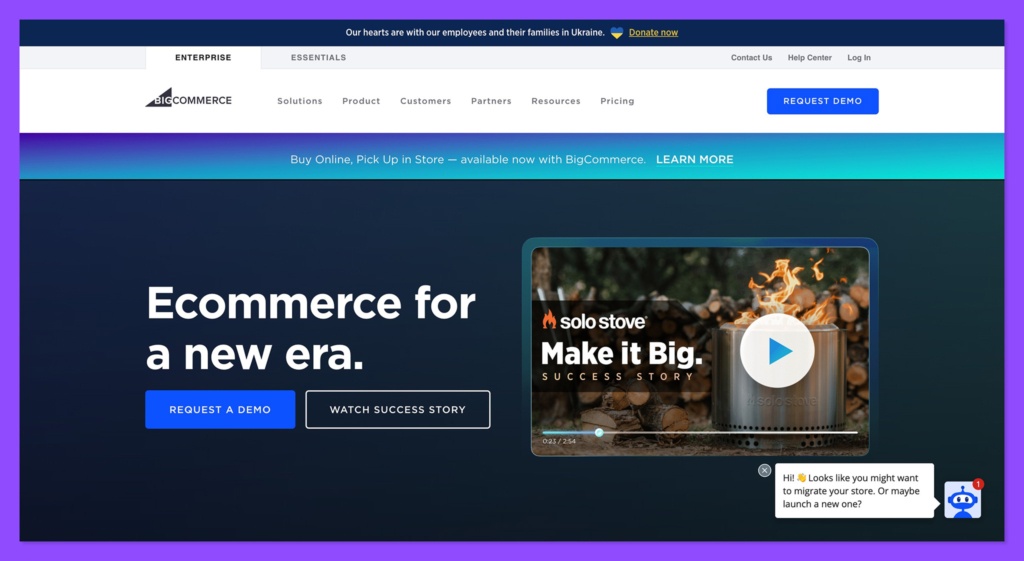 One of the top tools in web development available today, BigCommerce has a fantastic reputation among ecommerce store owners and bigger brands. The tool makes it quick and easy to design advanced and sophisticated web pages for your site. There's a built-in code editor and content management system, as well as various interactive marketing tools.
With BigCommerce, business leaders can leverage an open-source community for help bringing their designs to life, and the service also integrates well with a range of other tools, including Amazon for marketplace selling, PayPal for payments, and more. Compared to the majority of other leading ecommerce website design options, BigCommerce has one of the widest ranges of in-built features.
The intuitive tool does have a slight learning curve, so you may find it's not as user-friendly for those without coding knowledge to begin with. However, once you get the hang of your workflow, you should find BigCommerce requires you to use fewer additional apps and tools for graphic design than other responsive website builders.
You can also access specialist support and guidance if you need help with different file formats, or you're struggling with front-end design. All of BigCommerce's responsive design options also work well on a range of mobile devices and tools.
Pricing
To begin with, users can access BigCommerce for 15 days without paying anything at all. After that, there are a few different premium plans to choose from, with discounts for annual purchases. Your options include:
Standard: $29.95 per month: Up to $50k in annual sales, no transaction fees, unlimited staff accounts, 24/7 support, integrations with marketplaces, payment gateways, and POS providers, real-time shipping quotes, coupons, gift cards, and more.
Plus: $79.95 per month: All the features of the Standard plan, as well as $180k in annual sales, customer groups and segmentation, and abandoned cart saver, persistent carts, stored credit cards, and competitive pricing for local payments.
Pro: $299.95 per month: All the features of Plus, as well as $400k in annual sales, faceted search, custom SSL, and more.
Pros:
Excellent for scaling sales across multiple channels
Custom security options
Excellent in-built ecommerce tools
Various marketing and sales integrations
No transaction fees on even basic plans
Advanced support and service options
Cons:
Small learning curve for beginners
Can be expensive for some plans
Elementor – Best Drag and Drops Web Design Software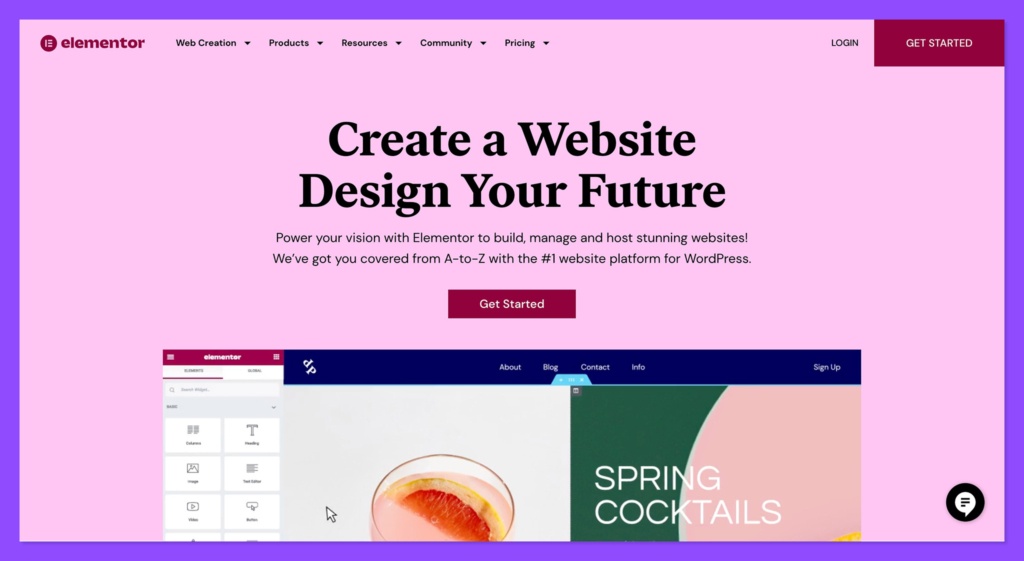 If you're keen to build a website specifically for the WordPress environment, then Elementor might be one of the best tools for your needs. This convenient plug-in comes with a free version, as well as various paid plans to choose from. You can access design templates, and tutorials for how to use your new website design software. There's even a range of high-quality assets to explore.
Elementor is a "visual editor" which means you don't need to rely on professional designers to access your page builder and text editor. You can implement the elements you need for excellent user experience into your website and see your changes as you make them.
With Elementor, you can customize the colors, layout, and sizes of your pages for WordPress.com, and edit your user interface however you choose. Elementor also has the option to purchase site building tools and cloud hosting in one environment, so you can add your own domain name and other components into the mix, such as robust security.
Pricing
The price you pay for Elementor will depend on the range of features you want to access. If you're hoping to leverage the Elementor Cloud website builder and hosting in one package, plans start at $99 per year with all of the features of the website building tool, Google Cloud Platform hosting, and CMS tools for WordPress.
If you already have hosting for WordPress.org or WordPress.com, and you just want the site builder functionality, the Essential plan starts at $49 per year for all the website design features you need, plus premium support and website kits. There are also other plans such as:
Expert: $199 per year for up to 25 Pro website activations, an expert profile, expert website kits, and everything you get from Pro.
Studio: $499 per year for all the features of Expert, plus VIP support, and up to 100 website activations.
Agency: $999 per year for all the features of Studio, plus VIP support, expert website kits, and activation for 1000 websites.
Pros:
Excellent for WordPress site mock-ups
Brilliant ease of use and tutorials
Reasonably affordable paid plans
High-quality design templates and themes
Great user experience for beginners
Cons:
Not suitable for non-WordPress sites like Weebly
Limited free version
Best Web Design Software: Verdict
When it comes to choosing the best website builder or design software, there are definitely plenty of options to choose from. Whether you're looking for a Linux compatible tool for graphic design, a way to bootstrap your new ecommerce website, or a tool with it's own drag-and-drop editor, you're sure to find something that works for you.
Some of the options above even have a free plan to help small businesses get started developing their own websites as quickly and conveniently as possible. You may even be able to use a free demo to test the functionality you're going to access before you spend any cash.
Good luck finding the ideal website design software for your needs.