In today's GoDaddy Studio review, we're looking at one of the most popular design tools on the market today. Produced by GoDaddy, the company best-known for it's domain and hosting services, GoDaddy studio (previously Over) is an all-in-one solution for creating professional branded assets.
You don't need any design assets to use the platform, thanks to it's intuitive interface, and simple features. Plus, GoDaddy Studio is extremely versatile. Teams can use the technology to create social media content, design images for blogs, produce link-in-bio one-page sites, and even create a logo.
Here's everything you need to know about GoDaddy Studio.
GoDaddy Studio's Top Features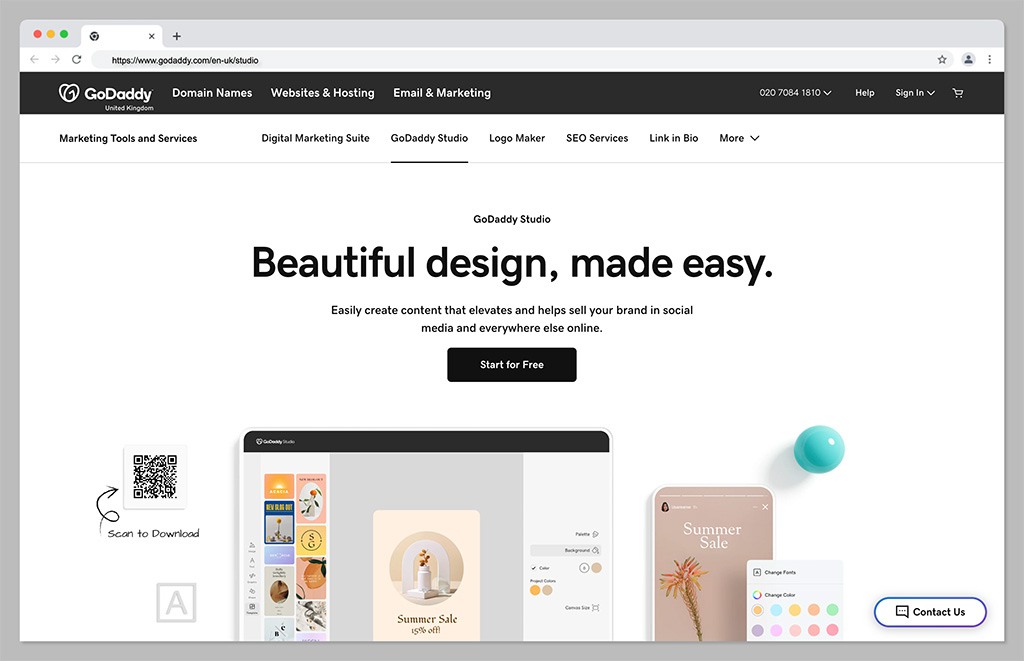 GoDaddy Studio is part of a selection of marketing tools and services offered by the larger GoDaddy hosting company. It joins a range of other valuable solutions, such as an Instant video editor, SEO services, and a Digital Marketing Suite.
Formerly known as "Over", GoDaddy Studio provides business leaders, entrepreneurs, and creators with straightforward tools for graphic design. Primarily, it focuses on helping you to create posts for social media, but you'll also be able to utilize the toolkit to design custom content for blog posts and website pages, edit professional images, and create your own logo.
The core features of the platform include:
Social media and photo editing tools
GoDaddy Studio features an all-in-one design tool comes with a variety of templates to choose from for creating website images, social media posts, and more. No design skills are necessary, and there are a host of editing options available at the click of a button.
You'll have no problem creating scroll-stopping content with a variety of fonts, videos, and royalty-free images. You can even upload your own custom fonts straight into the editor, for more control over your designs. Plus, the image editing tools give you more freedom with your designs.
You can move images, graphics, and videos around easily, lock them into place, and even remove distracting backgrounds. Plus, you can fine tune colors with the simple color palette tool.
The Logo maker
If you need help building your visual brand identity, GoDaddy's simple logo generator is a great choice. It comes with hundreds of industry-specific templates to choose from, as well as a range of customization options to help you differentiate your company.
You can choose between wordmarks and icons, use a transparent background when exporting your images, and choose from a range of file formats. The easy-to-use solution only requires users to answer a few quick questions about the personality and identity of their brand to get started.
Plus, you can tweak your logo using a mobile device, with a free GoDaddy Studio app. Once you have your logo, you can use it anywhere, from on your online store, to on printed merch.
Link in bio sites:
Ideal for social media users and influencers, GoDaddy Studio's link in bio tools allow you to create a stunning one-page website with quick and simple links to all of the most important assets connected to your online presence.
The Link in bio page creator comes with a host of templates to choose from, as well as all of the custom design tools you can use to edit your social media and blog images. For beginners, GoDaddy also offers a range of useful guides and resources to help you get started.
GoDaddy Instant Video Editor
Intended to help companies boost their presence on channels like TikTok and Instagram, the Instant Video editor makes it simple to enhance your content with transitions, music, and more. The platform allows you to upload your own video clips and photos, and combine your content with assets from a huge library of resources.
The video editor's sophisticated algorithms are powered by AI, and there are various tools for experimenting with licensed music, unique color palettes, and a range of font options. Within the Studio, users can adjust their media and video orientation, fine tune clips, and then download content to share them wherever they choose.
There are dozens of video styles to choose from, and the smart technology ensures you can easily stitch content together with minimal effort.
GoDaddy Studio Pricing Plans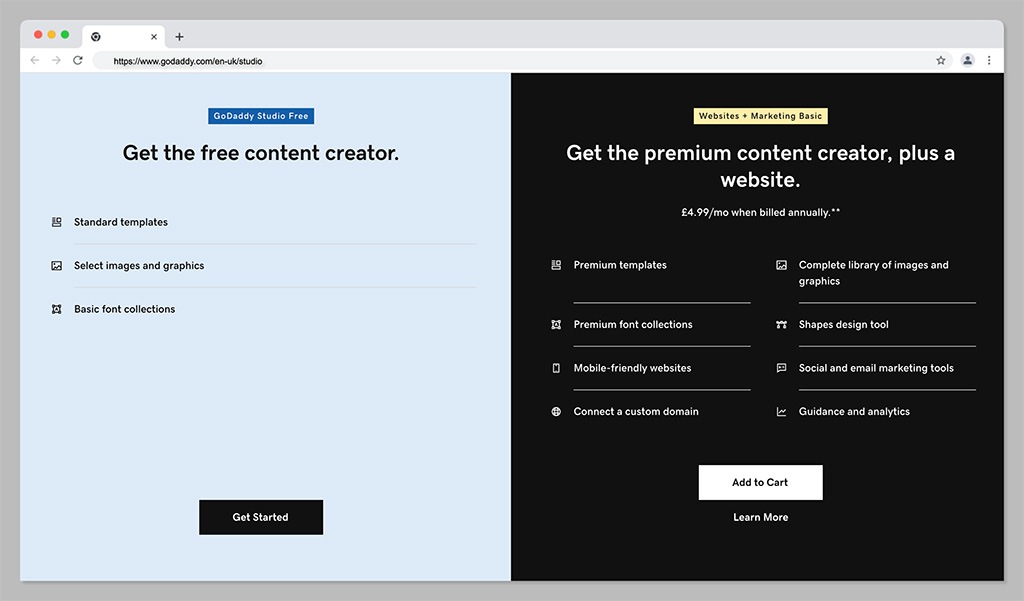 GoDaddy Studio promises business owners and creators a fantastic way to get started with graphic design, without investing years in the development of new skills. The all-encompassing app is convenient and streamlined, though it doesn't offer access to some of the more advanced features you might find on other, similar platforms.
Perhaps the most appealing aspect of the solution is that it's completely free to use. You don't have to pay anything to start using the GoDaddy design tools, but you will need a GoDaddy account. The free version includes access to standard templates, graphics and font collections.
However, if you want to access all of the premium templates and premium editor tools, you'll need a comprehensive website and marketing plan from GoDaddy. Options include:
Basic: Starting at $9.99 per month with full website security (SSL), custom domain connectivity, on-the-go editing, 24/7 support, guidance and analytics, and support for 1 social media platform, 5 social posts per month, and 100 emails per month. You can also set up welcome email and appointment confirmation automations, arrange one-time appointments, and utilize all the features of GoDaddy Studio.
Standard: Starting at $10.49 per month, this plan includes all the features of Basic, as well as options to connect up to 3 social media platforms, with 20 social posts per month, and send 500 email marketing messages per month.
Premium: Starting at $14.99 per month, the Premium plan includes all the features of Standard, with unlimited social media posts and platform connections, up to 25,000 emails, and order email automations. You also get options for recurring appointments, one-time group events, appointment payment management, and appointment reminders.
Enterprise: Starting at $16.99 per month, this plan includes everything from the Premium plan, with access to ecommerce features, such as product listings, flexible payments and shipping options, and discount and promotional features.
GoDaddy Studio Review: The Verdict
For beginners in the design world, GoDaddy is an excellent all-around tool, combining exceptional ease of use with streamlined and intuitive functionality. It's a great solution for designing social media posts, branded photos, and even your own logos and link in bio pages. However, it might not have some of the more advanced features you'd expect from leading design tools.