Looka vs Canva is a common debate among business owners looking for a simple and cost-effective way to create compelling brand assets.
While a tool like Looka or Canva can't replace the creativity and innovation you'll get from a professional graphic designer, it can be a good alternative for businesses with a low budget. Even if you just create a placeholder logo for your brand, you'll be able to get your company up and running a lot faster with a recognizable image.
So which tool is best?
Looka vs Canva: An Introduction
Let's start with a basic overview of what Looka and Canva are, and the features they can offer. Both of these tools ensure you can simplify logo creation and the full design process without paying for a professional designer.
Whether you're looking for a free logo, a DIY way to make blog images in a range of file formats, or mockups for marketing materials, Looka and Canva have you covered.
What is Looka?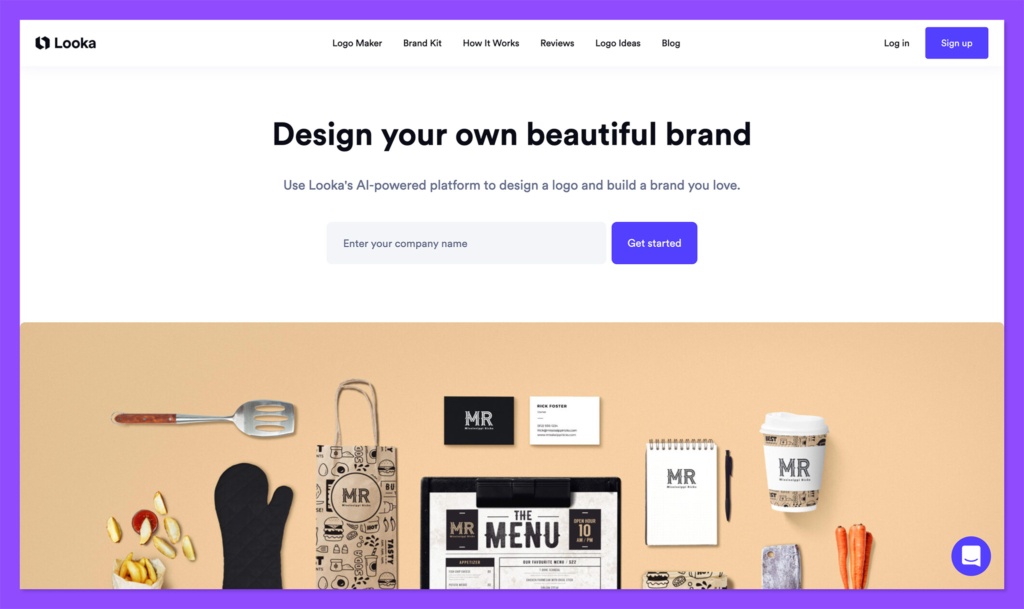 Looka is an all-in-one brand design solution, leveraging AI technology to help companies create beautiful brand assets. The core of the software's functionality is its simple logo designer. This easy-to-use tool starts by asking for your company's name and industry, before suggesting a range of templates, styles, and colors you might like for your brand.
Users can customize the style, color, font, and layout of their image, then save their design in a range of different formats and color variations. Outside of the logo maker, Looka also allows companies to build a comprehensive "brand kit".
This involves all the templates and tools you'll need to create comprehensive assets using your logo and color palette. You can create email signatures, social profile content, social posts, letterheads, brand guideline documents, advertisements, invoices, and just about anything else you can think of. There are even templates for presentations, blog banners, and business proposals.
What is Canva?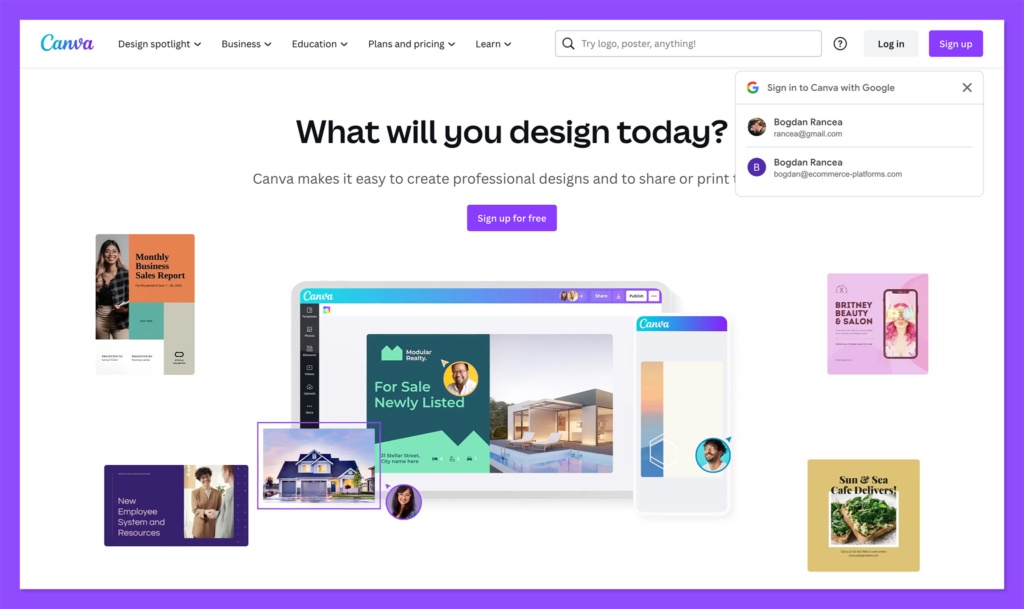 Canva is similar to Looka in a lot of ways, providing users with a comprehensive platform for visual content creation. The all-in-one toolkit includes access to thousands of professional templates and ready-made designs for your content. There are also built-in collaboration tools, so you can manage brand assets in one place, get approvals, and work on designs as a team.
Canva has a simple logo maker with endless templates, sorted into different categories and industries. You can change fonts, color combinations, and shapes. Plus, there are options to experiment with animations, photo filters, stickers, and vectors. You can also download your logo in a range of different formats. Outside of logo design, Canva also supports users in making resumes, presentations, PDFs, graphs, social media posts, and business cards.
You can create your own video intros, banners, and posters, as well as photobooks, graphs, collages, and just about anything else you can think of. Canva even has its own tool for website design complete with a drag-and-drop builder and access to all kinds of creative content.
Canva vs Looka: Feature Comparison
Both Canva and Looka are tools specifically created to make graphic design more accessible to business users. You don't need any specialist skills to use the services, and they both come with lots of useful resources, branding tools, and templates to get you started.
Looka and Canva also help with the creation of a huge range of different assets. You can design not just customizable logos, but also a range of other social media posts and website content. More than just tools for companies in search of a logo generator, Looka and Canva offer business card design, social media assets with customization options and assets with their own transparent background.
Let's look at what you can create with Looka and Canva.
What can you make with Looka?
Social profiles, posts, social covers, and social stories
Letterheads and email signatures
Brand guidelines
Posters and flyers
Advertisements
Invoices
Presentations
Cards
Business proposals
Blog banners
Websites
Brochures
Newsletters
Invitations
Logos
What can you make with Canva?
Logos
Flyers and posters
Banners
Resumes
Invitations
Business cards
Video intros
Memes
Collages
Graphs
Presentations
Social media posts, stories, covers, and profiles
Invoices and labels
Newsletters
Planners
Prototypes
Invitations
Signage
Hoodies and sweatshirts
Websites
There are dozens of other different types of templates available from Canva, and listing them all here would take up far too much space. If you can imagine a graphic design asset, you can probably make it with Canva.
Canva vs Looka: Website Design
Since the tools used for creating most assets on Looka and Canva are very similar throughout each platform, we're going to focus on two main areas for both of these services, starting with website design. Both Looka and Canva can allow users to create a simple website.
Looka has three main sections to its straightforward website editor. The first is the top navigation bar, where you can swap through pages on a site, and see your content in different formats, such as on a mobile device or tablet. There are also tools for undoing and redoing simple actions on your website design.
On the left panel, you'll find simple tools for making broad changes to your website, such as changing the color scheme, button design, or adding widgets. You can also change your page configuration in the Pages tab, and make administrative changes to Settings.
The central "content area" is where you'll make your custom changes to each of the pages on your website. You can add text, remove, and implement buttons, integrate widgets, and more. Overall, Looka offers a simple and straightforward environment for web design, with plenty of useful graphic resources to tap into, including photos and forms.
The widgets are also pretty impressive. You can add HTML, image sliders, contact forms, click-to-call functionality, and a range of other elements to each page.
Canva's website building functionality comes from "Canva Websites". This is a dedicated one-page site builder, so you won't be able to create a website with multiple different pages. The builder is a relatively straightforward solution, similar to the tool you'll use for creating any asset on Canva.
It comes with access to a range of different templates to choose from, as well as animations, buttons, text options, filters, and other assets. You can drag and drop the components you want into place, and fill your site with as much information as you like. There's also the option to launch your website with one click, purchasing a custom SEO-friendly domain, and optimizing for any device.
Canva allows companies to create private websites with access controls, and the built-in collaboration features make it easy to work on a design with other members of your team in real-time. Though you can't add as many pages to your website with Canva as you can with Looka, there are more assets and integrations available.
Canva vs Looka: Logo Design
The logo design components of both Canva and Looka are some of the most attractive features offered by each brand. They both allow businesses to create beautiful logos in a matter of minutes.
Looka Logo Maker
Looka sets its logo maker apart with the use of artificial intelligence. You'll start the creative process by entering information about your company, and the AI system will suggest logo styles, colors and symbols suited to your brand. You can then choose the different components you like best, and Looka will generate some custom designs for you from scratch.
Once you find a design you like, you can adjust the colors, fonts, and layouts in a simple drag-and-drop editor. You can undo any edits you make on the go, and experiment with different settings. Once you've created your logo, you can then download it in SVG, EPS, or PNG format, in a range of different color variations. There's also the option to add your logo to a "brand kit".
The brand kit option means you can automatically place your logo in a range of additional assets for your company, such as business cards, letter heads, and social media content.
Canva Logo Maker
Canva's online logo maker is as simple and straightforward as the rest of the assets offered by the design company. You can browse through a huge selection of professional templates, designed for businesses from different industries. Once you choose something you like, you'll be transported to the drag-and-drop editor, where you can make your customizations.
Canva allows you to change fonts, color combinations, and images as much as you want. There's also the option to search through millions of images, stickers, vectors, and icons you might want to use. Canva's editor also includes tools for animation, photo filters, image flipping and more.
Once you're happy with your small business design, you can save your logo as a high-resolution PDF file, PNG, or JPEG, and share it with your team. You can also include your logo design in your brand asset library, so you can continue to use it with all the other social and branded assets you make for your business.
Canva vs Looka: Pricing
Pricing is an important consideration for any company investing in new technology or design software. Both Canva and Looka are designed to be relatively affordable for companies of all sizes, but there are different pricing options to consider for each solution.
Looka pricing options fall into two categories. The first gives you access to a basic logo package. For a single PNG file, you can pay $20. This only gives you a basic file with a colored background, but you can use the image as a placeholder, or as inspiration for your design team.
The Premium logo package is $65 on a one-time purchase. This includes support from the Looka customer success team, plus you can use your logo files for any commercial or non-commercial purpose after you buy it. You'll also get your logo in different variations, and a range of different file types. You can log into your account to edit your logo, and redownload your files too.
The brand kit subscription package starts at $96 per year, and offers access to a range of 300 different assets, including social pages, and content. You gain full ownership of your logo, and can make unlimited changes to it after you're done. Plus, you get over $3000 in executive offers.
There's also a Brand kit web subscription which includes all the features of the brand kit subscription, plus a website for $192 per year. This premium plan also comes with advanced technical support when creating your brand and social media kit.
Canva also has a selection of different pricing packages to choose from, including:
Free: Access to the drag-and-drop editor, 250,000 free templates, 100+ design types, 1 million free graphics and photos, range of printable products and 50GB of storage.
Pro: starting at £99.99 per year for one person: All the features of Free, plus 100+ million premium photos, audio, videos, and graphics. Unlimited features folders, and premium content, 610,000+ premium and freer templates, up to 100 brand kits, dedicated project folders, magic resize, image background remover, cloud storage up to 1TB and 24/7 customer support. Plus scheduling for up to 8 social platforms.
Canva for Teams: Starting at £129.90 per year for the first 5 people: All the features of Pro, plus pay-as-you-go support, team reports and insights, access controls, collaboration tools, SSO, ISO 270001 certification and compliance and 24/7 customer support.
All of the packages allow you to create a professional logo, high-quality and high-resolution files, and more. Plus, there are FAQ solutions for guidance and support. However, the free plan is somewhat limited on Canva, so you may not get the most original content from your logo creator.
Canva vs Looka: Verdict
Whether you're looking for a basic logo creator, or a comprehensive and user-friendly design platform, both Canva and Looka have a lot to offer. Ideal for beginners, these tools can assist with the creation of stunning design assets, t-shirts, and logos with minimal effort. The Looka logo maker and Canva Pro plans are often ranked among the best logo makers out there for small companies.
While Canva offers a broader range of design assets, Looka still has a significant amount of functionality to offer. Both allow you to start designing for free, so it's definitely worth checking the functionality out before you pay for a full premium plan.