The best Canva alternatives offer businesses another simple and effective way to create a host of different graphic assets for their websites and brands.
Some of the features of Canva are locked behind premium packages, and certain users find the interface to be clunky at times. That's why many brands have begun looking at Canva alternatives to fill the gap.
In this article we're featuring the top options worth considering.
What is Canva?
When Canva first emerged on the scene in 2013, it quickly began to revolutionize the design world, by giving businesses a way to create their own impressive visuals, without an expert design team.
Canva requires absolutely no technical knowledge to use, thanks to a simple drag-and-drop interface, and it's brimming with amazing features. In fact, the capabilities of the service are constantly evolving, with new options like website design and animation appearing all the time.
With Canva, businesses can build everything from brand logos to social media content, accessing a huge library of templates, assets, and components. However, as phenomenal as Canva can be, it also has some limitations.
What are the Best Alternatives to Canva in 2023?
---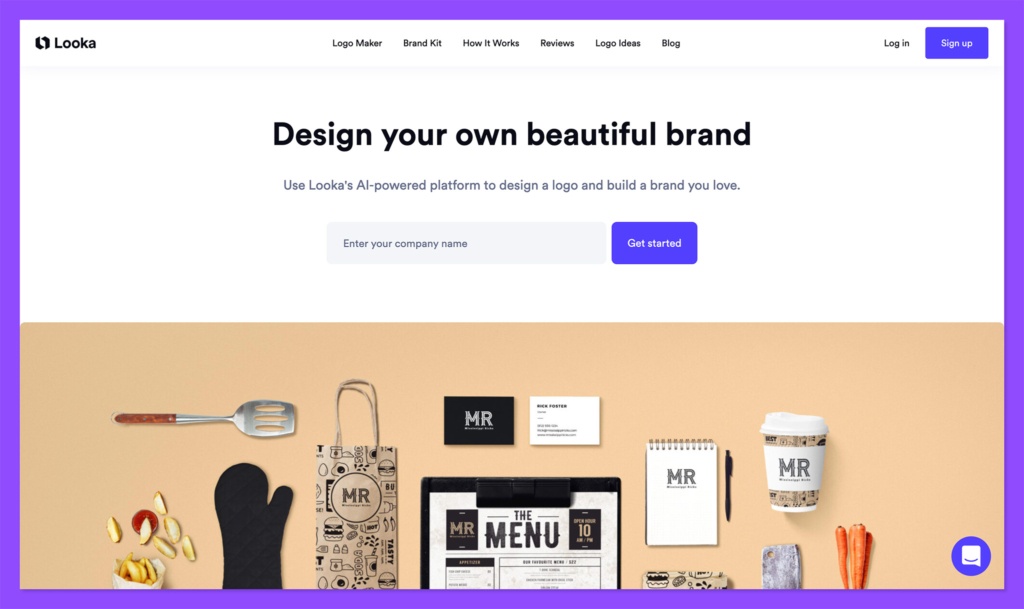 Offering a very similar overall experience to Canva, Looka is a graphic design platform where businesses can create a host of assets using a simple interface. There's a logo maker with built-in AI support to help you produce the ultimate emblem for your brand. Looka can also create multi-page websites, social media content, banners, invoices, leaflets, and more.
Looka benefits from an easy-to-use interface, fantastic customer support, and direct integrations with a range of different tools. Users can choose between simply making a logo and buying it outright, or they can pay for an annual "brand kit" plan, which offers access to more than 300 ready-to-use branded assets, over $3,000 in exclusive offers, and unlimited customizations.
Widely regarded as one of the most straightforward graphic design tools for beginners, Looka doesn't require any technical knowledge or skill to get started. All you need to do is make an account, choose a template, and you're ready to go.
Pricing
Looka's pricing packages vary depending on what you want from the service. If you're just looking to make a logo, you can choose between the "basic" logo package for a $20 one-off payment, or the Premium option for a $65 one-time purchase. The basic option only gives you a PNG file on a colored background, while the Premium package includes different logo color variations, multiple file types, and the option to edit your logo in future.
The brand kit options include:
Basic: $96 per year: Unlimited logo changes, full ownership of your files, hi-res and vector files, over $3,000 in offers, and access to a range of over 300+ brand assets.
Brand kit web subscription: $192 per year: All the features of Brand Kit, plus a website building tool.
Pros
Easy-to-use environment with AI enhancements
Convenient low-priced packages
Tons of templates and resources to choose from
Lots of brand visual creation options
Access to multiple file formats and color variations
Cons
The basic logo plan is somewhat limited
You can't make quite as many assets as you can with Canva
---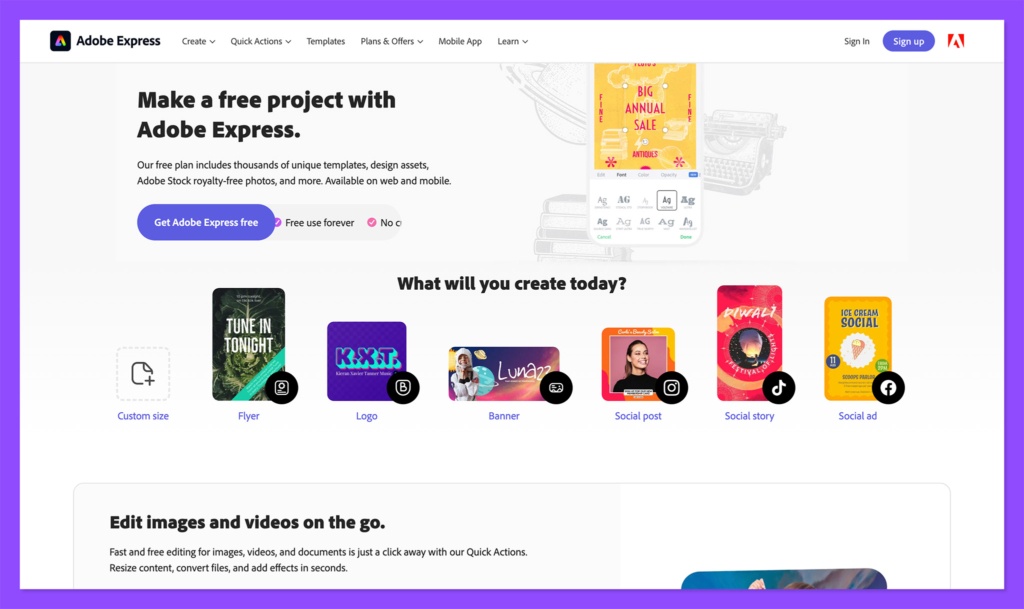 Adobe Express is a more premium-level design tool for specialists looking to create a phenomenal range of assets with minimal effort. Spark is included as part of the "Adobe Suite", but you don't have to own any other assets like Photoshop to access it. One of the plans for this service is also completely free, and some of the premium options are cheaper than Canva too.
The product comes with a full library of templates for social media graphics, collages, presentations, business assets and more. There's also a branding system where you can create your logo, color scheme, and font, and use it throughout your entire business ecosystem. Adobe Express has collaborative features, so you can instantly share your designs to other people in your team.
Plus, you'll be able to leverage a huge resource bank of icons, photos, and other digital products. When you create your assets, you'll be able to upload them to Google Drive, or save them in PNG or JPG format in a couple of seconds. There's even a resizing tool for social media posts.
Pricing
As mentioned above, one of the packages available for Adobe Express is completely free to use. This gives you an unlimited number of design choices, and access to thousands of images and icons. However, all of the assets you download will have an Adobe watermark.
There's also an "Individual" plan for $9.99 which gives you all of the features in the free plan, with the Adobe watermark removed. There are also premium templates, asset sharing, collaboration tools, branded templates, personalization features, and cloud-based sharing for the Adobe suite.
The "Team" package at $19.99 per month delivers everything from the "Individual" package, along with options for managing multiple accounts.
Pros
Phenomenal range of assets and digital images
Great for quickly downloading content
Free plan for beginners
Easy to use environment
Integrations with the Adobe Suite
Cons
Some limitations on the assets you can design
Free plan includes watermark on images
---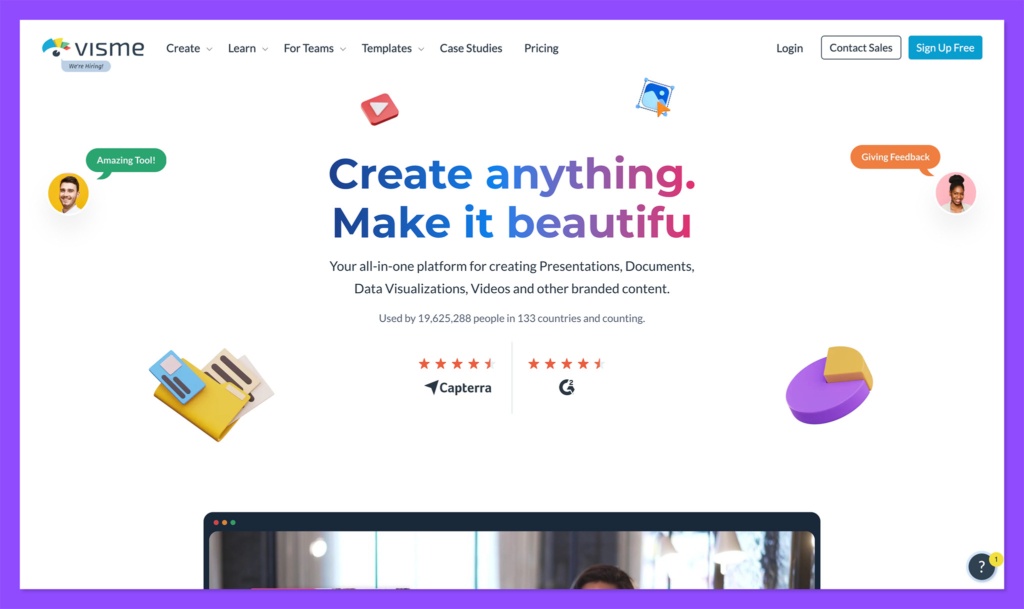 One of the most commonly chosen alternatives to Canva on the market today, Visme is a little more expensive, but it does allow you to create more complicated assets, like marketing documents and infographics. It's also fantastic for generating widgets and charts you can share with other members of your team. In fact, there are built-in collaboration tools just for teamwork.
Visme is a convenient design platform with a bunch of ready-to-go templates and layouts to choose from for every design you can think of. You can upload a brand kit to keep your color scheme the same on every design, and there's importing and exporting integrations with PowerPoint. The library comes with access to various GIFs, illustrations, videos, images and audio files, and you can organize all of your assets with a file manager.
Visme's collaboration features are particularly impressive, with real-time comments, annotations, and folder permissions. You can even set privacy controls on some plans to ensure the right people have access to the correct resources.
Pricing
There's an initial free package available from Visme, which allows for the creation of up to 5 projects with limited templates. You also only get JPG downloads, and Visme branding is included in the assets. The paid packages include:
Standard: $25 per month for 15 projects, more storage, and access to all assets with no branding. You also get premium support, and PDF downloads.
Business: $49 per month for unlimited projects, advanced download options, privacy controls, folders, analytics, and collaboration tools.
Enterprise: Custom pricing for everything in the previous plans, plus onboarding, improved support, enhanced analytics and extra storage.
Pros
Lots of great templates and layouts
Fantastic collaboration tools with privacy controls
Brand kit support
Folders and asset management tools
Great for creating marketing assets
Cons
Very restrictive free plan
The privacy controls are only available on expensive packages
---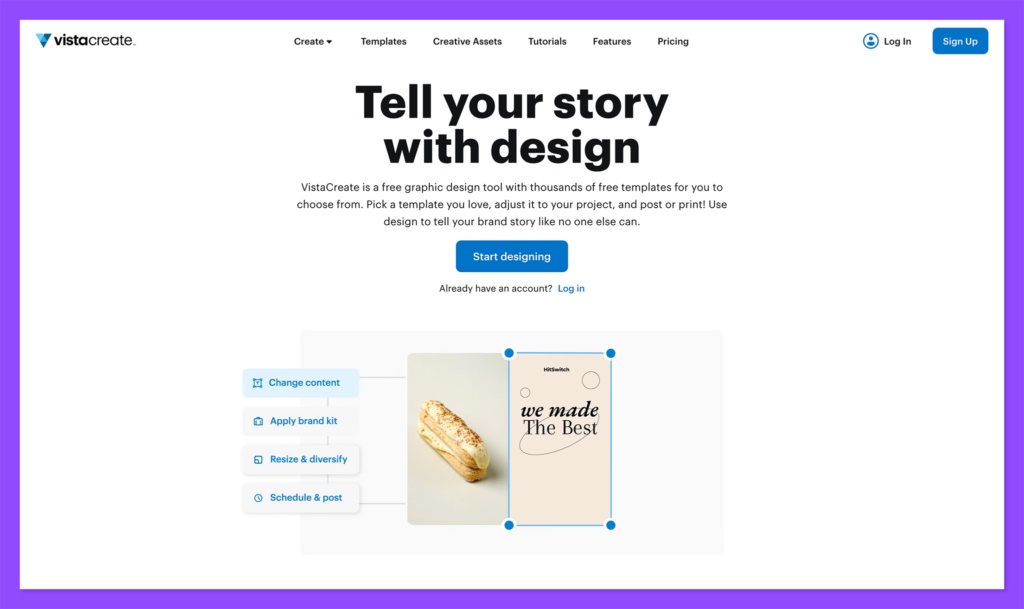 VistaCreate, previously known as Crello, has a similar interface to Canva, and allows companies to build all kinds of visual assets, specifically for social media. There are various great templates to explore on this platform, custom-made for things like Instagram and Facebook.
The thousands of templates on offer can be customized with your brand colors, logo, and choice of fonts. Plus, with the creative assets' library, you can add various animations, illustrations, gradients, and icons to your designs too. There's a tool for removing backgrounds from your images, an animation system, and collaboration tools if you want to design products with a team.
Up to 10 team members can work on a project at the same time, making edits and approving the changes made by other staff. Crello even allows you to add audio files to your creations, with a range of different options categorized by mood and genre.
Pricing
There's a free package available from VistaCreate, with 75k of design templates, more than 1 million photos, a brand kit system, and free fonts, music, backgrounds, animations, and objects. You also get direct posting for Instagram, Facebook, and Pinterest, and 10GB of storage space.
The single paid plan is £10 per month, with access to all of the features of the free service, as well as more than 70 million photos, team accounts, unlimited brand kits, and unlimited storage. This plan also comes with a version history, sticker maker, and "resize" feature.
Pros
Fantastic for collaboration with teams
Generous free package
Brand kits included
Resizing for social media posts
Direct posting to social media
Cons
Focused mainly on social media assets
Some limitations on customization
---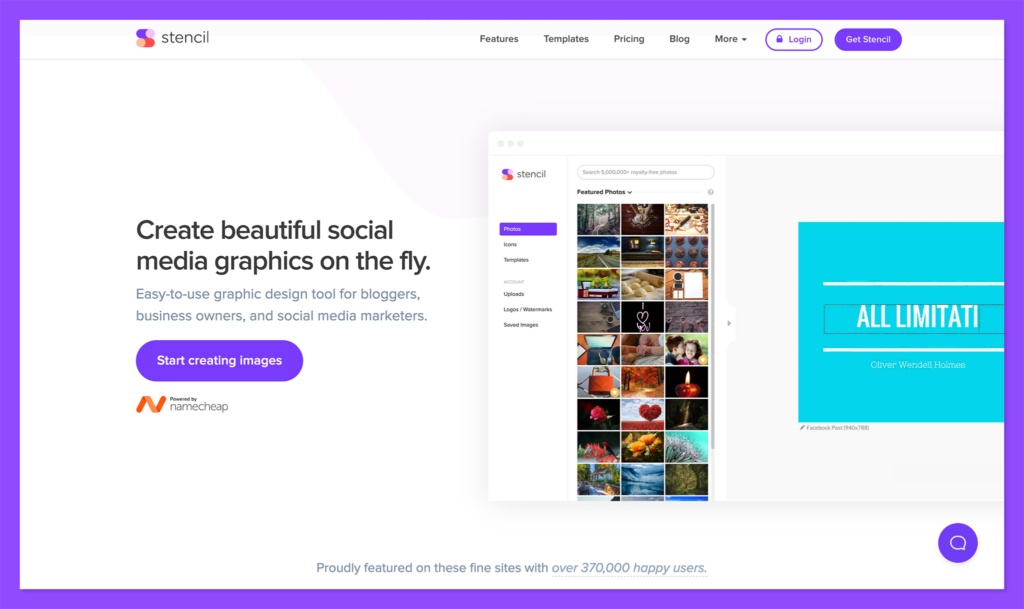 Another excellent tool for creating graphic design assets with minimal effort, Stencil is a simple and sleek design tool. The product creates high-resolution images without the need for a complicated software like Photoshop. What's more, it's great for small businesses that don't any particularly advanced features, thanks to its affordability.
You can browse through more than 5 million royalty-free photos, already optimized for any business need. All of the photos are also extremely high resolution. There are also built-in tools to assist with enhancing your images for any purpose. You can instantly resize images according to common ratios, or choose your own custom sizes.
Stencil also has live preview options and sharing for social media, as well as scheduling for automated posts through Buffer. Combine all that with more than 5,000 Google Fonts, 3 million icons and graphics, and various browser extensions, and it's easy to see why this tool is popular.
Pricing
There's an initial free package for Stencil which allows users to save up to 10 images per month. However, your photo and icon access is limited, and you can only upload up to 50 images. The free plan comes with 10 Instagram SMS per month, and 10 favoriting options.
The two paid plans include:
Pro: $9 per month for up to 50 images, 5 million photos, 3.1 million icons and graphics, and thousands of fonts, templates, and more. There's logo and watermark support, uploading for 250 images, access to 100 favorites, and 25 Instagram SMS messages per month.
Unlimited: $12 per month for all the features of Pro, plus saving, uploading, and favoriting for unlimited images. You can also create unlimited collections, and send 100 Instagram SMS per month.
Pros
Affordable pricing packages
Instant resizing features
Tons of templates and assets
Easy to use environment
Excellent browser extensions
Cons
Limited social posting
No collaborative features
---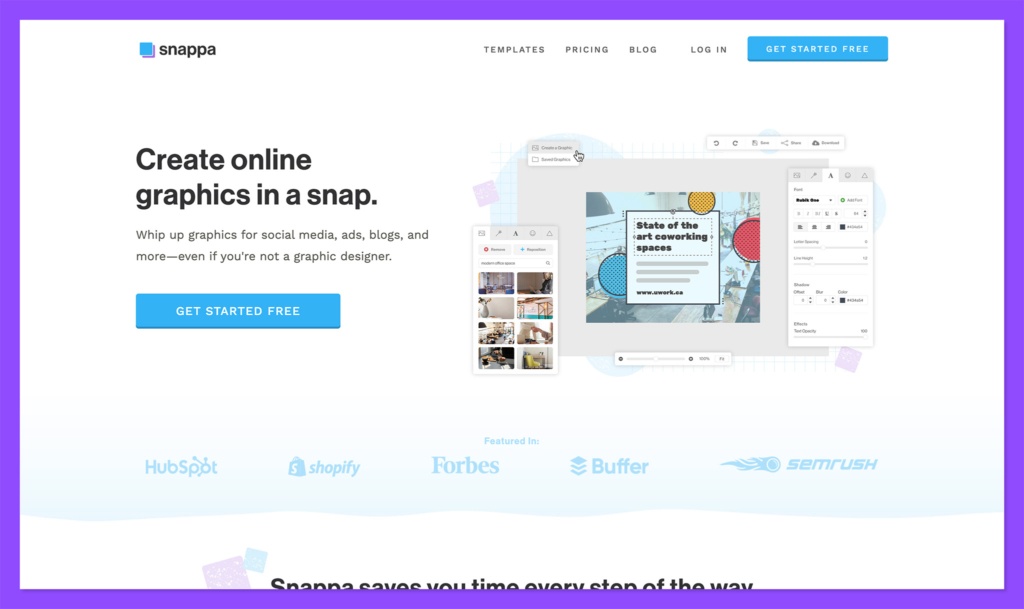 Designed as a quick and easy graphic design system, Snappa provides companies with a platform where they can whip up all kinds of graphics with ease. The solution aims to save users time on crafting the right assets for profile pages, social media, blogging, and more. Plus, the templates come in handy for making sure your dimensions are right.
At the core of Snappa is the sleek and simple design platform, with access to thousands of free templates, which you can easily resize to suit different platforms. The solution helps you to find high-res stock photos in a matter of seconds, without the need to score multiple libraries or worry about specific usage rights.
Snappa comes with options to add graphics, text, and effects in sections, and there are more than 200 fonts and 100,000 vectors to choose from. You can also remove backgrounds from images with a single click. You can also connect your Buffer account for automated posting.
Pricing
Snappa's "Starter" package is free to use for one person, with access to 6,000 templates, 5 million photos and graphics, and 3 downloads per month. Paid packages include:
Pro: $10 per month for 1 user, all the features of Starter, and unlimited downloads per month. You'll also get buffer and social media integrations, custom font uploads, and the option to remove image backgrounds.
Team: $20 per month for up to 5 users, with all the features of Pro, plus team collaboration capabilities for working with colleagues.
Pros
Simple and convenient back-end for beginners
Unlimited downloads on both paid plans
Easy integrations with social media
Custom font uploading functionality
Option to one-click remove backgrounds
Cons
Limited collaboration tools
Not the most templates or photo editing tools
---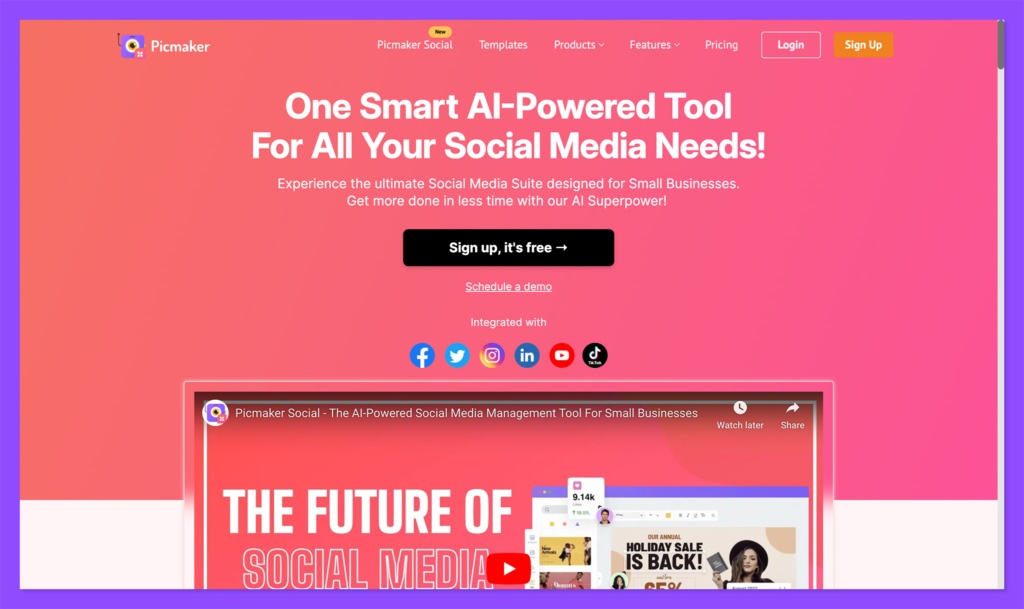 Ideal for companies without professional designers in-house, Picmaker is an AI-powered design platform which allows companies to create compelling designs for a range of different platforms. You can optimize posts for YouTube thumbnails, twitter ads, Instagram posts and more. Plus, there are countless free templates to get you started.
With a wide range of more than 100 million stock images to choose from, you'll have no problem creating powerful visual content. There's also a built-in option or uploading your own brand kit, so you can work on keeping your images consistent. There's also an "MAD" button, which automatically creates unique designs for bloggers and marketers in a click.
Picmaker has a range of editing features, an online sticker maker for non-designers, and a one-click image background remover. There's also a free version which is actually quite generous for social media images and online design.
Pricing
The free version of Picmaker comes with access to over 10,000 premium templates, and 2 GB of cloud storage, as well as access to various editing tools. The paid plans include:
Starter: $9.95 per month for everything in "Free" plus, a one-click background removal system, 20GB of cloud storage, and premium text, images, and icons. You also get chat-based customer support for help.
Pro: $19.95 per month for all the features of "Starter" plus custom template requests, multiple brand kits, unlimited usage, 50GB of storage, and access to all downloadable formats. Plus, there are integrations with leading tools.
Enterprise: Custom pricing for everything in Pro, plus unlimited storage, personalized app training, a dedicated account manager, and priority support
Pros
Convenient free version
Easy to use for business owners
Sticker creator and background remover
Lots of design elements to choose from
Brand kits for color palletes and logos
Cons
No video or animation options for DIY designers
Limited storage on the basic plan
---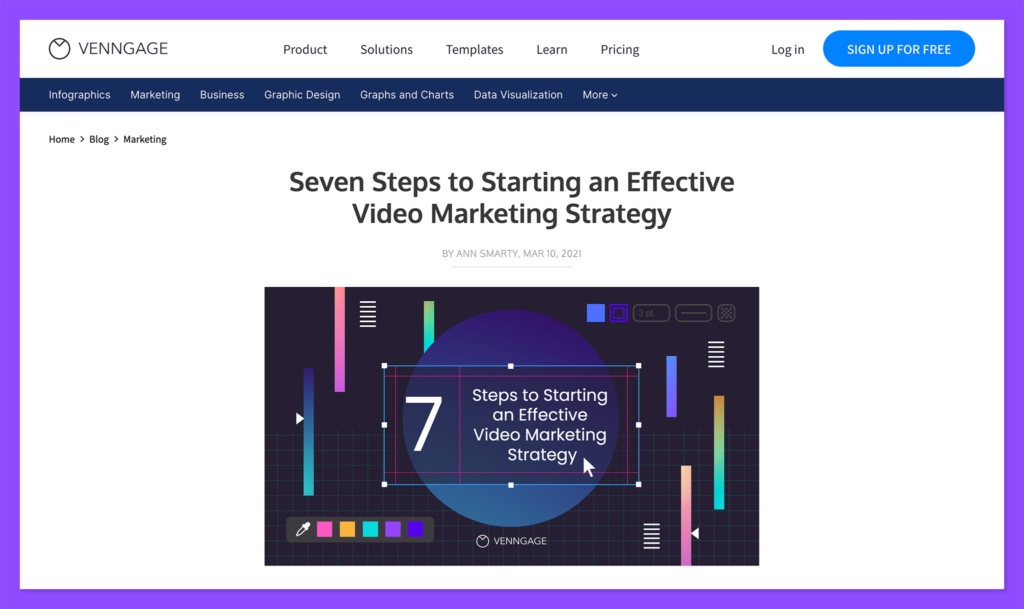 One of the top photo editing and image editing tools for business leaders, Venngage allows companies to create high-quality content for their websites and social media channels. You'll start by choosing one of the many templates available from the service. There are many of the same options you'd expect from Canva, such as cards, reports, social media images and presentation.
Venngage also has pre-made templates to help with the creation of graphs and infographics, so it's fantastic for creating content to share with your team. One of the biggest benefits of Venngage is how easy it is to create a simple graphic with your team members.
The real-time collaboration tools ensure users can create a range of images with ease, gathering feedback instantly from their colleagues with no learning curve. There are also smart features like automatically-generated slide layouts for presentations.
Pricing
Like many of the top graphic design tools, Venngage offers a free plan for up to 5 designs, public sharing, free icons, and widgets, and 6 image uploads. The paid plans include:
Premium: $16 per month for each user with all the features of free plus unlimited designs, PNG and Hi-Res exporting, private sharing, email and chat support, premium widgets and icons, and 50 image uploads.
Business: $39 per month for each user, with all the features of Premium, plus teams of up to 10 members. You can also access folders, real-time collaboration, priority email and chat support, and brand kits. There are HTML and PowerPoint experts, phone support, and 500 image uploads included.
Enterprise: $499 per month for all the features of Business plus Team sizes up to 100 people, a dedicated account manager, multi-factor authentication, live training and onboarding sessions and custom built functionality.
Pros
Excellent real-time collaboration features
A range of upload and export options
Lots of templates and design assets to choose from
Excellent customer service and support
Multi-factor authentication on the enterprise plan
Cons
Free plan is very limited
Occasionally slow performance on the editor
---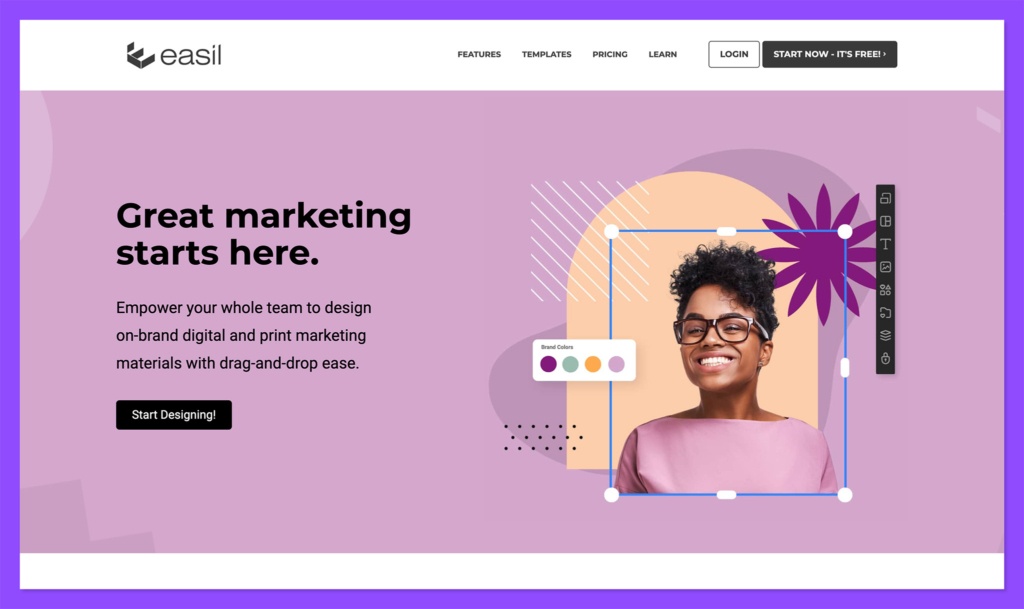 If you're looking for an image and photo editing alternative to Canva, and you don't want to learn how to use something like Adobe Photoshop, Easil could be the perfect solution. The beginner-friendly graphic editor provides a simple drag-and-drop environment where users can design everything from logos to brand kits with specific color palettes and fonts.
Easil also offers excellent collaborative features, with the option to work together with your creative teams on designs, while controlling their level of access. You can determine which elements of your piece should be open for editing, so nothing gets ruined.
When it comes to photo editing tools, Easil allows users to resize graphics automatically for different purposes, like social media posts and blog banners. You can change colors and backgrounds in seconds, and even access a range of graphic and video templates tog et you started.
Pricing
There are a few different pricing packages available from Easil, starting with a free "Basic" plan. The free option comes with 2,500+ professional templates, free graphic elements, over 1 million stock images, text effects, and uploading for your own images. The premium plans include:
Plus: $7.50 per month per user: All the features of Basic, plus more than 10,000 templates, uploading for videos, 10 credits for removing image backgrounds, text masking, transparent PNG downloads, print-quality PDFs, animated GIFs, MP4 videos, design resizing, font uploads, and a host of other features.
Edge: $59 per month per user: All the features of Plus, as well as over 25,000 templates, 50 background removal credits, 15% off print purchases, organizational tools, priority support, multiple teams, and workspaces and more.
Enterprise: Custom pricing for all the features offered by Easil, including custom background removal, custom design guarantees, and a print management portal with single sign-on, dedicated account manager guidance, and custom template design.
Pros
Excellent collaboration feature with access controls
Easy to use photo editing tools
Tutorials and guidance for beginners
Advanced photo resizing
Templates for business cards and assets
Cons
Limited features on the free plan
Video features are locked on more expensive packages
---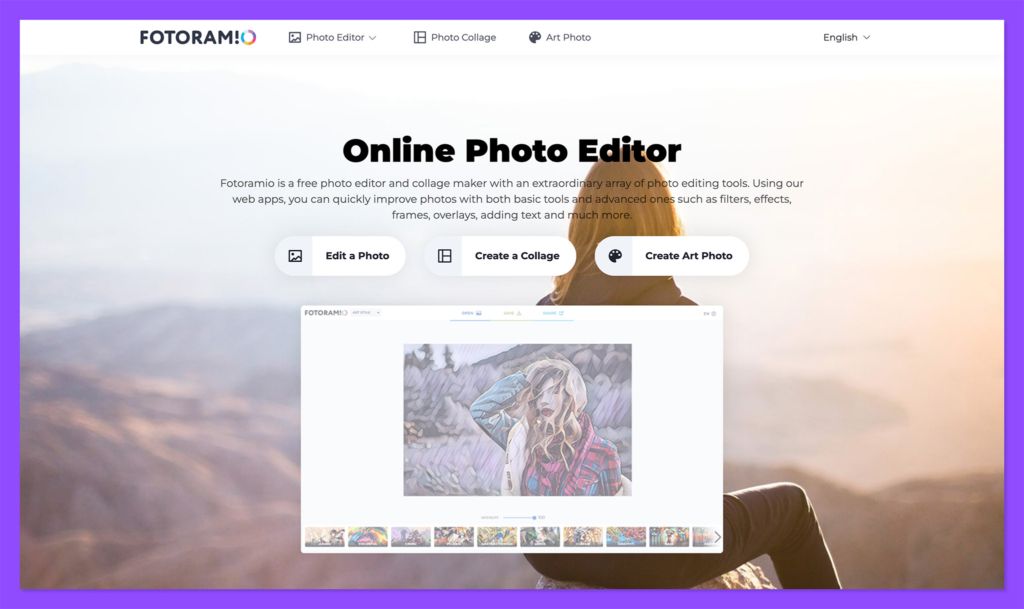 Fotoram, or Fotoramio is a free online photo editor with various tools for image overlays, filters, and resizing. There's also a built-in collage maker, and a mobile app so you can experiment with different designs on the move. You can create custom artistic photos with specialist effects and frames, and quickly edit images with adjustments for color, hue, contrast, and brightness.
While Fotoram might not have as many advanced templates and pre-existing resources as Canva, it does have a decent amount of clipart and font options available. The product is extremely straightforward, and delivered in a set of different tools for editing, art photo creation, and collage making, so you can load up different tools for various needs.
With a simple and straightforward interface, there's very little learning curve required for this tool, and it's an excellent choice for making images for social media a lot more engaging.
Pricing
As mentioned above, Fotoram is a free-to-use online application which allows you to design all kinds of creative pieces for online assets and social media. You don't need to pay anything to download your images, although you might not have access to some of the advanced features offered by premium photo editing and graphics tools.
Pros
Free service
Works well with a range of browsers, including Chrome
Built-in collage maker, overlays and filters
Minimal learning curve for beginners
Free clipart and fonts
Cons
Limited image quality
Not many templates available
---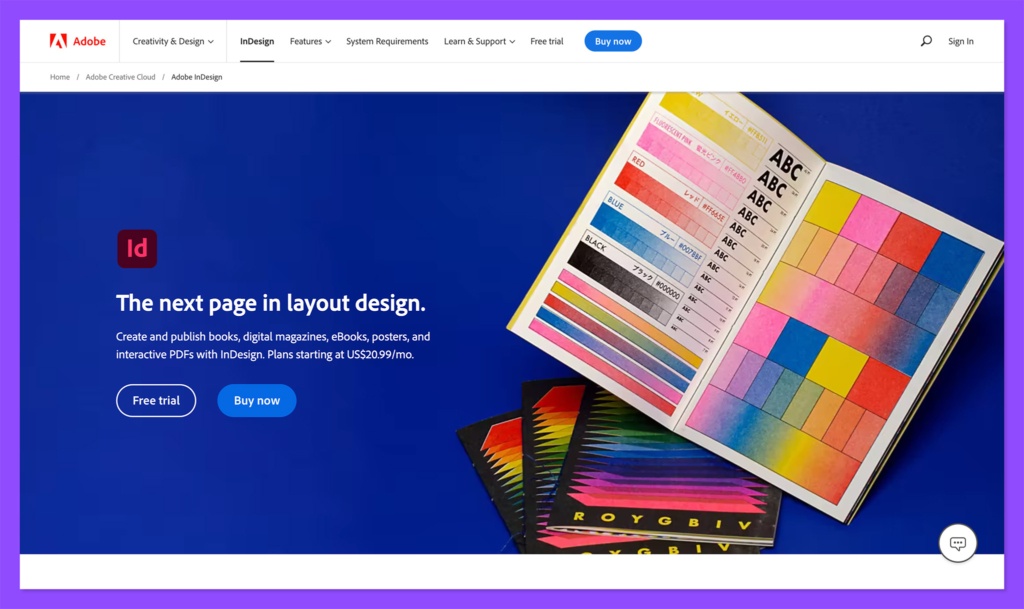 Another design software included in the Adobe Creative Cloud ecosystem, Adobe InDesign is a tool created to make starting and finishing design projects simple and efficient. The solution comes with a range of layouts and templates to choose from, as well as stunning imagery taken directly from the Adobe stock library, so you can enhance your designs.
Like other Adobe products, InDesign is built with collaboration in mind. You can work with teams in real-time, share content, graphics, and fonts over the cloud, and leave comments on other people's work. There's also access to fantastic layering features, so you can create more comprehensive designs for books, brochures, and other brand assets.
InDesign does require a Creative Cloud membership to sign up, but you can use the free service to get started. The product also works seamlessly with other aspects of the Adobe Creative Cloud, so you can combine all of your design utensils under the same umbrella.
Pricing
Users can access Adobe InDesign for free for seven days as part of the company's trial option. After that, you'll be able to choose between a few different options for purchasing the service.
The first solution is to buy InDesign as a standalone app for $20.99 per month, with all the features of the solution already built in. Alternatively, you can opt to purchase all of the Adobe Creative Cloud apps at once, for $54.99 per month, which might be the better option if you're already using Photoshop, Illustrator, or Acrobat Pro.
Pros
Excellent collaborative design features
Access to Adobe stock images
Templates and layouts to work with
Fantastic layering features
Works well with the other Adobe tools
Cons
Can have a slight learning curve for beginners
Not as many templates as Canva
---
Choosing the Best Canva Alternatives
Canva certainly stands out as one of the most popular tools for blog creators, branding experts, and social media marketers today. The Pro plan is brimming with great features, a host of different templates, and an easy-to-use ecosystem. However, there are plenty of other options out there.
Alongside the products mentioned above, companies can consider contenders like Pixlr, Piktochart, Desygner, PicMonkey and countless others for sourcing and editing stock images and graphic resources. The right option for you will depend on the kind of branded images you want to create. Where possible, we recommend trying some of the free demos offered by the products above, so you can test the functionality of each app before you spend a penny.