In this Canva review, we're going to be looking at one of the most popular tools for today's graphic designers and artists. If you've ever needed help with graphic design from a simple but effective tool, you're probably familiar with Canva.
Canva is suitable for everyone – even beginners who haven't worked with design solutions before. The service promises a quick and simple way to design everything from social media templates to unique blog images.
While Canva might not be the next Photoshop, it's a great tool for business and website owners who want to make amazing content fast. You can create custom templates with your team, share designs everywhere, and even get images professionally printed.
What is Canva?
Canva is a design solution with a web-based interface. You don't need to download any apps or programs to start using the service. Anyone can get started immediately with custom templates and beautiful stock images.
The Canva service aims to give professional design opportunities to people who don't have experience with professional design. You can create everything from invoices and PDFs, to printable and infographics.
Canva is one of the most frequently used graphic design software options on the market, with over 30 million users and a valuation of about $6 billion.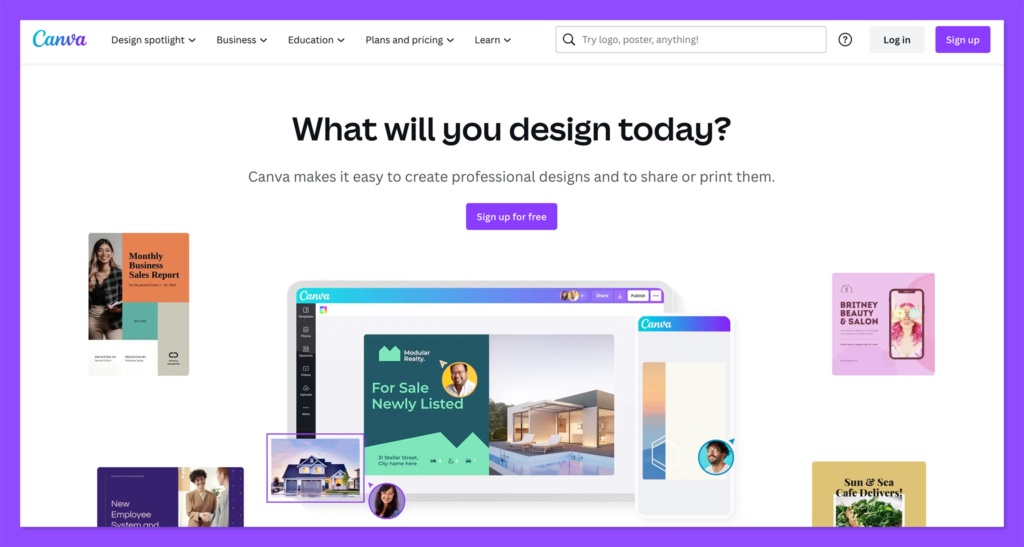 Canva is designed specifically for small business owners, marketers, and entrepreneurs looking to access visual elements for their branding and marketing campaigns, without hiring a designer. While you can't design the most sophisticated visuals with this tool, you can design stunning blog pages, application templates, and so much more.
If Photoshop is a heavy-duty software for designers, Canva is the more lightweight cousin, intended for quick and easy visual creation. You also get to create everything with a much simpler drag-and-drop tool. There's no need to learn any complicated processes to resize and transform images.
Canva Pricing
When it comes to photo editing, you usually get what you pay for. A lot of high-end photographers prefer to stick with Adobe tools like Photoshop and Lightroom. However, for marketers and business owners, Canva can offer a useful introduction to image manipulation.
You won't get the most advanced features, but you will get free templates, GIF content, tutorials, and other handy tools to bring your campaigns to life. To determine how much functionality you'll get, you'll need to choose between three plans:
Free: Comes with 250.000+ templates, 100+ design types, more than 1 million graphics and free photos, and an app for android and ios designing on-the-move.
Pro: $12.99 per month, when billed yearly: You'll get everything Free has to offer, plus logos, colors, and fonts for a brand kit. There are 75+ million premium stock images, graphics, and videos, 420,000 free templates, and a one-click background remover.
Teams: $14.99 per month when billed yearly: This comes with all the customizable design elements of Pro. You'll also get multiple editing tools, multiple brand kits, and a collaborative environment for your team. You can build automated workflows for getting designs approved and access all the storage you could need for your free images.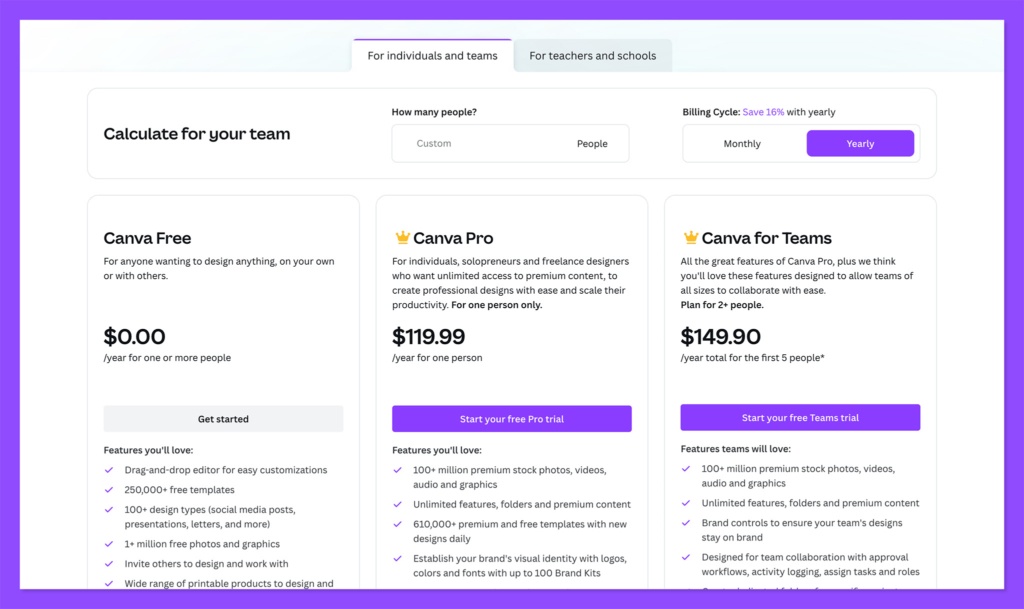 The Canva free version is fine if you're just getting started with design. However, if you're interested in Canva and you want to get the most out of the available design templates and eye-catching content, you may need to consider upgrading.
The Pro plan is a good start, as you'll be able to access more marketing materials, like a branding kit, without an extensive learning curve.
Check out the full pricing options here.
Canva Ease of Use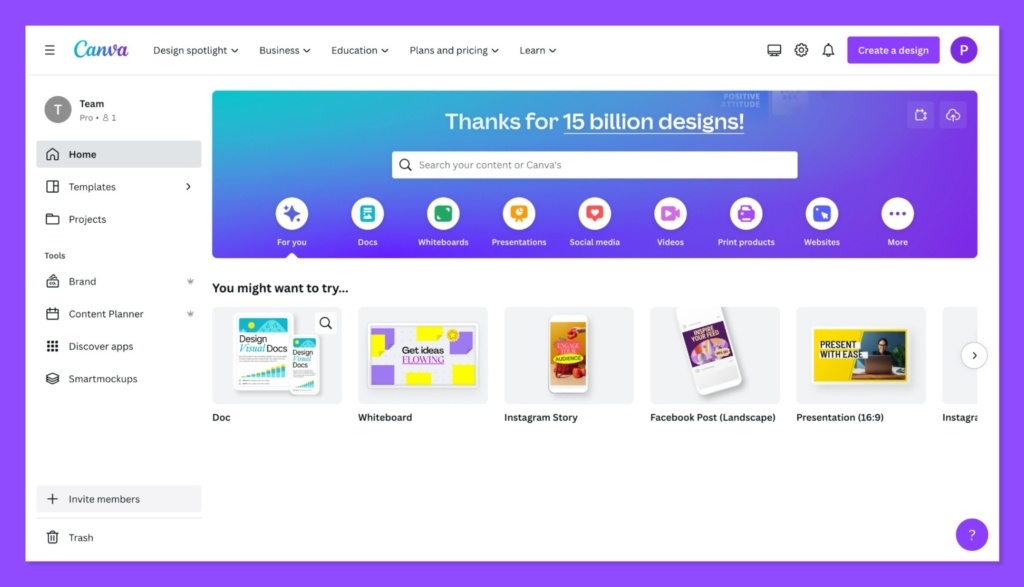 One of the biggest challenges for many beginners hoping to create visual content is using the editing software available. Canva aims to eliminate this complexity.
The drag and drop editor makes it easy to work with videos, photos, templates, fonts, and elements, so you can spend more time growing your business, and less time working on design.
When you load Canva, you'll start by selecting an option for your visual type on the dashboard. There's a menu to browse through, or a search bar to help. Once you select a template, Canva automatically opens the editor so you can start tweaking. In the Photos or Uploads tab, you can add your visual content. Clicking on the "More" tab will allow you to import an image from another site.
Once you've got your visual content in your template, you can click on the "Elements" tab to add overlays. For instance, you might add shapes or lines to the image, to make quotes or headlines on your content stand out. You can also resize the elements by dragging at the corners. Most shapes will also allow for color changes.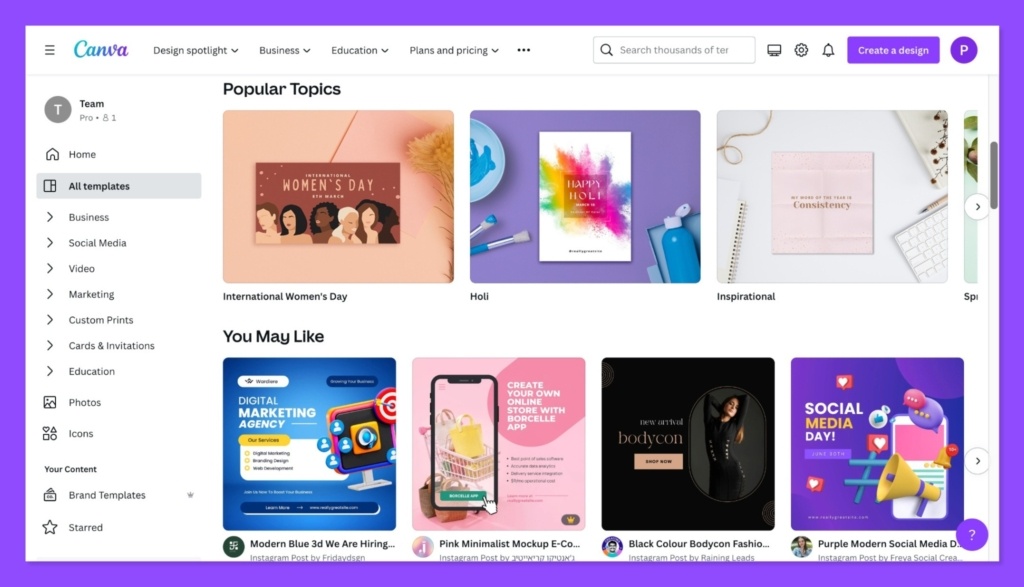 One fun thing about Canva is its palette finder, which analyzes your photos for you, and displays the colors in them to create matching elements. It's one of the easiest ways to find suitable colors for your creations, especially if you're new to design. Changing the opacity of the overlays will ensure people can see what's going on in the background.
After you're done with your overlays, you can add text. Canva allows users to browse through options or search for their preferred fonts.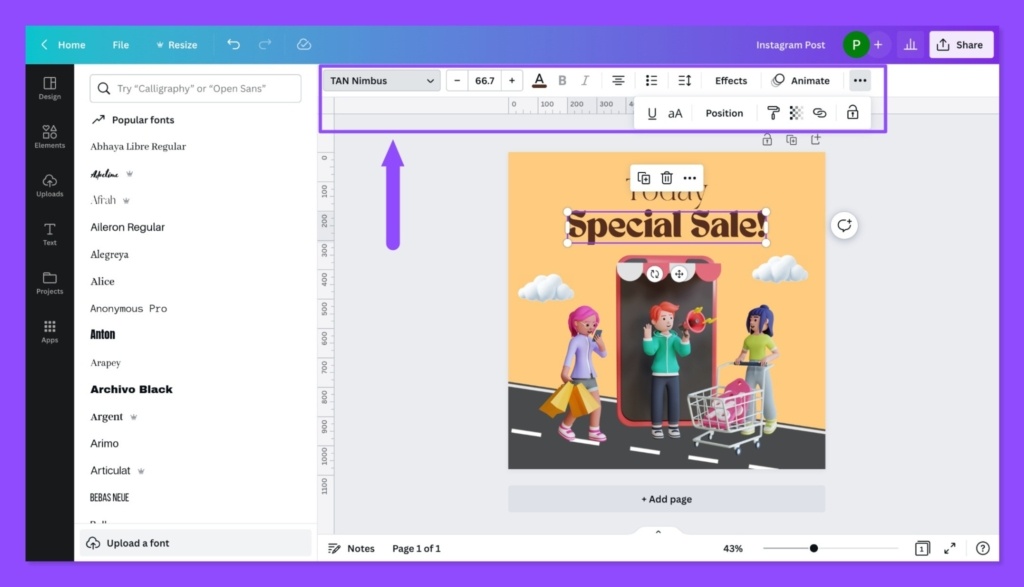 The text functionality is pretty straightforward. If you have the free version of Canva, you will have fewer options in your graphic design tool. When you've added text to your business cards, social media posts, or photos, you can move it around, adjust the size and alter colors.
With all the elements of your content in place, you can use the graphic designer editor to adjust the alignment, to make your visual appear more professional and consistent. You'll also be able to resize any image. Canva already has pre-set sizing options, so you can adapt your image to the platform you need it for in a matter of seconds.
Canva also allows you to download your content and share it with team members. You can also schedule specific Canva creations to publish to your social media platforms whenever you choose. The user-friendly scheduling function allows you to choose things like the time you want the picture to go live, and where you want to share it.
Canva Features
There are all kinds of great features available within Canva to help your business grow. First, you'll have access to a huge selection of stock photos, so you can start creating content without having to pay for professional photographer. You can also edit the photos available to you with photo effects and magic resizing tools.
Photo Effects and Editing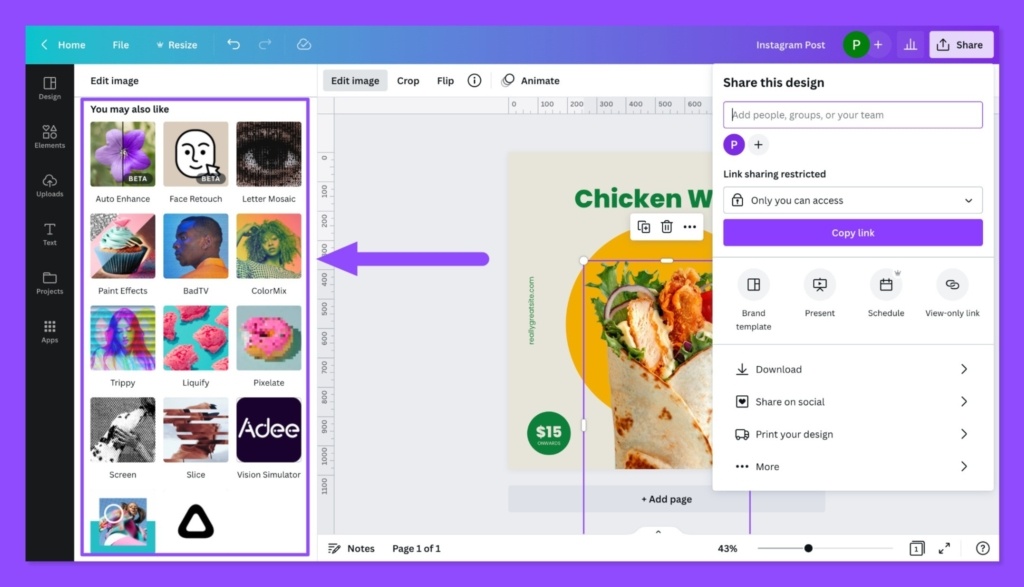 At the top of the editor page, you'll see a range of icons showing what you can do with each image. The top left option is the "Effects" button, where you can implement various filters and design changes to make sure your images match your brand perfectly.
You can use "magic resize" to automatically transform your design into the perfect size for the purpose you have in mind. This is excellent if you plan on using your photos on social media and in blogs, because no quality is lost during the resize. There's also access to advanced editing features, like an effortless background remover.
Flipping, cropping, rotating and editing basic aspects of your photo is quick and easy too. You can do everything in a matter of seconds, without having to worry about complexity.
Video and Photo Templates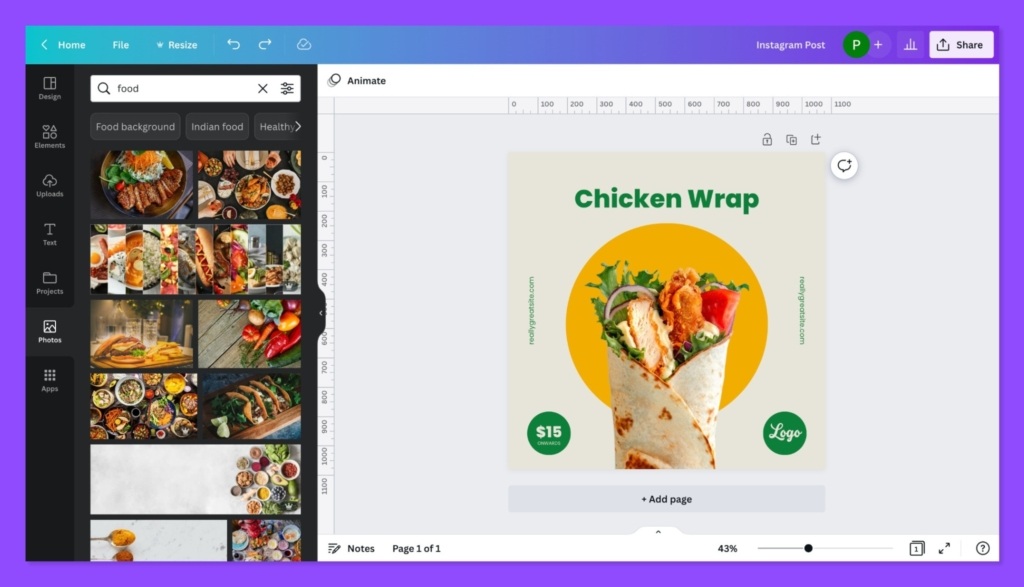 Canva knows most business owners and marketers don't have time to start building their visual portfolio from scratch. That's why the company offers a range of templates to help you jump into action much faster. You can access literally millions of photos and thousands of templates within the Canva Pro plan, and there's a percentage of options with your free plan too.
To use your templates, all you need to do is go into your Canva editor page and click on the "Templates" tab on the left-hand side of the page. Canva will automatically find templates for you based on the design type you chose.
You can scroll through and search for images by language or color. To find photos, you click on the photos tab and choose the images from the available range of stock photos. You'll also be able to track down additional photos from sites like Flickr, Facebook, Pixabay and so on within the "More" Tab at the bottom of the page.
Though Canva is best-known among most users for its wide range of photos, the service has a lot more to offer than just images. Premium video tools mean you can create high-quality videos, either by editing the content you've already created, or playing with free snippets. There's also a handy "Animations" feature, which brings various kinds of content to life with 14 animation styles.
Shapes, Stickers and Fonts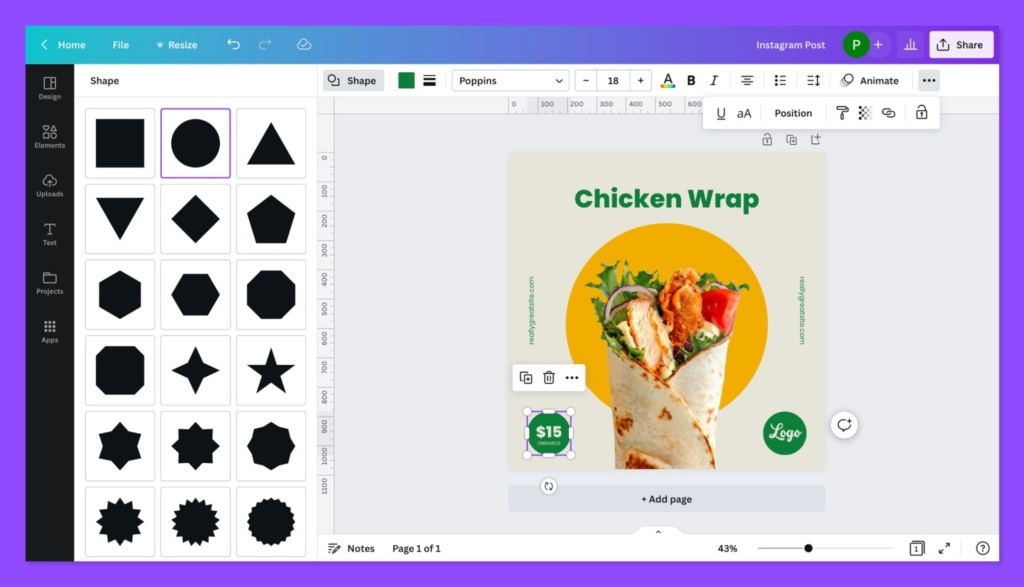 Canva has a brilliant Elements tab where you can find shapes, icons, charts, stickers, gradients, grids, and so on, all designed to add a little more personality to your content. You can add all of these components to your images easily, and adjust things like transparency, color and size.
Canva even has a font library under the "text" section where you can find a host of fonts ranging from simple and sophisticated options to jazzy type.
There are even handy "font pairs", which place two different kinds of fonts together if you need a specific header and body typography for instance. If you have a Pro account with Canva, you'll also be able to upload fonts, provided you're licensed to use it.
Teamwork and Content Management
As mentioned above, Canva offers companies access to unlimited content options for visual marketing. There are over 75+ million premium image, audio clips, and graphics available as part of your package. However, succeeding with a marketing campaign often takes more than simply having a wide selection of options to choose from.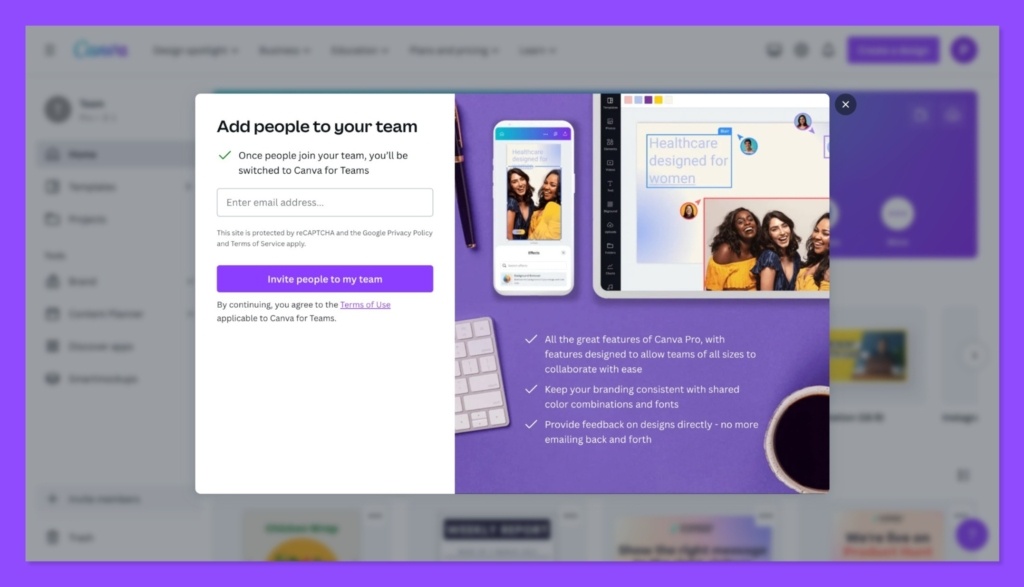 Canva allows teams to work more efficiently together with a range of unique features. You can instantly share your creations with your team members, even if they're not yet complete, and add comments to the designs other people send you. This makes it easier to create content as a group. There's also the option for administrators to "approve" content once they're happy with it.
The unlimited storage provided with Canva also means you can keep your content secure and ready to access in the cloud when you need it. This is ideal if you're working with a distributed team who may need to access assets quickly.
The "content planner" component of Canva allows teams to examine all of the images they've scheduled to publish on social media. As mentioned above, you can share your images directly if you're happy with them or set a specific time for them to go live. There's plenty of platforms to choose from, including Twitter, Facebook, Pinterest, LinkedIn, and Slack.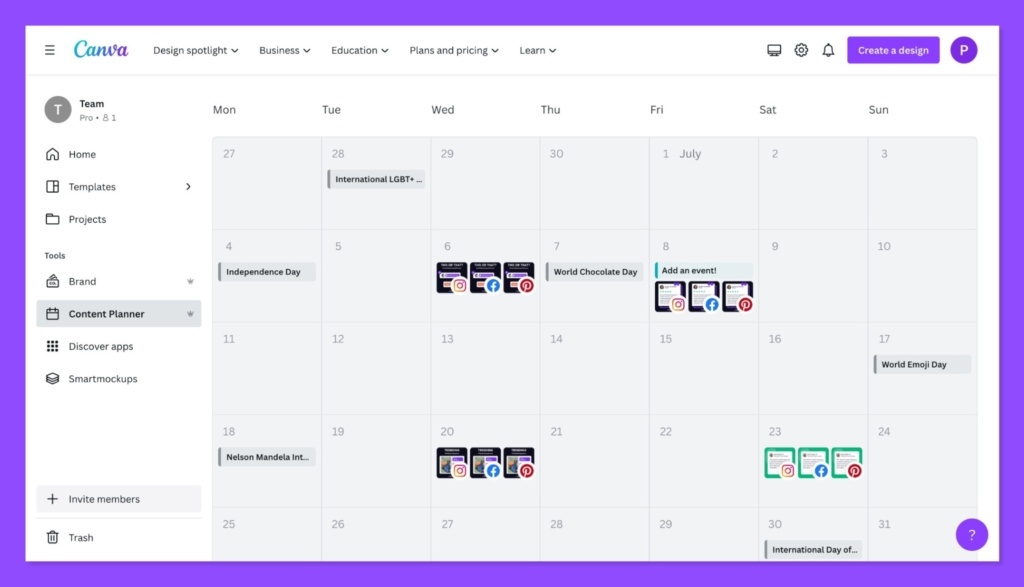 In the content planner, clicking the "+" sign will allow you to add a design to your schedule, by uploading an image or creating something in the editor. You can also edit when your posts are going to go live.
Branding
A major concern of using a design tool like Canva with a lot of stock images and content, is failure to stand out. You don't want your content to look the same as countless other posts on the web. Fortunately, Canva can help with this. There's the option to create branded templates, which include your logo, colors, and other elements. These templates are available to access for all members of your team, so they're great if you want to keep your social media and content marketing efforts consistent.
There's also the option to access the "Brand Kit", though this is only available with the Canva Enterprise and Pro accounts. The Brand Kit is a dedicated storage area for brand assets like colors, logos, and fonts. This environment makes it quick and easy to access the essential assets teams need when designing. You'll save a lot of time being able to grab components instantly.
The Brand Kit also comes with specific controls you can set, to ensure your creative teams don't go too far outside of your brand guidelines. Aside from benefitting brand content creation for a single company, Canva's Brand Kit would also be useful for agencies designing content for a number of brands.
Canva Review: Verdict
Canva isn't a comprehensive image editing tool like you may get from Adobe Photoshop. However, if you want a simple graphic design experience, with plenty of image editing functionality, and customization options, Canva is a good place to start.
For a newbie in the marketing world, the free plan is great for creating a new design for your blog, emails, or social media campaigns.
If you upgrade to the paid plans, such as the pro subscription, you can do more of the work of a professional designer, experimenting with social media graphics, PNG downloads, and videos. You do need a pro subscription to get the best value for money in most cases.
For product thumbnail content, Instagram post creation, and other basic graphic design functionality, Canva is a great pick. However, it's hard to create anything truly unique on this platform.
Companies and non-profit organizations looking for an extensive photo editor might find Canva a little lacking. It's also worth noting the customer support can be a little basic too, though the simplicity of the service should mean you don't struggle too much with functionality.
The overall Canva experience can be great, but it's limited. Make sure you know exactly what you need before you start spending money.